'When wife is angry husband goes hungry'
What in the world makes a BSc graduate go from a potential white collar job to being a chef? For Santosh Chaniyal it was a TV program called Kana Kajana. Watching Kana Kajana and having had to attend many get-togethers he fell in love with the glamor that the hotel industry entailed.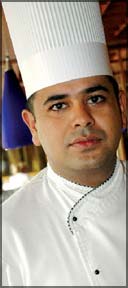 After graduation he did a diploma in Hotel Management He then worked at a domestic chain of hotels in India - Sheridon, Oberoi, JP and Hotel Holiday in Cooty. Santosh is now working for Holiday Inn as its one and only Indian Chef, specializing in Mughlai cuisine.
Although most chefs are men, he pointed out that women can be better chefs. Girls have the most important qualities a chef should possess - sincerity, dedication, neatness and cleanliness. "A chef can never be compared to a mother. She is the best chef. Even a glass of water given by my mother tasted different."
Going down memory lane he said that when he was living with his parents and sisters in his hometown, Nainital - close to the northern boundary of India - he said that there was no difference between girls and boys in his home. He suggested that all men should learn the art of cooking if they want to be independent.
"Otherwise when the wife is angry the husband will go hungry." He explained that he had to train his wife on cooking for two whole months. "I had to cook literally nonstop for parties just to save her neck!" he says laughing.
He is the ninth chef in Holiday Inn. "Hotel Holiday is a pioneer in Mughlai cuisine" Mughlai cuisine is a long process which makes use of many nuts as its ingredients. "Cooking is an art" he says. 'The art of pinching' he termed it. He pointed out that Asians don't measure with cups and spoons.
"We use our fingers and the amount as to be just right." says Santosh. He says that one has to learn through mistakes. "Once I put beetroot instead of carrot for carrot halva."
I was horrified when the chief chef walked in. I was literally shaking in my boots." The chef tasted it and apparently it tasted just fine. "The chef said we might as well change the name" and voila 'Beetroot halva'.
In spite of the fact that he was an Indian. His favorite was rathukekulu rice, dhal and bitter goad. "When I go on vacation this is what I miss the most. When I'm here I miss my family" but doesn't seem like he is in any hurry to leave.
"I love Sri Lanka, even with the LTTE problem; it's still a great country. People are friendly and I love Sinhala." Santosh can speak Sinhala very well. He has apparently learnt Sinhala in the Lunch room!