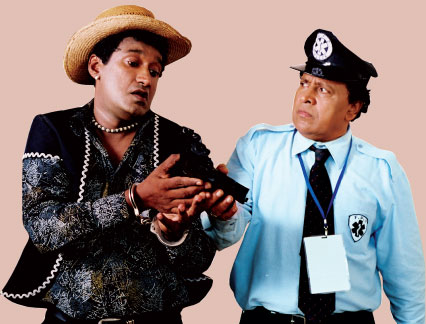 Veteran actor cum movie director, Roy de Silva's much hyped about comedy film `Sir Last Chance' will make its appearance at EAP circuit movies from March 25.
Though the team had kept their fans at bay ever since the trailers have made their appearance, many are still eagerly counting the days when they would be able to see another creation by the hit movie maker on the wide screen.
The much sought after director of the Cheerio and Rae Daniel Dawal Miguel series who had clinched a number of awards, including the lifetime achievement awards given to the veteran in the field like the Sarasaviya, Presidential and the U.W. Sumathipala lifetime achievement awards in a career spanning more than four decades is working on the sets of `It's a Matter of Love,' the second part of his earlier movie `It's a Matter of Time.'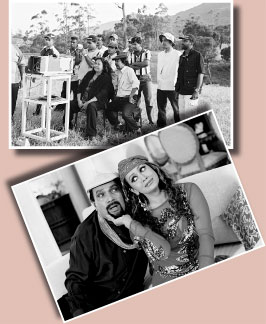 `Sir Last Chance' is centered on series of comical episodes involving a private detective named Sir Last Chance and his team of F.P.I. (Federal People's Investigators) agents. They are brought into the scene when a Sri Lankan producer decides to engage two Indian actresses for one of his productions.
He is met with protests and agitation for the local artistes part and fearing for the safety of the foreign actresses he engages Sir Last Chance on the project without knowing that he was inviting a magnet for disaster to the scene!
Loads of laughter and surprises are in store for movie buffs as the movie starring Vijaya Nandasiri, Lucky Dias and Anarkelli Aakarsha in lead role followed by some of the island's most popular faces like Palitha Silva, Anusha Damayanthi, Nilanthi Dias, Arjun Kamalahasan, Amisha Kavindi, Teddy Vidyalankara, Tyron Michael, Chathura Perera and Sanath Wimalasiri will begin unspooling islandwide. Anura Pathirana will make his entrance to the field through `Sir Last Chance.'
Priyantha Pathirage is the assistant director while Pushpakumara Bandara Rajaguru is the cameraman. The second assistant director and costume designer is Sumana Amarasinghe. The film was shot in locations in and around Colombo, Nuwara Eliya and Bandarawela. Praveen Jayaratne is the editor and Jayaratne Galagedara is the operating executive.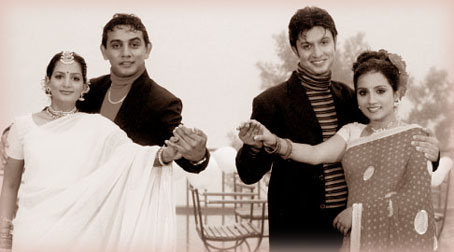 Manjula Ayagama is the arts director while Palitha Tennakoon is the production executive. All the equipment for the film were provided by Dil Films International.
The film includes four songs by Uresha Ravihari, Sangeeth Wickramasinghe, Vijaya Nandasiri, Rodney Warnakula and Ivanka Peiris. Music is by Rohana Weerasinghe and Sangeeth Wickramasinghe. The movie is produced by Soma Edirisinghe on behalf of E. A. P. Films. And it's the first DTS cinemascope digital comedy film to be made in Sri Lanka.
Ruwini Jayawardana