Afghan officials claim:
147 civilians killed in US air-strike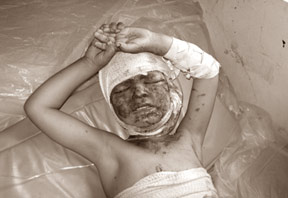 An injured child lies in a hospital in Farah, in the western Farah state . -AFP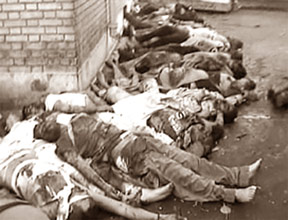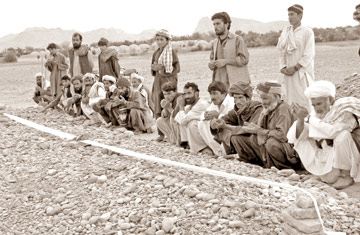 Villagers pray at a mass grave of victims of air strikes in the village of Garni in the western Farah state. An Afghan provincial police chief said that investigations showed over 100 people were killed in a series of US-led coalition air strikes in western Afghanistan. - AFP
HEART, May 10 - Shouting "Death to America" and "Death to the Government", thousands of Afghan villagers hurled stones at police yesterday as they vented their fury at American air strikes that local officials claim killed 147 civilians.
The riot started when people from three villages struck by US bombers in the early hours of Tuesday, brought 15 newly-discovered bodies in a truck to the house of the provincial governor. As the crowd pressed forward in Farah, police opened fire, wounding four protesters. Traders in the rest of Farah city, the capital of the province of the same name where the bombing took place, closed their shops, vowing they would not reopen them until there is an investigation.
A local official Abdul Basir Khan said that he had collected the names of 147 people who had died, making it the worst such incident since the US intervened in Afghanistan started in 2001. A phone call from the governor of Farah province, Rohul Amin, in which he said that 130 people had died, was played over the loudspeaker in the Afghan parliament in Kabul, sparking demands for more control over US operations.
The protest in Farah City is the latest sign of a strong Afghan reaction against US air attacks in which explosions inflict massive damage on mud-brick houses that provide little protection against bomb blasts. A claim by American officials, which was repeated by the US Defence Secretary Robert Gates in Kabul, that the Taliban might have killed people with grenades because they did not pay an opium tax is not supported by any eyewitnesses and is disproved by pictures of deep bomb craters, one of which is filled with water. Mr Gates expressed regret for the incident but did not go so far as to accept blame.
The US admits that it did conduct an air strike at the time and place, but it is becoming clear, going by the account of survivors, that the air raid was not a brief attack by several aircraft acting on mistaken intelligence, but a sustained bombardment in which three villages were pounded to pieces.
Farouq Faizy, an Afghan radio reporter who was one of the first to reach the district of Bala Baluk, says villagers told him that bombs suddenly, "began to fall at 8 p.m. on Monday and went on until 10 p.m. though some believe there were still bombs falling later". A prolonged bombing attack would explain why there are so many dead, but only 14 wounded received at Farah City hospital.
The attack was on three villages - Gerani, Gangabad and Koujaha - just off the main road. It is a poppy growing area of poor farmers and there were several fields of poppies near the villages. The Taliban are traditionally strong here and the police and soldiers waiting around the villages were said by eyewitnesses to be frightened. This would explain why Afghan army commanders might have been eager to call for US airstrikes, though they would have needed the agreement of American special operations officers.
Provincial officials, including the governor Rohul Amin, say that in the lead-up to the bombing there was heavy fighting between hundreds of Taliban and the Afghan Army and police. Going by Mr Faizy's account there had been, "a fight some seven or eight kilometres from the three villages in which two Afghan Army and a US Humvee were destroyed. A third Afghan Army vehicle was captured." Three police were killed and four wounded, as was one American and one Afghan army soldier. This was hardly a major military engagement, but the pro-government forces seem to have got the worst of it and their burned out vehicles still stand in the road.The loss of life in Afghanistan from air strikes is often worse than in Iraq where houses are more modern and usually have basements. In the villages in Farah, people were living in compounds with mud brick walls which crumbled easily. Pictures of the aftermath of the attack show people standing beside the remains of a relative which often only looks like a muddy pile of torn meat. One elderly white bearded man, said by neighbours to have lost 30 members of his family, squats despairingly beside a body that has been torn into shreds. Among the few wounded to stay alive is a child with a badly burned face.
One reason why US bombing inflicts such heavy civilian casualties in Afghanistan and Iraq is that both are very poor countries in which houses are very crowded. When the US used air strikes and heavy artillery with little restraint in the siege of Fallujah in 2004 it caused serious loss of life. Wedding parties in both countries have often been mistaken for "terrorist" gatherings and bombed.
In Afghanistan opinion polls show that support for the Taliban and for armed attacks on foreign forces rises sharply after events like the bombing in Farah. President Hamid Karzai frequently criticises the US military for wantonly inflicting civilian casualties, attacks which his opponents say is an opportunistic effort to burnish his nationalist credentials.
The Taliban increasingly use tactics developed by insurgents in Iraq, notably suicide bombing on a mass scale and IEDs, or mines in the road detonated by a control wires or electronically. In Helmand province yesterday a suicide bomber killed 12 civilians in an attack on a foreign military convoy near the bazaar of the town of Gereshk. No foreign troops were killed by the explosion, though two were wounded.
(Courtesy: pendent.co.uk)
---
Leaders condemn ...

The Chairman to the Communist Party Raja Collure said that SWAT Valley bombing along the Pakistan-Afghanistan border, targeting Taliban terrorists was against humanitarian law. The world powers, who are behind these operations have no right to accuse others of violating humanitarian laws which they violate, he said.We totally condemn terrorism. Terrorists and the terrorism should be eradicated from the face of this earth. But by doing so, they had to be mindful of civilian lives, he said.
---

Veteran trade unionist and Western Provincial Council Governor Alavi Mowlana said that he had sent telegrams to U. N. Secretary General Ban ki-Moon and Ambassadors of United States and United Kingdom based in Sri Lanka expressing displeasure over the actions of the USA and UK who have been practising double standard policies on the burning issue of terrorism.
He said that they will commence non-stop agitation against those countries from Monday. Thousands of innocent people including children had been killed and injured by air attacks in the SWAT Valley. Terrorists and terrorism no doubt must be eradicated. In Sri Lanka a humanitarian operation to liberate innocent civilian from LTTE terrorists was being implemented. USA and UK should not try to disturb the current humanitarian operations in Sri Lanka, he said.
---

Western Provincial Council Minister Udaya Gammanpila said that the USA is killing innocent people in the SWAT Valley in Afghan - Pakistan border to cover up the desperation in their failure to defeat the Al Queda terror group. They should get "Tuition" from Sri Lanka on how to destroy a terrorist group without killing innocent people, he said.
---
Veteran trade unionist Somaweera Chandrasiri said that USA practises a double standard policy on world affairs. Hundreds of innocent people have been killed or injured in the SWAT Valley. USA's attempt to slowdown the humanitarian operations in the Wanni was to assist terrorist leader Prabhakaran and terrorism, he said.
---

Kurunegala District UNP MP, Akila Wiraj Kariyawasam said that terrorism wherever it is, must be eliminated. The innocent civilians should not be killed in bombing or air attacks.
All countries should respect the UN Charter, he said.