Ranil takes wing on dubious tour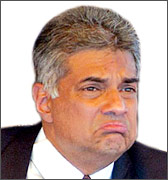 Opposition and UNP leader Ranil Wickremesinghe is scheduled to make another controversial tour of Europe. Local political sources said the main aim of his European tour is to hold discussions with several Scandinavian officials on the situation in Sri Lanka and a strategy to save the LTTE leadership now trapped in Mullaitivu.
In a desperate attempt to exert more international pressure on the Government to go for a ceasefire with the LTTE terrorists. Wickremesinghe intends to paint a gloomy picture of Sri Lanka to the international community. Minister Mahindananda Aluthgamage said the Opposition Leader appears to be playing a new role as the international spokesman for the LTTE terrorists. "I have pointed this out in Parliament too. It was Anton Balansingham who campaigned for the LTTE internationally in the past. Since his death, the LTTE got Siva Pasupathi to do that job. But since their international campaign got weakened, the LTTE has got Wickremsesinghe to act as their international spokesman," the Minister said.
Minister Aluthgamage said the UNP leader, who has lost 19 elections in a row, including two Presidential elections, is making desperate attempts to get political mileage and regain power at any cost. "Wickremesinghe is responsible for the current international pressure that is mounting and calls for a ceasefire. Over the past several months, the UNP leader has been globe trotting tarnishing the image of our country and discrediting our Security Forces which have been doing a commendable job. The Opposition Leader has done a considerable damage to the country," he said.
He added that the UNP leader could not win the confidence of the eighty odd Parliamentarians elected at the last General Election. He has only 43 remaining in the UNP and out of that, 23 MPs are supporting the Security Forces' current humanitarian operation. "The UNP is now divided. But their leader is still playing his old game and making desperate attempts to hang on to the top seat of the party," the Minister added.
Minister Aluthgamage said all loyal, patriotic and peace-loving citizens, irrespective of their political affiliations, should reject this type of opportunities.
"I am sure Wickremesinghe is on another dubious mission to discredit the country, slow down military operations and save Prabhakaran.
People would teach a good lesson to such politicians at the next general and Presidential elections," he concluded.