Sir Baron Jayatilake:
A beacon of light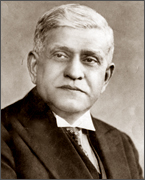 My Mahappa Sir Baron Jayatilaka was a statesman and a scholar and at the same time he was a very simple man who led a very ordinary life. Born at Waragoda, Kelaniya, he was the eldest son of Liyanarachige Don Daniel Jayatilaka and Dona Elisiyana Weerasinghe. He had two younger brothers, Muhandiram Don Simon Jayatilake who had 5 children and my father Mudaliyar Don Abraham Jayatilaka. He had a sister older to him, but she died young. My father being the youngest in the family inherited the house where my Mahappa, Sir Baron spent his childhood. I am happy and proud to own it now being the only child in my family. My grandfather was a landed proprietor and he with the Weerasinghe's of Waragoda and the Fernando's of Wanawasala were responsible for the establishment of the Vidyalankara Pirivena. When Mahappa was six years old he read his first letters at the feet of the Most Venerable Ratmalane Sri Dharmaloka Maha Nayaka Thera. Thereafter he was sent to the local Baptist school at Waragoda, where he learnt English and other subjects through the medium of English. At the same time he went to the Pirivena and learnt Buddhism, Pali and Sanskrit. He mastered all these languages so quickly that the Most Venerable Nayaka Thera was deeply impressed by his ability to do so. After some time he left the Baptist School and was admitted to Wesley College. There too he was a shining student and carried away all the prizes.
There is something very important and interesting which my father related to me a long time ago. When my grandmother was expecting Mahappa she had a wonderful dream. In her dream she had carried her eldest daughter and gone to the rear door of our house. This door leads to the garden and she saw that the moon was shining bright.
All off a sudden the moon started coming down towards her. As she was carrying her daughter on her right arm she held her left hand to the moon. But the moon went up. Then she took the child to her left arm and held the right hand and the moon came and rested on her right palm.
Heart and soul
She got such a shock that she woke up quite disturbed as it was an unusual dream and besides she was expecting a baby too. She immediately told my grandfather about her dream and he went early morning to the Vidyalankara Pirivena and narrated the dream to the Most Ven. Dharmaloka Thera who was very clever at sorting out dreams. The Most Ven. Thera told my grandfather not to worry that he will be blessed with a baby boy who will be a shining light to Sri Lanka. True to his words Mahappa excelled in his studies here and at the age of 22 he got his B.A. at the Calcutta University. He was an active Buddhist worker. He did everything he could to promote Buddhism here and abroad. He was in the forefront of the temperance movement. In 1915 he was arrested and imprisoned by the British Government along with other Buddhist leaders. Their cause was taken to the Privy Council by E. W. Perera and after a lot of hard work they were released. Although he visited several foreign countries he never forgot the fact that he was a Sinhalese and a Buddhist.
Marriage
In 1898 the Young Men's Buddhist Association was started in a small building at Maradana. Later he purchased the land at Borella. It was a big struggle for him to find the money as the Association had hardly any funds. Mr. F. R. Senanayake helped him to buy the land. He was the first President of the Y. M. B. A. and held that position till he died. The Vidyalankara Pirivena and the Y. M. B. A. were his heart and soul. Later he entered the Ceylon Lagislative Council and was the member for Kelaniya. His seat was always uncontested. He was the Minister for Home Affairs and he became the Leader of the State Council, and held that position till he resigned and went to India as Ambassador for Sri Lanka.
He married Mallika Batuwantudawa, the third daughter of Pandit Batuwantudawa. She was a good Sinhala Buddhist and was well versed in Sinhala, Pali and English. I remember her very well, and she was quite fond of me. My mother was a Miss Samarasinghe, sister of Atapattu Mudaliyar Walter Samarasinghe. My mother too was well versed in Sinhala and English. So the two sisters-in-law got on well together. Mahamma was of great assistance to Mahappa. She never interfered in his work but whenever he needed assistance she gave it to him.
Pillar of strength
My father was the President of Village Tribunal of the Siyane Korale West. He was of great assistance to Mahappa in organizing various functions at the Pirivena and elsewhere.
It was my father who organised the Perahera to take the Sacred Relics to the Pirivena. When State dignitaries came from abroad Mahappa always entertained them at his residence. When Pandit Jawaharlal Nehru came to Sri Lanka Mahappa invited him to tea at his residence. Pandit Nehru came with his sister Mrs. Huthee Singh and I had the privilege of presenting a basket of flowers to her. Later Mahappa introduced us to Pandit Nehru and his sister and we had the honour of shaking hands with them. Mahamma died in 1929. She was ailing for some time and when she was critical he was informed and he came rushing to her bedside.
Then she recited two lines from the `Gatha' but she could not complete it, and she passed away. Mahappa who was by her bedside completed the `Gatha' It was very difficult for him to bear the loss as she was a pillar of strength to him. He was in the midst of building a house for them to live at Bullers Road. But she died before it was completed. So he never went to live in it. Instead he has bequeathed this house along with his other properties for charity.
Now the Public Trustee Office is housed in this building. Before he left for India as Ambassador for Sri Lanka he wanted to visit the Vidyalankara Pirivena. A special train was provided for him to go to India. The train started from the Fort Station, and a large crowd of well-wishers' relatives and friends had gathered there to bid farewell to him.
He made it a point to stop the train at the Kelaniya Station to go to the Vidyalankara Pirivena to pay his respects to the Most Venerable Lunupokune Dhammananda Thera. There was a large crowd at the Kelaniya station, to bid farewell to him.
While in India he got ill and was very keen on coming to Sri Lanka for treatment. Permission was taken from my father to bring him home. The Viceroy of India provided a special plane for him with a doctor and medical staff. But on the way to Sri Lanka he passed away. His last words were "How far are we from Colombo?" He died on the 31st of May 1944.
Pinnacle
The mammoth crowd that attended his funeral was an ample testimony to his popularity. Although he moved about with great men he never forgot the fact that he was a Sinhalese and a Buddhist. He was in the forefront of the fight for independence for Sri Lanka.
He was chosen to lay the pinnacle for the Ruwanveli Maha Seya. Amidst the shouts of `sadhu' from the thousands that gathered there, he attired in the grab of an Upasaka along with Sri Cuda Ratwatte pressed the button to lay the pinnacle to the Ruwanweli Maha Seya. There is a saying that the good that men do live after them but I would conclude by saying that the good that men do die with them.