The Sri Lankan music legend Kalaasuri H. R. Jothipala is remembered on his twenty second death anniversary by Nalin Jayawardena who has released a CD of 21 of the immortal songs of Jothipala.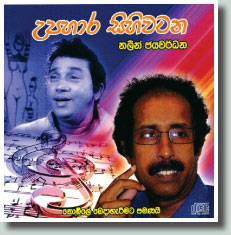 All the songs are sung by Nalin Jayawardena which includes duets with Santhuri Waidyasekera a 16 year old from Gampaha. Nalin who is domiciled in Australia has titled his remembrance CD Upahara Sihiwatana tells us that the CD also contains a tribute song to H. R. Jothipala the lyrics for which were written by Dr. Vicumpriya Perera.
The music direction was handled by several leading artistes and musicians including Sangeeth Wickramasinghe, Ananda Waidyasekera and the popular band Seeduwa Sakura. The twenty one songs on the CD have been produced with a variety of styles in mind. Some songs have been re-created with an ambience of a live stage performance while others are almost closer to the originals with high quality recording using the same musical arrangements.
To suit the current musical trends and tastes of young music lovers some songs were modified accordingly. The songs are available to be downloaded through http://netcd.lakderana.com and at www.amazon.com and will be distributed free of charge in Sri Lanka.
Nihal has also released another CD Paata Paata Heenayak which reflects the creations in the past five decades of music in Sri Lanka, contains rap, nawa rithma, Kaffringha and other music traditions, styles and rhythms.
The CD which is his fifth CD also carries a tribute to one of the pioneering music gurus Fernando from Kahalla, Katugastota who composed songs in the late 50ís and taught music to some of the leading Sri Lankan musicians of today.
Nalin proudly claims that he was the first Sri Lankan artiste to release a Sinhala CD through the internet to help fans to download the album free of charge.
---
International Music Day on June 21 is an opportunity for you to display your hidden talents especially if you are not a professional singer and you spend your singing hours under the shower. Who knows like Susan Boyle you have the opportunity to keep your audience rooted to their seats with admiration.
So hurry obtain your application forms from the Alliance Francaise de Colombo at Barnes Place Colombo 7 and enrol for your big day.
Apart from singing if you can play any music instrument or if you wish to join music groups, school bands you are welcome to show off your talents. May be you are dance crazy then keep your inhibitions back at home and dance your feet off solo, or with Dance Schools.
International Music Day is your day to enjoy a great day of Music and fun free of charge.
The organisers will provide the Hall, Sound System and a backing band the popular Annesley Malawana & The Super Chimes who will also perform for your enjoyment.Just imagine what started as a small International Music Day on a Paris street has grown into a huge event with thousands and thousands flocking to the streets and parks to embrace different kinds of music that goes on the whole day.
Here in Sri Lanka the event is from 12 noon to 7.00 p.m. so brush up your pop, jazz, classical, rock, baila or anything else like compering. Bring along a friend or your family, and be a part of the experience.
Please send your music news to panorama1@rocketmail.com