Technology
POS supports banks to be cost-effective
The Point of Sale (POS) banking solution of Epic Lanka will help the banks to establish cost effective branch networks and provide more customer friendly services, said the General Manager Viraj Mudalige.
After modification of Point of Sale (POS) online data capturing device of Epic Lanka we created a banking solution that the international bank HSBC brought its service to the rural post office. This solution addresses the whole society. It is used by the Nations Trust Bank (NTB) in its doorstep banking micro finance scheme. Instead of the customer going to the bank, the banks now can go to the doorstep of the customer and give him the same service.
Mudalige said that the POS Bank solution evolved and developed several versions to meet the different needs of different banks. The latest is the lifetime banking that the National Savings Bank (NSB) goes with to hospital wards to open accounts for newborn children.
In Sri Lanka offering a bank account for a newborn child is a tradition and NSB wanted to encourage this saving habit of the people. Our solution provides same service that a customer gets from any NSB branch at a hospital ward.
They will issue pass books, accept deposits, update pass books and issue receipts.
This banking solution has captured international market as well and will be used in Australia for upper income market and Nepal for rural banking.
According to our market surveys we found that online banking, E banking and SMS banking are not much successful in Sri Lanka because of the attitude of the people. Our people prefer to get their pass books update immediately and receive a paper receipt after depositing the money. Our banking solutions cater these needs, Mudalige said.
Mudalige said that NSB lifetime banking solution added new feature that enable to eliminate co-banking solution from the banking system.
Because NSB does not have a co-banking solution and therefore we modified the POS Bank solution to direct link with NSB servers via GPRS.
He said that this innovation added many values to its core POS solution. Now banks can oust co-banking solutions that drain millions of rupees and the country can save foreign currency as well because all co-banking solutions are provided by foreign companies.
On the other hand the POS machines can be substituted for bank branches. After the financial crisis the banks are in a difficult situation and have slashed their cost. To open a bank branch they need millions of money and other resources.
Now the banks can expand its operations using our solution with fraction of such cost and resources while the operations are more flexile. This is an ideal solution for the banks looking for expanding their branch network to the North and East, he said.
Apart from financial transactions, this solution can also be used for registration of people and other data storage and transmit purposes.
Innovation is the key factor of the success of the Epic Lanka during the last 11 years in the software industry and Epic allocates 10 percent of its profit for innovation, Mudalige said. After several years, research with the Telecommunication providers Epic Lanka has replaced GPRS by CDMA and has made the POS Banking solution more cost effective and convenient.
The new device Epic CDMA facilitate the CDMA network to transmit IP data.
Innovation is part and parcel of our software development process and from the top management to operator. Our innovations cover all aspects of our products including socio economic factors. Epic Lanka closely work with universities and we have a dialogue with academic staff to exchange our technical experience and their latest academic knowledge in this fast changing industry, Mudalige said.
Innovation is an ethic here and there are invention, engineering, entrepreneurship, management, environment and social components in it. If you look at our latest innovations you can see that we have covered all these aspects. Our solutions are flexible to meet the different needs of the different customers, he said.
---
hExpense Tracker for iPhone
hSenid Mobile has developed "hExpense Tracker", an expense tracking application built for iPhone OS, with special focus on the business traveller. Through the "hExpense Tracker" a user can track his spending in real time entering receipts, cheques, credit card and cash purchases, to keep constant track of his expenditure.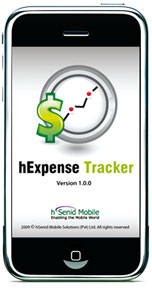 The system enables a user to track and monitor expenses ranging from an airline ticket to a minute expense such as a cup of coffee or a parking ticket.
hSenid's expense tracker facilitates all inbuilt features of the iPhone supporting multiple simultaneous taps, zoom in facilities and auto rotate options.
With the support of extensive research, hSenid's development team has been able to simplify the advanced technical features of the iPhone to provide the user with an easy to use, well defined, application. (User interface)
The "hExpense Tracker" helps keep track of multiple projects while at diverse destinations. Especially designed for the business traveller, the system records all expenses throughout a particular business trip. Be it a hotel bill, taxi charge or even a lunch out with clients. Once recorded, the expenses can be analyzed through a detailed expense report which is precise and straightforward. The expenses can be analyzed further through a system generated graph which provides the user with a simple clear-cut view of his expenses. Having recorded his expense details the system helps the user to email the expense report directly using the in built mail client of the iPhone, for reimbursement.
Surely, a piece of paper, pen and calculator can assist us in tracking our daily expenses.
However, to remember the figure or save the piece of paper for more than a few days would be extremely complicated. The use of an expense tracking program provides a formal and systematic approach to Money Management. It helps you to identify expenses or categories of expenses, to make sure that the data you're basing financial decisions are solid.
---
Millennium IT at Cisco Summit
This year too, Sri Lanka's Millennium IT participated at the prestigious Cisco Partner Summit organised by Cisco Systems, the global leader in networking equipment and network management for the Internet. The Cisco Partner Summit 2009 was held in Boston, USA from June 2 to 4.
The Summit provided an opportunity to interact with Cisco executives and other Cisco partners from all over the world. The 2009 Summit was also a further step in the direction of enhancing cooperation between Cisco Systems and MillenniumIT.
The Cisco Partner Summit 2009 allowed MillenniumIT to strengthen direct links with the global leader and to gain a stronger understanding of Cisco's latest products and services.
"Participation in the Summit displays our commitment to a long term relationship with Cisco Systems and our commitment to deliver the highest standard of service to Cisco clients in Sri Lanka.
The Summit also provided a better understanding on how to deliver the latest Cisco products and services in Sri Lanka and on aligning ourselves with the Cisco product road map," said Faiq Faaiz, Executive Vice President of MillenniumIT.
Earlier this year MillenniumIT achieved Cisco's Advanced Unified Communications (UC) certification, Advanced Data Center Networking Infrastructure (DC) specialization and Cisco's Advanced Security certification, making MillenniumIT a fully fledged Cisco Systems partner.
The Advanced UC, DC and the Advanced Security certifications are programmes by Cisco Systems that show a partner's investment in gaining the necessary expertise in selling, designing, installing and supporting Cisco's integrated advanced technology solutions.
MillenniumIT is the only Sri Lankan company to obtain the Cisco Advanced UC, DC and Advanced Security certifications.
MillenniumIT also retains a team of over 30 dedicated Cisco certified engineers and maintains routing, switching and unified communications labs in Sri Lanka, making it possible to provide an unparalleled standard of service to Cisco clients in Sri Lanka.
---
BanglaCAT to implement IFS application
IFS, the global enterprise applications company, today announces that Bangladesh's largest independent power generation solutions provider and Caterpillar distributor, BanglaCAT will implement IFS Applications. BanglaCAT has recognised the need for an agile and flexible enterprise solutions system to integrate its business operations across the region.
BanglaCAT, which decided to invest in a business solutions system in the face of the global recession, chose IFS after an extended evaluation process of global ERP providers. The company expects several benefits after implementing IFS' agile component based system in their operations and interactions with other Caterpillar dealers across the Asia-Pacific, Middle East and South Asian region. IFS will deliver a solution consisting of components for Finance, Distribution, Maintenance, Human Resources and Business Performance.
"IFS has fulfilled all our requirements perfectly and emerged heads and shoulders above its competitors in all important aspects. With the flexible, component-based architecture of IFS Applications and step-by-step implementation, we were able to define what phases we want the solution to be implemented in and how we will approach the automation of the organization" comments Nazim A Haque, Managing Director, BanglaCAT.
Efficient, quick and competent local support was another deciding factor when choosing the IFS solution. BanglaCAT intends to introduce further components of the solution to its sister companies under the Bangla Trac umbrella once the first implementation project is complete. "We believe in long-term planning and this is the first step in a long process of automation, optimisation and modernization of BanglaCAT for the years to come," Nazim said.