A new facelift to Avukana precincts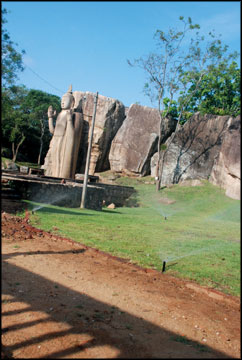 Sri Lanka is famous for its rich culture and heritage among other nations in the world.
Foreigners who visit at any time of the year are familiar with places of natural beauty in the country. Avukana Buddha statue is one of the most significant archaeological sites to be visited by all.
The Civil Security Force of Sri Lanka launched its new landscaping project to add more beauty to the precints where the statue is situated. Avukana Buddha is one of the tallest statues in Sri Lanka facing, Kala wewa.
It rises to 11.36 metres according to the Trigonometriculation system by A.P. Ashoka of Archaeological Department. Even though various people support different stories about the origin of the statue, it is commonly believed to have been sculpted during the reign of king Dhatusena.
Once the great statue was claimed to be that of Deepankara Buddha and not of Gautama Buddha.
Some sources claim that it was one Barana who was the `Masterbrain' behind the creation of Kala Wewa as well as the Avukana Buddha Statue.
Although Avukana attracted tourists throughout the year it lacked even the basic facilities, both sanitary and good roads.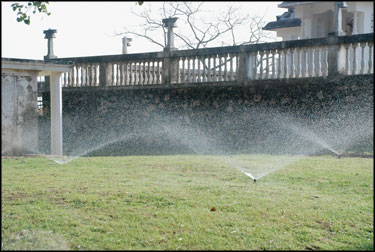 Thus, CSF's first priority was to address such needs. Therefore, they inaugurated Avukana Landscaping project which was directed by the Rear Admiral Sarath Weerasekara in September last year.
When we visited the place we observed they had renovated the access road to the Vihare, with the grass lawn around the places.
The area gleamed with greenery. A kind of an irrigation system is in operation to water the lawn, so that the Greenery could be maintained.
The system of irrigation is a donation from Jinasena Limited which costs around 1 million rupees. A 15 litre tank has been installed in the ground to ensure the continuous supply of water.
The Sampath bank has also donated a Lawn Mower. A proper lighting system to the Avukana precints is a must at the moment.
The estimated cost for the landscaping and irrigation project by the Department of Archaeology was Rs. 12.6 million. Materials worth over Rs. 1 million were donated by the People's Bank.
The troops too have helped in laying the infrastructure at the location. The new facelift to Avukana Archaeological site has been able to attract more and more tourists, both local and foreign.