"It was a casual break time during a practice session with Merry An Singers that saw the birth of Flame as a trio and then over the years the trio became a quartet, a quintet and even a sextet as an eclectic mix of musicians came and went always embellishing our music" says Naushad Rasool the leader of Flame. Blessed with a powerful voice he has steered the group through many successful lanes to be the popular group they are today.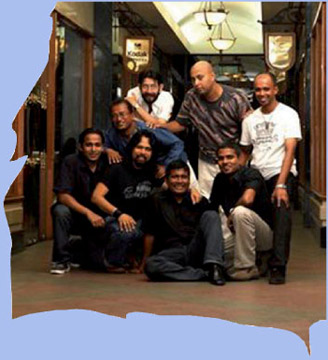 They perform regular gigs on Fridays at the UBG (Hilton Residencies) and their fans have trebled which is unbelievable. What strikes you the moment you begin listening to them is that they present their music with happiness and spontaneity born of musicians who are highly talented to listen and follow improvisation of one another and react accordingly.
"Folk was our speciality at the outset of our musical career. We were ardent Simon and Garfunkel fans, and without exaggeration we hit the headlines and received the Observer Golden Clef Award in 1994 for the Folk Band of the Year category.
But today the music of Flame is steeped in the timeless classics of the 60's and 70's with more than a passing nod to contemporary artistes. Of course there's folk, folk/rock, rock and roll and vintage rock! We cover Eric Clapton, Dire Straits and even Pink Floyd and Santana along with our folk stuff," continued Naushad.
You've had your personnel changes and who doesn't have it. How does your group read now?
"Of the founder members myself and Rienzie Pereira - guitar and vocals, we are still there.
The others who joined us are Chris de Alwis - vocals/guitar, Primal Liyanage - vocals/guitar, now we have guitarist Kamal Perera of Mirage fame, Lal de Silva - bass/vocals, Nishantha De Abrew - keyboards and Niroshan de Silva - drums. I'm extremely happy to have them in the band Flame because all of them have the ability to change track from good time music to dance music which has resulted in many performances of the band at weddings and top class concerts and overseas concerts for airlines.
Your fans commend your performances as a band that knows how to please a wide audience what does the future hold for Flame?
"A concert is on the cards the band's first of its own, is slated for late this year. Rehearsals have begun, some originals have been composed. The concert format will differ from what audiences have been used to - more about it later."
It is obvious that music is a passionate hobby to the members of Flame who like the proverbial moth were drawn together despite their different environment to interact with one another and give happiness to countless music lovers.