Dams need renovations for effective supply of water
Due to lack of coordination between institutions that manage water resources serious issues have been created in the water sector of the
country said the director of the Dam Safety and Water Resource Planning Project (DSWRP) D.C.S. Elakanda.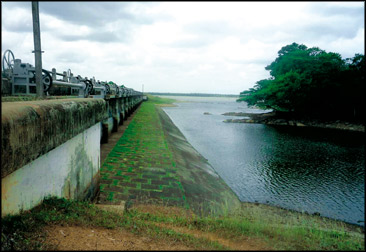 Department of Irrigation, Ceylon Electricity Board, Water Supply and Drainage Board, Department of Agriculture, Mahaweli Authority are the main stakeholders in the water sector. Today these institutions take individual decisions in managing the resources and to face specific issues. Under DSWRP first time the government has brought all the stakeholders in planning the water sector and to find solutions to the problems they face, he said. DSWRP project of the Ministry of Agriculture is funded by the World Bank.
He said that out of the 85 big dams in the country 32 have dilapidated and need immediate renovation. Our dams are aging and they are in dire need of repair and maintenance because operational efficiency of them have reduced significantly, he said.
He was addressing a meeting held to conclude the construction and socio environmental impacts mitigation plan of the Thabbowa tank rehabilitation project. Tabbowa is the first tank rehabilitated under the DSWRP project. The construction work will be launched in May 2010. The meeting was headed by the Puttalam District Secretary Kingsley Fernando.
Officials from irrigation, agriculture, Govijana Seva, forest, archaeological and wild life departments attended and discussed the construction design, work plan and minimising the damages to the people and the environment.
The Tabbowa tank was reconstructed in 1004 by the Department of Irrigation. Since then major repairs have not been done and as a result the dam, slews and speel has cracked and there are water leakages. This is posing a serious threat to the lives and properties of over 1250 farmer families in the down stream of the tank.The tank has 15,000 acre-feet capacity and nourishes 2090 acres of paddy fields. Tabbowa tank is the main water source of the Puttalam district and as a measure to reduce the risk the tank is not filled to capacity. Therefore the farmers have faced water shortages and their crops in this Yala season is under threat. The officials agreed to complete the project by September 15 before the 2010 Maha season starts.