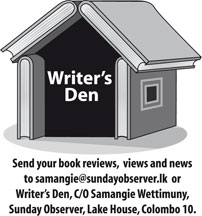 Redefining women's role in a globalised milieu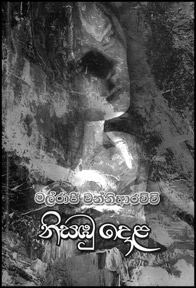 With 'Nisambu Dola' Malraji Wanniarachchi introduces hitherto unknown woman's character to Sinhala fictional world. Mihiri, the lead role in the novel, emerges out of poverty into a world of glamour and money and in the course of her upward social mobility, she conquers not only the barrier of class but also the world of commence dominated by cutting-edged competition. However, the story comes to an anti-climax with Mihiri regretting over her journey.
The story commences with Mihiri's marriage to Darshana, a son from an aristocratic family. Mihiri, though extremely beautiful, is from a poor family who lives in a cottage in a land belonging to Dharshana's family. On the very first day of the marriage, she understands the challenges she has to face in the household.
"She looked out of the window slightly unwinding the blind. The lights emanating through the darkness from huge buildings from here and there in the metropolis looked like a colourful network as a whole. But beneath this stunning network is darkness. There is a great mystery in it. Mihiri closed the blind quicker than it was opened."
Through passages like the above, the author is able to capture the mood of the lead character of the novel, Mihiri and her anxieties about her marriage and the challenges that are to be faced in leading a life in an aristocratic set up. The first challenge that the bride faces is to improve her knowledge of English. It is stated that the language spoken at home is English.
Although Mihiri is English educated, she is not used to speak in English.
One of the prominent characteristics of Sri Lankan upper middle class is their liberal use of English at home. For them English has been a yet another status symbol rather than a means of communication.
"Those who attended the function had hardly spoken in Sinhala. There was hardly any space for Sinhala. Mihiri felt that Darshana's mother was not as humble as she had been on the day of the wedding. Mihiri became furious as she thought that Darshana's mother seemed to look down on her parents. She breathed heavily when he learnt without a slightest doubt that her parents had become an irritation to Darshana's mother."
The author Malraji Wanniarachchi has meticulously developed the character of Mihiri against her bohemian husband Darshana. It seems that the author has utilised not only the dialogues but also descriptions to strike home the changing moods of Mihiri and gradual taking over the business of the house before she completely controls Darshana's business empire. Malraji is also clever in creating dramatic situations.
For instance, Mihiri's management skills are manifested in the hospital scene where she manages the situation admirably. This feature is also present in her previous works such as in Radha, an anthology of short stories.
"Now, Mihiri becomes indispensable for Darshana's mother. When father returns Mihiri gives him medicine. Mihiri accompanied father when he visited doctor once a month. She was amazed how she dominated this huge household."
Although the author has shifted the narrative from the first person to the third person in the latter part of the novel, this has not helped increase the vivacity of the character in a significant manner. The author has also used other minor characters such as Sandra, Darshana's friends to shed light on Mihiri's role.
Nisambu Dola excels in many areas such as characterisation, creating dramatic situations, use of descriptions not only to represent changing moods of the characters but also to create distinct atmospheres typical to upper middle class vividly portrayed in the novel.
Although Malraji has painstakingly built up a strong feminine character in Mihiri, the rather tragic end of the novel has, to a greater extent, diminished otherwise a vividly realised character of Mihiri.
The author states in the last passage of the novel that Mihiri regrets her heavy involvement in the world of commerce. Here the author, though unwittingly, tries to reaffirm the conventional role of women that is confined to rearing the children.
"I thought that we would not have to shed these tears if I had become the wife and mother as he expected ...I have no strength left even to utter ... forgives me..."
---
Gods reveal themselves
Whether the Gods exist or not is a subject that seems to have led the mankind into controversy even from the early days of our civilization.
It can be surmised that the whole gamut of human knowledge in this regard has been gained through our own beliefs, personal and empirical experiences, contemplations, religious or divine literature and revelations, folklore and also by way of various experimental undertakings and speculations of later times. Therefore, it has intrinsically taken the shape of a complex and more complicated issue posing before us a difficult problem which is very hard to elucidate and bringforth a comprehensive and clear solution which can adequately quench the inquisitive thirst of the interested seekers of the truth about gods as well as the concept of gods and the rest of it.
At this controversial juncture Somapala Dematapitiya has taken a bold step forward by publishing a book titled, "Discovery of Gods Unseen" with a view to unravelling the realities embodied in this problematic issue. In this book he brings about some authentic revelations about the whole concept of gods, deities and others of the rank.
This is a handy book of 360 pages printed on white polished paper. In this book Dematapitiya has made a unique effort to explain the concept of Gods inevitably basing himself on the Buddhist philosophy without stepping into the domain of any other religion not inflicting even a slight harm.
The author explaining his views in the preamble to his book elaborates on the classification of gods and deities as follows: "The first category (of gods) consists mainly of Hindu and Greek gods of mental deification, symbolizing environmental and phenomenal entities.
These gods again could be classified into two subgroups firstly, conceptual gods who consist personified or deified objects of nature such as sun, moon, fire, etc. and secondly, conceptual gods who are the personifications of various concepts such as love or bravery...
The second category of gods, includes the host of those gods sometimes referred to as thirty three thousands crores of gods who consist of astral beings that we are aware of at present, who really are an another category of life form existent in the form of evolution of whom the Emergent Buddha (Bodhisatta), Sri Vishnu, Skandha Kumara of Kataragama and Dedimunda of Aluthnuwara who are among the Gods-in-Charge of World Administration (Loka palana) are some. They are usually called Maheshakya or highly powerful full-pledged gods and in addition are those who get to the various lower abodes of heaven ... are called Alpeshakya or less powerful gods..."
He further categorizes gods Shiva, Maheshvara and Ganapathi together with Godesses Laxmi and Sarasvathi as conceptual gods and goddesses of Hinduism.
Ven. Egodamulle Amaramoli Thera's article on the Cult of Gods in Buddhism appearing at the beginning of the book deems to play a harbinger's role comprehensively bringingforth the essence of the Buddhistic theory about the existence of gods.
In selection of topics the author gives priority to the geographical location of the other world and divine groups and the biographical anecdotes of Bodhisatta Maitra, God Sri Vishnu, God Kataragama, God Dedimunda of Aluthnuwara, God Sumana Saman, semi God Siddha Suniyam and Goddess Paththini. He has allocated a chapter for each of the above topics to elaborate on them with lengthy and admirable narrations.
The most salient characteristic of this book is the author's frank and solemn exposure of the fact that the vast knowledge on gods acquired by him was purely through a group of gods whom he was destined to come across by way of a powerful Anduna or divine screen which belongs to God Sri Vishnu and manipulated by his subordinate, God Dedimunda of Aluthnuwara. At first he had been in close association with gods for some time. As these gods seemed to be compassionate and willing to help the human race as a whole and here with the sole intention of bestowing the truth about them to the bewildered human beings enabling them to communicate with the gods in the most complacent and congenial manner. The author had suggested to the gods to reveal everything about them.
Thus with the kind approval of the gods he was successful in compiling this book embodying a considerable share of those revelations and many other incidental facts and figures which are capable of capturing the interest of the readers. The rest of revelations will be presented to the public in a later volume as the author promises.
Narawila Patrick in his introduction to the book gives a positive answer to the question that to what extent could the readers believe what author speaks out is nothing but the pure truth. And the author more forcefully illustrates his focal points seven in number establishing the credibility of the information he got through the divine screen (pages 16-20).
Besides those superior gods the author speaks about the other deities and non humans as well. This category includes astral beings like dryads (tree deities), devils, demons, fiends (Rakshas), gremlins (prethas), goblins( pisachas) and hobgoblins (kumbhandas) and so on along with rites and rituals pertaining to them. The author's personal experiences and hardships faced by him together with some occult and mysterious manipulations in sorcery have been discussed in a fascinating way.
The chapter on divine medicines introduces among other details a divine medicine - a plant called "Rajamantri" which possess a wonderful healing power to cure many ailments like differences in blood pressure, diabetes, gastric disorders etc. A photograph of the plant has also been included in the book. Furthermore you can find in the book a number of divine prescriptions for the preparation of drugs for various other prevalent diseases including AIDS.
The author comes out with a number of specific instances regarding patients who got cured by these divine medicines. Again he distinctively points out that the divine punishments meted out by gods as corrective measures are similar in nature to the punitive actions taken by our parents.
The last chapter is an elaborate account explaining the use of divine offerings and feeds which are considered as facilitating transactions to promote the goodwill between gods and humans. If these transactions are affected in anyway by ways of wrong actions of humans, gods are compelled to punish them accordingly.
The author takes a frankly non agnostic stance and looks at these phenomena in a challenging and thought-provoking manner taking the reader on a voyage to a deeper level of understanding.
His artistic craftsmanship shown in writing this book is praiseworthy.
The dramatic presentation of incidents with fascinating and conducive dialogues in narration when he deals with his firsthand experiences sometimes disclosing the utter cruelty and revengefulness of some higher-ups and the talents shown in narrating the tales of others full of hardships and vicissitudes of human life have won him much credit.
As such this is a book that we can read and enjoy like a novel or a compendium of short stories.
A rare photograph of Bodhisatta Maitra, the Emergent Buddha adorns the cover design of the book and the author divulges the mysterious way how he happened to possess this invaluable photograph and discover indisputable facts behind it.
In conclusion, I have to mention that this is the English version of his prior publication in Sinhala titled "Ditimi Adisi Deviyan" printed in 2001.
In profession Dematapitiya is a retired SLAS officer who has held the post of an Additional Government Agent and two secretary posts in the North Western Provincial Council. Earlier he was a School principal.
He is the author of many publications in the academic sphere. To his credit there are Sinhalese novels, translations from English to Sinhala and English grammar books together with the Dematapitiya Sinhala - English Dictionary (2006) which is a complete volume of 747 pages.
As the author is well versed both in English and Sinhala, his diction here is flawless, frank, easy to understand and commendable. As such one is compelled to go on reading the book at one stretch with unabated interest and enthusiasm.
As well , the Author House publishers UK have taken steps to publish this book in near future in order to cater to the foreign readers.
After all this is a book worth reading. If there is anyone who disagrees with and challenge the contents of the book may criticize and let the author know about his valuable ideas. There is an open invitation by the author for us to do so.
His appeal in this respect runs as follows: "If I were to receive my readers' comments on my book as either a critique or an evaluation it would be greatly helpful to me to ascertain the validity and credibility of god's statement."
I am sure this book is an avenue to broaden the horizons of one's knowledge in many ways.
---
Treat for language lovers
Matara Janavahara is all about the dialect used by the people living in the Matara district including Kadawath Sathara, Wellabada Pattuwa, Kandabada Pattuwa, Weligam Korale and Morawak Korale. Although the dominant language in these areas is Sinhalese, the dialect is somewhat different from the one used in the Western Province and some of the other areas of Sri Lanka. Most of us who have lived in the South do not have any difficulty with the dialect used in Matara. However, a person who visits Matara for the first time may experience some difficulty in understanding the dialect used there.
The dialect used by the Southerner is rich in folk idiom and some of the expression may not be immediately intelligible even to those who have studied Sinhala for their degree. Although some of these terms are fast disappearing with the urbanisation and the migration of the population to Colombo, the dialect is very much alive in remote areas.
A peep into the education system in these areas in the past may shed some light to the origin and the expansion of the dialect. A long time ago the village temple was the seat of learning.
In the absence of schools in villages, children attended the village temple for elementary education. There were no Montessori schools or daycare centres to teach elocution or the basics of the langauge. As a child I too attended the village temple where I learnt books such as Buddha Gajjaya, Vadan Kavi Potha and Sakaskada. The children had to memorise all the contents of these books and they did so quite happily. As a result, they found it easy to learn any language and pronounce any word in Sinhala, Pali, Sanskrit or English.
The dialect and the idiom used in Matara (the term is used to include all the adjacent areas) have their roots in the village. The terms such as sattai, paruvata, avusada, suvalpa, lassana, piriya, and achariya are some of the terms which have come to stay in the spoken Sinhala even in other parts of the island. Ordinary village folk never tried to follow grammar patterns when they said, Mama yanava (I'm going), and Umba yanava (you're going). However, there are marked differences in expressions in areas such as Moneragala. For instance, ira bahinava (sun sets) becomes irgala vetenava in such areas.
The author has collected a number of terms used mainly in the Matara district. For instance, words such as achchara for apamana, akalvesi for aniyam vessa, atukos for velana lada kos, adale for bagayen bagaya, adikoda for avatara, atu aggissa for atuaga are a clear indication that the dialect is still a living entity in the area.
Some of these terms may give rise to misunderstandings if they are used outside the Matara district. For instance, Abiyogakaraya is a man who has lost his mental balance but not someone who challenges you. Another term of address is Ohe meaning you. It is rather a respectable way of addressing a person. But Ohe is not a popular term of address in the Western Province.
Meanwhile, some terms originated in Matara are now freely used in other parts of the country. Here is a selection of such words: Thambum hodda, Vambatu, Dharanipata vessa, Del vuna, Nan dodavanava, Pali gahanava, Pol valla and Yakadura.
When it comes to relationships the terms used in Matara are quite different. For instance, the term Amma (mother) is coupled with various other words: Loku amma, Madduma amma, Kudamma, Bala amma, Heen amma, Hichchi amma, and punchi amma. On the other hand, Appochchi (father) is coupled with other words: Loku appachchi, Madduma appachchi, Bala appochchi, Bappa and Hichchi bappa. The same can be said about Aiya (elder brother), Nangi (younger sister), Malli (younger brother), and Mama (uncle). The term Appochchi is now giving way to Thaththa, an endearing term even in the Matara district.
The names of certain fruits and vegetables have different terms in Matara. Some of them are Jul for Divul (woodapple), Kos for Herali (jak fruit), and papol for gaslabu (papaya).
Some of the words used in Matara give rise to different meanings: Aka maka damanava (destroy), Akul helanava (obstruct), Ata denava (help), Ata panava (beg), Ata mita hinga (poor), Ata mita molavanava (bribe), Atugadamanava (exterminate), Apavatvenava (die), Amu kala (gone mad), Ekata eka (tit for tat), Eka deka karanava (exaggerate), Onna menna (imminent), Kaju kanava vage (very easy), Kara arinava (avoid), Kara gahanava (take responsibility), Kimbul kandulu (false tears), Kukul ninda (nap).
People living in these areas are well-known for their verbal gymnastics. They say, Kiris kiris gala made yanava, Kekara ganava, Gidi gidi gala yanava, Gudu gudu gala bonava, Jara baras gala ada vetenava and Pata pata gala karanava. Some of these terms are not very popular in other parts of the island.
Taken as a whole, Matara Janavahara is an interesting and useful, book for the discerning reader. It is a treat to linguists and other lovers of the langauge.
---
Critical essays on Conrad's Heart of Darkness
Heart of Darkness was written in 1899, and was based loosely on Conrad's own experience as a seaman with a commission to sail up the Congo river in 1890. During the twentieth century it has become a central text in the discussion of European imperialism, and possibly the best known of Conrad's works - even though his first commercial success did not come until much later with the publication of Chance in 1913.
This book looks at the famous novella in detail from the perspective of the early twenty-first century and offers a series of critical essays which plot its reception and the establishment of its reputation. It begins with a long essay by the editor exploring its political, social, and literary background, offering a defence of Conrad. This is a counter to the criticisms made by Edward Said and Chinua Achebe which claim that Conrad, for all his liberalism, cannot conceal a submerged racism and imperialism from his critical gaze.
D.C.R.A. Goonetilleke even puts in a spirited defence of Conrad as an even-handed writer in gender terms. I'm afraid he's on something of a hopeless quest here, as anyone who has read widely in Conrad will know - particularly his deservedly less well-known short stories.
There's a chapter which traces the critical debate on Heart of Darkness from its publication to the present day. This allows readers the opportunity to witness how succeeding generations have interpreted the text, and it's a refreshing reminder that literary criticism has fads and fashions which change and even disappear.
The latter half of the book is given over to five extended critical readings of the text. These represent what are currently perceived as major schools of literary criticism - neo-Marxist, historicism, feminism, deconstructionist, and narratological. These will allow the serious students of literature at whom the book is aimed to sense the academic climate and see what to aim at in their own work.
The feminist critique takes up the conventional objection that Conrad's works don't include many female characters, and even includes a bizarre recipe for those who cannot accept that a writer might not share contemporary values.
"Nina Pelikan Straus concluded that while women readers may find some way to appreciate the text (she offers a number of reading strategies), in the end the best that women readers can do is remain detached from Heart of Darkness and refuse to grant the status of high art to the work."
There's also an interesting bonus - an appendix in which two film adaptations of the text are analysed. Francis Ford Coppola's Apocalypse Now! (1979) and Nicholas Roeg's Heart of Darkness (1994) are compared with the original text in a way which casts interesting light on both, though no mention is made of the 'deleted' scenes on the old French rubber plantation in Coppola's film which would reinforce the fact that his work was about imperialism and not just war.
It's a pity even more divergent views are not represented, but maybe there's just not enough room in one volume. As Douglas Hewitt, one of the many critics cited in this very scholarly survey observes: "Conrad's Heart of Darkness has had more critical attention per word than any other modern prose work".