DPJ Holdings ventures into pharmaceuticals
DPJ Holdings celebrates 10th year anniversary this October. The group, which was formed in 1999, became one of the leading players in the diverse areas of business it specializes in, with continued growth from year to year, demonstrating a stable performance and a reputation of a reliable partner in the Sri Lankan economy.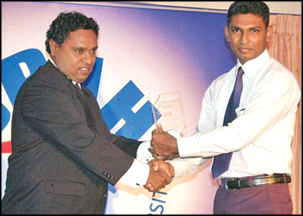 DPJH wings six industry verticals - DPJH Solutions, DPJH Labels, DPJH Time Track, Go Getter, Go Leisure and Flexiv, all operating under one, unified brand name.
With a strong presence in the diverse Sri Lankan markets, the company today has 300 employees, a portfolio of products from many world-renowned manufacturers and a network of partners - resellers, system integrators, retail companies and retail stores from across the country.
Looking Back 'Since our inception in 1999, we have been committed to utilizing advanced technologies and methodology to solve our customers' needs and offer them a high level of service exceeding their expectations,' stated Prasantha Jayamanna, Chairman/CEO of DPJ Holdings.
"Our technology and methodology provides a solid foundation for every solution or service we deliver; may it be to a business entity or an end consumer. This includes a commitment to flexible architecture, state-of-the-art technology, client-specific customization, systems integration in business to business sector and, going the extra mile to understand and deliver according to the customer need in business to consumer sector. Our business philosophy reflects an unwavering dedication to quality, integrity and personalized client support in all we do."
Unveiling the logo designed to commemorate their 10th year anniversary at a press conference held yesterday, Prasantha averred that, "During these 10 years since our establishment, DPJH has won vast experience and witnessed continuous development.
Our success is due primarily to our customers, who have been close to us within this period and for them we prepared a vast campaign of anniversary promotions. We would like to thank them and all employees and partners who contributed to our success."
Venturing into New Ventures Upon reaching a decade of successful diversified business ventures, DPJH now plans to set up healthcare distribution under the brand name DPJH Pharmaceuticals within the next year.
The company announced at the media briefing that this would mean that DPJH would now be involved in the trade and distribution of pharmaceuticals as well. The company envisions becoming a leading distributor offering a comprehensive and integrated mix of related products.