Sachini Most Popular Designer 2009
The Most Popular Designer of the Year 2009 - Sachini Nimasha is more than just a pretty face. Winning the Most Popular Fashion Designer of the Year 2009 by not only designing but also by modelling her own creations, she has proved that charisma and a keen sense of fashion definitely will get you recognised.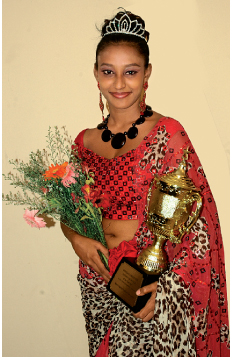 Impressing the judges with her modelling moves, Sachini said that it comes naturally to her. Having studied at All Saint's College, Sachini passed the Year 5 scholarship exam to attend the renowned Sujatha Vidyalaya at Nugegoda.
Revealing her artistic designs on stage during this year's 'Fashion Designer of the Year' show, Sachini opted for a bold red in a funky fake leopard print style. "My fascination with leopard print began when I was small and it was around about the time I was at Sujatha that I helped organise school shows the leopard in me came out" she laughs.
She learned the tricks of the fashion design trade at the SYLAK College, she says she gained a lot of exposure by doing her Diploma. "I learnt the basics of fashion designing from A to Z which meant sewing, pattern making, embroidery to even modelling the style with attitude" she said. It was here that she got a solid foundation to understand the vital aspects of fashion designing. Sachini Nimasha is hoping to study for a degree in Fashion Designing at the prestigious Raffles College and might do it in India or Singapore depending on which is the best option.
"People think that fashion designing is just drawing sketches and just walking on the catwalk but it's not so. Fashion designing takes sheer skill and developing your talents to know everything about an outfit" she highlighted. Further she commented, "Those who are negative-minded about fashion are the ones who aren't fashionable at all." Sachini plans to organise a fashion show with all the former Sunday Observer Fashion Designer of the Year 2009 winners in the name of charity.
"I have talked to many designers like 2008 winner Ashoka Duminda and even Gihan Ediriweera who won this year, including many top models to help me out with a show for raising funds for street children" she said, with a smile. As for the future, Sachini says that she has big plans to start her own fashion magazine and also help potential designers from all over Sri Lanka to have the opportunity to shine. "It's by helping others that would help you in achieving success and in the Sunday Observer Fashion Designer of the Year show, it wasn't about competition but working together with the leading names in the scene."
Sachini thanks her teachers at SYLAK, Ms. Damayanthi and Ms. Janaki who have been instrumental in shaping her fashion designer career. She also acknowledges the Sunday Observer Editor-in-Chief Dinesh Weerawansa and his staff for supporting her.
"I would like to thank my parents for their love and encouragement, Chula Nanayakkara for her training and valuable advice, Ramzi Rahaman for helping in making my designs look fabulous with the make-up and hairstyles and Observer readers who voted for me," she said. Sachini finally concluded that Sri Lanka's fashion circles need trendsetters who make certain outfits fashionable and stylish and she plans to change the stereotype thinking by doing what's best for fashion!