World champion happy with third place despite last-lap battle:
Button - Podium a 'bonus'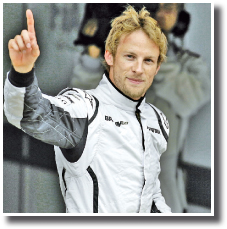 World Champion Jenson Button is looking forward to further celebrations after finishing his season with a "bonus" podium finish at the Abu Dhabi Grand Prix. Starting fifth on the grid at the Yas Marina circuit, the Brawn GP driver passed team-mate Rubens Barrichello for fourth place on the opening lap. However, tyre problems cost him in his opening stint and he had to wait until his second stop and the use of soft compound tyres before pushing the car in front, Red Bull's Mark Webber. Although Button closed right on to Webber's tail during the closing laps, an all-out assault on the 55th and last lap failed to see him move up to second.
Even so, the wheel-to-wheel duel was easily the highlight of the race and one which left Button grinning from ear to ear in its immediate aftermath.
"I was struggling a bit with the prime tyre but I tried to make the best out of it," he said. "After the second stop I found I had very good grip and had good initial turn in and that was why I was able to close down Mark."
He added: "I couldn't make the move stick. I was very excited by that battle but Mark is a very difficult person to overtake.
"We were clean but on the edge. It's disappointing not to get second place but I enjoyed the fight.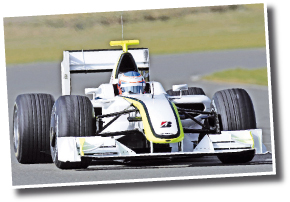 "Today was a bonus after winning title in Brazil, I enjoyed driving this weekend. After Brazil it would have been easy to say let's enjoy ourselves and not worry about Abu Dhabi - but we did."We should be proud of what we achieved. But (Red Bull) had the legs on us so we could not challenge."
Time away
Button is now looking forward to time away from Formula One and the chance to reflect upon a remarkable year.
"This is a good way to finish the season," he added. "Coming away with a podium is a nice way to finish the year. Now I'm going to enjoy myself and celebrate what I've done. "I just want to enjoy this moment, and then I'll look to the future after that."
skysports.com