'Alimankada' journey of arch-rivals
Nihal de Silva's 2003 Gratiaen award winning novel, 'The Road from Elephant Pass', now comes to theatres in celluloid form to Regal, Colombo, and theatres islandwide as globally acclaimed film personality Chandran Rutnam's latest movie 'Alimankada'.
Work began on the movie in 2007. Saumya Liyanage was expected to play the lead role of Captain Vasantha but date problems occurred and the team had to look for another suitable face to take up the part.
They finally came upon Ashan Dias and roped him into the project. Both Ashan and Suranga Ranawaka, who portrays the role of activist Kamala, are new to the scene but display exceptional acting skills in the cinemascope - Dolby SR film.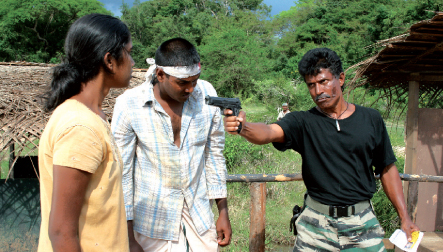 The story traces the journey of two individuals who flee from the north, amidst dangers, to Colombo. At first Captain Vasantha and activist Kamala's ideas and actions do not tally as they represent different groups and embody different ideas and habits. Gradually a relationship based on understanding and trust in established between them. However a shocking revelation is in store for Captain Vasantha when he reaches Colombo, a secret which threatens to shatter their new-found friendship.
Rutnam is no stranger to the movie arena. His film 'Adara Kathawa' was Sri Lanka's official entry to the International Film Festival of India (IFFI) and the Cairo Film Festival. 'Witness to a Killing', another of his creations won a Sarasaviya Award and represented the country at the International Tokyo Film Festival.
He had worked with a number of globally renowned filmmakers like Sir Carol Reed, Sir David Lean, George Lucas, Steven Spielberg, John Boorman and Regis Wargnier. His most recent project was India's movie mogul Ram Gopal Varma's 'Agyaat'. He was also the local line producer in over 40 international films shot in Sri Lanka and Malaysia.
He clinched the best picture award at the Presidential Awards in 1999 for producing 'Pilgrimage', directed by Vasantha Obeysekara. Another of his productions, Lester James Peries' 'Vakanda Wallawa' (Mansion by the Lake) represented Sri Lanka at the Cannes Film Festival. He even won a special Presidential Award for his services to the local film scene.
Sanath Gunatileke, Athula Pathirane, Joe Abeywickrama, Iranganie Serasinghe, Kumar Mirchandani and Veena Jayakody comprise the rest of the cast of 'Alimankada'. The script is penned by Rutnam and the cinematographer is Suminda Weerasinghe. The production designer is Sunil Wijeratne, the production manager is Chandimal Kodituwakku and the production supervisor is Krishantha Gunasekara. The music director is Ajit Kumarasiri. The film is presented by Taprobane Pictures.