Sport moulds the character of young
There is a large number of different sports practised by the global community today and most of them are found in our country too. It is very interesting to note that all of these sports have been introduced with a specific reason and to gain some satisfaction or positive result.
Sport could be classified mainly under four categories, namely indoor games, outdoor games, individual games and team games. Whatever, the type of sport may be, they help develop the character of the young.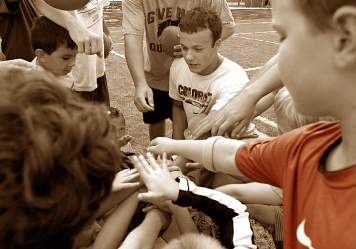 Sports inculcate in us the qualities such as patience, obedience, honour, love, team spirit, honesty, tolerance, respect, promptness, alertness and defence where necessary. Take an indoor game such as chess. A good chess player has to develop a lot of skills such as analytical strength, alertness, promptness and defence. Outdoor games such as athletics and swimming enhance the physical strength of the players while helping to shape up their body appearance. It is an accepted practice that before taking part in any sport which involves physical energy, participants have to do physical exercises for sometime to warm up their bodies.
Team games such as cricket, soccer, rugby, hockey teach us the basic concept of team spirit and the importance of playing the game without being selfish.
They also expect players to shoulder added responsibilities on behalf of teammates in order to achieve victory for the team. Patience, obedience tolerance, respect and at times aggressiveness are the main qualities inculcated in us by the above team games.
There are some adventurous games such as mountaineering, skating, deep sea diving and parachuting to name a few.
These games develop courage, confidence and bravery of the participants which are essential in ones life in addition to improving their strength and stamina.
It should also be noted that hunting is one of the popular sports found in the world and some of our people also engage in it to derive some kind of pleasure. Although hunting increases the accuracy at hitting a target, it cannot be considered as a good game which helps to develop the character of people as the negative aspects are more in this game than the positive side.
People with some sports background are generally supposed to be well disciplined because the above stated qualities are inculcated in them on and off the field.
At present we hear various crimes, unruly behaviourial patterns and socially unacceptable demeanours committed by young people.
When they are apprehended and questioned by the law enforcement authorities, it is quite evident that 90 percent of the law breakers have never taken part in any kind of sports even during their school days.
We meet in the society various types of people from different walks of life. We can easily figure out anybody with a sports background from their behavioural pattern and their ways of life.
In conclusion, it should be stated that the responsibility of the parents is to guide their offspring to take part in some sports activities while providing them with a good education in order to produce complete disciplined citizens.