Itipahan (Burly Lamp) Chapter - 13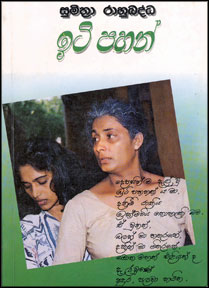 (Translated by Ranga Chandrarathne and edited by Indeewara Thilakarathne)
"I am a lamp burning on both ends
Known well that I cannot pass the night
Yet
See my friends
Foes
How powerful light
Burnt
To dispel the darkness"
As stated by Pranith, Shelton who hails from Sanchiaarachchi Watte was not well. Daisy thought that she could not forget her visit to Sanchiaarachchi Watte to see Shelton With Gnanawathi, Sugandi, Pranith and Nimal. Pranith walked through the tiny lines of houses in Sanchiaarachchi Watte alone the footpath. The group heard a song from 'Sudosudu' sung by a girl from one of the houses. They lowered their heads to prevent their heads touching the washed cloth hung on strings near almost all the houses.
"Nayanakke, I took your Idala", said a girl loudly taking an ekle-broom leaned against a backyard wall and began to sweep a tiny court yard. "Some people call this Keuneman's estate (watte)," said Pranith who lowered his head again looking back at the group. Daisy thought that he spoke with a tender voice and that he had a remarkable talent in explaining things to others. She thought that Pranith had an innate talent to relate to things with interest and was knowledgeable. Daisy thought that although he was not handsome, the girls showed their warm feelings towards him because of his knowledge and manner of speaking.
"Why do they call Keuneman Watte? Keuneman may be living in Colombo seven," Sugandhi said curiously. "Compared with others, Keuneman is not a bad guy", Pranith responded which was outside the question but was an answer to the question.
"That's another story. Why do they call this Keuneman Watte?" Gnanawathi asked. "Shall I tell you another interesting story about Keuneman?" asked Pranith with a smiling face.
"No, you would finish telling the story until the dawn. I will arrange another time for that. I expect the correct and shortest answer to the question," Gnanawathi said with a sarcastic tone. Unintentionally, Daisy smiled staring at Pranith. "All of those who are here are Keuneman's supporters. Don't forget that most of them are educated. So they always vote for Keuneman. That's why our Shelton got involved as an activist of the National Students' Union?" Pranith provided a further explanation as the group arrived at Shelton's house. Though looked into through the opened door, there was no one in the house. Before anyone spoke, a girl who came into the courtyard from nowhere shouted, "Shelton", "Wimalakke, someone has come!" A not so tall girl in a short blue skirt and yellow blouse with hair tied into two flat pleat came out of the house. She smiled with the group with a wide opened mouth.
"Wimalakke, we came to see Shelton. Is he not well? ", Pranith asked Wimalakka with a smile.
"Yes, Pranith. Malli has high fever. Mother and I brought medicine from the dispensary. But he is still not well." All of them approached Shelton.
Shelton tried to raise his head and smiled and but fell back onto the bed.
The sunlight filtered through a small window and had settled on the book shelf. There were a couple of books, a shirt and a trouser on Shelton's bed.
The foul smells of sweat from two shirts hung on the wall infused the room.
There was not a drop of kerosene in the bottled lamp on tea-pour. Daisy understood that wicker had turned ash without kerosene oil from the manner it had burnt. The walls of the room were adorned with portraits of Lenin.
Some of these, thought Daisy as inappropriate for the walls.
"Are you taking medicine or throwing them out of the window?" Pranith asked looking at the window. "Pranith, that's what I also wanted to know. I poured coriander. The medicine from the dispensary would respond well to all others in the house. There is no reason that medicine would not respond only for him," said Wimala inviting them to have tea.
"Did you pour tea so fast?" Sugandhi asked. "The water had already boiled. I poured tea quickly", said Wimala smiling in a friendly manner.
Daisy thought that though she lived in the city, she had the same type of a friendly smile of a villager. The villagers, who frown when angry and spit on to the face, would smile from the bottom of their heart, thought Daisy.
"How about the progress of the book?" enquired Pranith sipping tea from his cup. Daisy thought that Pranith as a person who enquired everything and had answers to everything.
"Wimalakke, why have you got to be afraid? Soon, we would not be able to get hold of the woman called Wimala Abeysinghe. Let's see. What is the name of the book?", Pranith asked winking at the girls.
"You can see it when the book is printed", Wimalakka whispered.
"Our suffering is depicted in each of the stories written by Akka. How many educated youth live in this estate? They do not have a way?" Shelton said raising his head a bit. Smell of fever emanated from him. Daisy looked at Pranith who was listening sadly. Was it by experience or being heard that Daisy knew that Wimalakka, Shelton, Sugandhi, Nimal and Gnanawathi, were in the same boat?
"Try to get well soon," Pranith told Shelton as they were about to leave.
Although Daisy thought that typing and shorthand would help her like a torch to go through the dark door of future, she felt that subjects she had learnt such as political science and economics would have a greater influence on her.
"Mother, I have been selected for the university. I am wondering whether to go to the university or follow what I am already doing", Daisy spoke of university entrance with Duleena after she received the last letter informing that she had been selected for the University of Colombo. Duleena was weaving the mat. She thought that the girl was inquiring on an important matter. She did not take off her eyes from the mat fearing that she would mess up with the pattern.
"Which is good?"asked Daisy who had wrapped herself in a sheet on the camp bed and was indifferently looking at Duleena weaving the mat. A gecko peeped through aricanut column in wattle and dough wall and cried 'chick.. chick..'. Another gecko responded to the cry. Duleena thought that she should not be afraid of the predictions of geckos. They cried at anything always.
"Whichever good, you decide on because I do not know them. You know what is to be done", said Duleena scratching her head and stopped weaving. Though Duleena tried to catch the blood sucking louse on the head, she failed to do so.
"There are a lot of lice in my head. When they bite I cannot concentrate on anything," said Duleena staring at what Soome was engaged in. Soome was silent and Duleena again commenced weaving. She thought, "Let the girl speak when she wants".
Daisy thought it was better to have a university education than learning typing though it would help her to find a job. She thought the University education would give her the stamina for life.
"Soomakka, you may enter the university. Besides, very few would be able to enter the university. It is worthwhile for persons like Soomakka who loves the country to follow higher studies. Comrade Uttamasinghe said that it would be better if Soomakka would go to University," said Lal Malli when asked about this issue.
To be knowledgeable would pave the way. Soome or Daicy thought that she should do the task that was expected of her and that she was capable of doing without any hesitation. She herself had to take the decision. She herself should execute it.
"Mother, it is good to enter the university. I would face financial hardships, but I would go to university since I have passed the examination."
"Is it ok to go through a little bit of hardship since I have endured a lot? "Daisy said with a firm resolution. Soome did not expect a reply from mother since she knew that she would not overrule her will.
"Where is that school? Is it in Colombo", Duleena asked while weaving the mat.
"I was selected to Colombo campus. It is near old Race Course. It is not as grand as the University of Peradeniya. But it's okay. Mother, would village folk, one day, respect my education." Duleena felt a heavy weight on her chest. She immediately sensed the fear and the exhaustion when one climbed a steep mountain carrying a heavy load.
"My dear, you should not bother about what village folk would think. The villagers would not change their opinion. We should mind our own business," said Duleena looking at the pattern for a moment.
"We can mind our own business if they allow us to do so. Villagers hate me a lot," said Daicy lying on the camp bed. Duleena thought that her daughter could not understand the village and villagers.
"That's the nature of the villagers and it is not due to hatred. They have firm opinions without any thought," said Duleena.
"I will go to university. Mother and I have to suffer more when I go to the university," said Soome and closed her eyes determining to sleep.
Lal Malli came in the early morning to meet comrade Uttamasinghe. Although she alone could meet Uttamasinghe, Lal Malli came as a habit. On the way to meet Uttamasinghe which was an interesting tour, all kinds of subjects were discussed.
"Lal Malli, you seem to have no will to find a job," Soome asked Lal Malli as they passed the bridge. Lal Malli smiled as he played with his disorderly beard.
"Akke, if I find a job, my personal problems would be barely solved. I decided to work for the organisation as a full-timer. Akke, therefore, I will not find a job," said Lal Malli releasing his grip on the railing of the bridge.
"I also like to solve common issues rather than solving personal problems.
However, I must learn. I simply cannot do anything. I must build up some strength," Soome told Lal as her explanations.
Comrade Uttamasinghe's dirty cloth and unruly hair created a sense of owe in Soome. Intuitively Soome understood that she should respect people who sacrifice their lives for the fellow human beings. Compared with Uttamasinghe, Soome thought she could not assign any value to persons like Sirinatha.
"Comrade, you should go to university for two reasons; one is to improve your knowledge and other is to fulfil your duty to society. Both are interconnected," Comrade Uttamasinghe who was in a dusty and dark room told Soome. She felt a heavy weight. But now, she should take the responsibility entrusted upon her.
"Over seventy per cent of the population in this country belonged to the oppressed class. Such a country should be ruled by a group of persons who know about them. In order to take up that responsibility we should be equipped with ideas. University is a good place for that," comrade Uttamasinghe told Soome who listened to him as a devotee listening to a sermon.
"Comrade Daisy, especially you should know the task assigned to you. Our leader has meticulously studied this country's history. He had showed us the way"
"Comrade, you repeat what you have said. Then I feel as if you were under the impression that I did not remember them," Soome who did not tolerate repetition said in a subdued but resolute tone.
"We have to learn throughout the life. Sometimes, we have to learn the same thing until we die. Sister, the issue is not when and where and how many times we learn but do we attempt to learn correctly?" comrade Uttamasinghe articulated with a higher pitch. Soome did not respond.
University is a place where our comrade can equip you with knowledge. There is no room for anyone to have love affairs. The only objective is to salvage this country from sycophants of colonists," Uttamasinghe said with a deep voice. Daisy listened consoling her question and demanding mind.
"Is it a good idea to impose restrictions on individuality as a policy?" Daisy asked in a subdued tone at the end of Uttamasinghe's long lecture.
"Sister, politics is a great sacrifice for the good of all. One who is committed to such things, has no individuality," Comrade Uttamasinghe said in a decisive tone.