Cultural Diary
'Weeraya Merila' at Elphinstone
Rajitha Dissanayake's 'Weeraya Merila' (The Hero is dead) will be staged at the Elphinstone Theatre, Colombo 10 on November 12 at 3.30 p.m. and 6.30 p.m.
The drama presents a biting critique on current socio-political themes, and will feature several renowned cinema, teledrama and stage actors.
The play has toured extensively throughout the country and won many prestigious awards.
The cast comprises Priyankara Ratnayake, Jayani Senanayake, Dayadewa Edirisinghe, Prasad Sooriyarachchi, Dharmapriya Dias, Gihan Fernando, Shyam Fernando, Nilmini Buwaneka, Sampath Jayaweera, Saman Malalasekera and Gihan de Chickera.
At the 2002 State Drama Festival 'Weeraya Merila' bagged the top awards including Best Drama, Best Director, Best Script, Best Choreography and Best Lighting.
Music for 'Weeraya Merila' is composed by Kapila Poogalaarachchi while the set design is by Sujith Ratnayake. Priyantha Dissanayake is handling the make-up and lighting is by Ranga Samarakoon.
The costumes designer is Priyantha Siri Kumara and Malith Peiris is the Stage Manager.
---
Jeevan Kumaranatunge Film Festival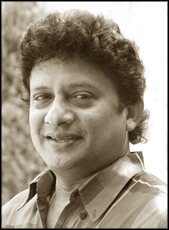 Veteran actor Jeevan Kumaranatunge who is also the Minister of Lands was felicitated recently for his contribution to the Cinema during the past 25 years.
Ritz Cinema, Borella will host a felicitation film festival featuring the actor from November 8-14. All the shows will be free of charge, states a press release issued by the Adviser to NFC, T. M. Sanghadasa.
Programme:
Nov. 8: 'Peralikarayo' directed by Dinesh Priyasad, Nov. 9: 'Madhusihina' directed by Daya Wimalaweera, Nov. 10: 'Edath Chandiya Adath Chandiya' directed by V. Sivadasan, Nov. 11: 'Thunveni Ehe' directed by Anura Chandrasiri, Nov. 12: 'Puthuni Mata Vasana' directed by Sunil Soma Peiris, Nov. 13: 'Koti Sana' directed by Ranjith Siriwardane, Nov. 14: Randenigala Sinhaya' directed by Ranjith Siriwardane.