In brief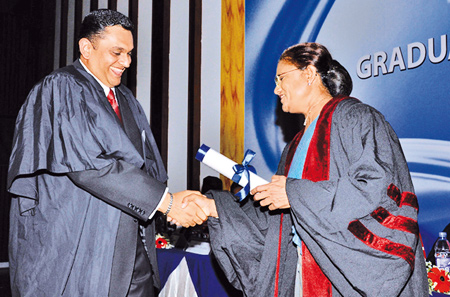 Uva Province Chief Minister, Sasheendra Rajapaksa has obtained his National Diploma in Human Resources Management, awarded by the Sri Lanka Institute of Personnel Management recently. An old boy of Mahanama Vidyalaya, Colombo and S. Thomas' College, Mt. Lavinia, Sasheendra holds an honours degree in Political Science and State Policy from Delhi University, India. He is also a post graduate degree holder in Business Administration from Colombo University.

Army Commander Lt. Gen. Jagath Jayasuriya in a causal discussion with some of the soldiers at the dinner hosted by him for all ranks of the Army at Anuradhapura Farm Garden Village Hotel last Friday.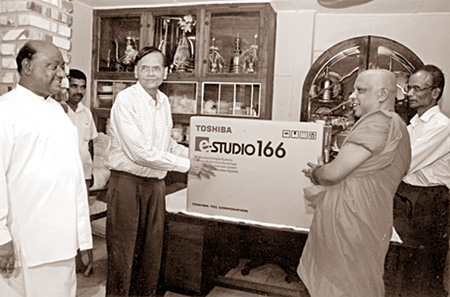 A photocopy machine was handed over for the use of the Daham Pasala of the Sri Sambuddha Jayanthi Vihara and the Sasanarakshaka Balamandalaya of the Nuwaragam Palatha East, Anuradhapura with the funds provided by the decentralised budget of Prof. G. L. Peiris, Minister of Export Development and International Trade. Here Prof. Peiris hands over the photocopy machine to Ven. Pundit Nugetenne Pannananda Thera, Head of the Sri Sambuddha Jayanthi Vihara and the Sanganayaka of the Central, North-Central and Nuwaragam areas.Berty Premalal Dissanayake, Chief Minister, North Central Province is also seen.
---
NICs for O/L students
All candidates sitting the December 2009 G.C.E. Ordinary Level examination, who have applied for National Identity Cards (NICs) will be issued NICs until November 15, Registration of Persons Department, Commissioner General, A. G. Dharmadasa told the Sunday Observer .
He said the Department has received NIC applications from 156,841 students from January 1 up to October 15 and another 1,286 between October 15 and 31. NICs have already been issued to 76,104 of these applicants, while the balance will be issued before November 15.
---
Remembrance Day
The Armed Forces Remembrance Day ceremony will be held today at the Cenotaph, Viharamaha Devi Park, Colombo 7. Three Service Commanders, representatives from Diplomatic Missions in Sri Lanka, guests and representatives from 34 Associations of Ex-Servicemen's will take part in the ceremony which will commence at 8 a.m.
---
Poly Clinic
The Sri Lanka Cancer Society will hold its next Poly Clinic from 8.30 a.m. to 11.00 a.m. on November 8 to screen people for all types of cancers.
Pap smear testing, dental and general clinic activities and a counselling service too will be conducted free of charge. The event will take place at the Cancer Society premises at No. 37/25, Bullers Lane, Colombo 7.
---
Big fish harvests in North
Fish production in the North has increased tremendously, Fisheries and Aquatic Resources Minister Felix Perera told the Sunday Observer. According to the Minister,after restrictions on fishing in northern seas were lifted in early June, fishermen have continuously engaged in fishing stepping up production after two and a half decades. The excess catch is being transported to Colombo. He added it was a move to curb the rising fish prices in Colombo. The Fisheries Minister said, he regularly visits the North to meet the fishing community to discuss problems faced by them. It is expected to set up a 'Jaffna Fish Stall' in Colombo shortly to market the excess catch in the north.
---
Two brothers missing
Two brothers Mohamed Dhul Khifli (10) and Ahamed Shanfer (5) of No. 1/1, `N' Block (330), Serpentine Flats, Borella, Colombo 8, have been missing since August 26, 2009.
According to the mother Mrs. Fathima Faika, a complaint was made at the Women and Child Bureau (WCB) and the Police.
Please contact Mrs. Faika on 0716790411 or 0114902666/0112392535 or the WCB: 0112444444.
---
Remembrance Service of Wesley College
The Remembrance Service of Wesley College, Colombo will be held on Wednesday Nov. 11 at 6.00 pm at the College Hall.
A plaque bearing the names of five old boys Lt. Col. Sumith Perera (SL Army), Sqn. Ldr. Sujeewa Pathirana (SL Air Force), Major Ravi Alagiyawanna (SL Army), Capt. R.M.A. Indika Rathnayake and Second Lt. Ravindra Pulina Athapattu (SL Army) who had sacrificed their lives for the nation will be unveiled during the service by Major General Laksiri Amarathunga.
The Principal, Dr. Shanthi McLelland will preside.
---
Sithijayen Obbata at Royal on Nov. 14, 15
The Art Circle of Royal College, Colombo will hold its 14th All Island Annual Art exhibition, titled `Sithijayen Obbata' (Beyond the Horizon) at the National Art Gallery on Saturday and Sunday Nov. 14 and 15 from 9.00 a.m. to 6.00 p.m. each day.