To combat LTTE human smuggling:
Lanka needs outside help -Foreign Minister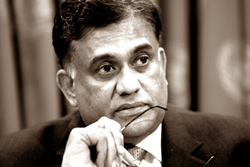 Foreign Minister Rohitha Bogollagama, in an interview with the Sunday Observer explains Sri Lanka's position on the boat people issue and the need for international cooperation to counter human trafficking.
Q: Until recently Sri Lanka had been relatively quiet over the issue of 'Boat People' reaching Australia and Canada?
A: Sri Lankan nationals have to be identified initially in order to extend consular services. These boat people are under our investigation at both ends in Indonesia and Australia.
Our Government's policy is that people should not migrate through illegal channels. In the event they have gone through illegal channels, there are few connotations; how did they go across, whether they are part of the LTTE human smuggling operations, are there any LTTEers who have benefited from these arrangements and in turn whether such persons can become a threat, both to the countries they were going to and to Sri Lanka.
A preliminary assessment has been made as to their national identity.
Currently that is being examined. As we gather, some of these people had been going from various other destinations, their take off is not only from Sri Lanka.
We are examining all these angles and we will inform both Indonesian and Australian Governments that these illegal immigrants should not seek asylum and they should be returned to Sri Lanka.
And also we are part of the Bali Democratic Forum where there is a special focus between Australia and Indonesia in the prevention of illegal migrants and illicit migrants. In that regard we are also insisting the Australian authorities heavily to prevent such illicit migrations taking place.
Q: There were reports the Australian PM Kevin Rudd had a telephone conversation with President Mahinda Rajapaksa over this issue?
A: That's true, on Monday there was a telephone call between our President and the Australian Prime Minister.
The Australian PM has expressed an interest to assist Sri Lanka in the prevention of illegal migration.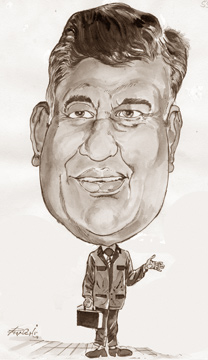 During this conversation the PM has appreciated our President's efforts and for making the Indian Ocean safe for maritime operations.
A special envoy of the Australian PM is expected here on November 9. He will be accompanied by the Australian Foreign Minister.
Q: What will be the focal point of their discussions? What will be Sri Lanka's stance?
A: Our stance is that no one should go through illegal channels. We will be collaborating with Indonesia and Australia to combat this menace. Illegal immigration also undermines the country's standing in the International community.We will discuss a special joint mechanism to strengthen maritime security and we are seeking the arrest of leaders who are involved in human smuggling operations, wherever they are.
Q: Sri Lankan Defence officials allege the LTTE is behind the human smuggling racket and their motive is to discredit the country and its hard won military victory over the LTTE?
A: There is a lot in terms of where I too could agree. Just in the aftermath of successful operations to eliminate terrorism in Sri Lanka if the LTTE network is still trying to pursue their human smuggling activities, which has been brought to light by the Foreign Ministry in several occasions, we don't want that to be a continuing process.
We have exchanged several notes in this regard with respective countries asking for action to prevent that from happening.
And we will strengthen our coast guard, our intelligence and our diplomatic connections with other countries to put a stop to this.
Q: After last Sunday's incident where a boat full of alleged Sri Lankan illegal immigrants capsized near the Cocos island 1,700 miles off Australian mainland, what are the events that have taken place?
There were claims that the boat had taken off from the Eastern coast of Sri Lanka?
A: Twenty-nine people were rescued from this boat. Three have been confirmed dead and nine are missing.
Our missions in Indonesia and Australia are currently working on the identity of the people. And once this is established, we could seek our assistance to be extended. In an event with a humanitarian perspective we have always been in touch with the authorities of both the countries.
Q: Will they be brought back?
A: If they are Sri Lankans we will definitely be seeking their repatriation.
Q: Have you managed to establish the bona fides of the people in the two earlier boats which carried 255 and 78 alleged Sri Lankans?
A: The people who are now in the Solomon Islands have been identified as Sri Lankans. But the nationality of the 255 who have refused to come ashore is yet to be ascertained and also of the people in the capsized boat.
Q: There are reports that groups of Tamils who were in resettlement camps have also left Sri Lanka in boats in a similar manner?
A: The reports say that some have gone by air and some have gone by boat, these reports are currently under investigation.
Q: The Australian authorities were said to be investigating as to how the boat carrying 39 people sank in mid sea. Does it imply that there is suspicion over this issue?
A: They were trying to find out if the boats used were seaworthy. These are fundamental issues. All these will be revealed once the proper investigation results are out. These investigations are in other jurisdictions, it is not fair for us to jump to conclusions. Until we are officially privy to such information, I will not be able to say anything.
Q: The main concern expressed by Australia and Canada on alleged SL boat people is the arrival of disguised LTTE leaders. Have you discussed a mechanism to counter this?
A: We are in the process of discussing.
Q: What is the latest with regard to the illegal immigrants in Canada? There are said to be a few LTTE suspects including a wanted Tiger leader among these immigrants?
A: There is an ongoing investigation by the Canadian authorities. We want Canada to repatriate everybody of Sri Lankan origin. With regard to the LTTE leader there is already a repatriation request and I am unable to reveal anything more at this stage as it will disrupt the ongoing probe.
Q: Do you liaison with the Defence Ministry and the other law enforcing bodies in this endeavour?
A: The Foreign Ministry's responsibility is to engage the other countries.
The Defence Ministry has made it very clear that the Navy and the coast guard along with other line agencies including the police in our coastal belt will be fully activated in the prevention effort.With all these efforts put together, we will have a cooperated consorted, combined effort launched in the prevention of illegal migration.
Q: You said several countries will be working with us in preventing this menace of human smuggling, what are these countries?
A: BIMSTEC is a very important platform, where Thailand, Myanmar, India, Sri Lanka, Bangladesh, Nepal and Bhutan are members. Of these India, Thailand, Sri Lanka, Myanmar and Bangladesh have sea fronts. Our efforts at BIMSTEC will be an important element in our pursuit to counter illegal migration.
Further Singapore, Malaysia, Sri Lanka, Australia, Thailand, Indonesia are part of the Bali Democratic Forum. There again we are taking combined effort.
On November 1, a vessel carrying 39 boat people, allegedly Sri Lankans capsized about 1,700 miles off Australian mainland. The "LNG Pioneer", a Bahamas-flagged tanker that responded to distress calls by the sinking vessel off Cocos Island late Sunday night, reached Christmas Island on Friday morning with 27 survivors and a body of a male. Eleven are still missing.
On October 10 the Indonesian Navy intercepted a local boat with 255 alleged Sri Lankans and the vessel with its human cargo is currently anchored at Indonesia's Merak Port.
The Sri Lankan embassy in Jakarta says spokesman of the immigrants, 'Alex' is a regular human smuggler operating from India.
The Australian customs vessel "Oceanic Viking" picked up 78 alleged Sri Lankan Tamils marooned in sea. The vessel is moored near Indonesia's Bintan Island as the boat people refuse to go ashore demanding asylum in Australia.
The latest arrivals bring the total number of illegal boat people on Christmas Island to 1151. Some 1,650 boat people have arrived in Australia this year.
The main immigration centre in Christmas Island currently accommodate about 1,400 beds and the Government gears to increase beds up to 2,000 - 2,200.
The Herald Sun says the sinking of a boat with alleged Sri Lankan asylum seekers on Sunday brings the number of boat people who have died this year trying to reach Australia to 54.On October 17 Canadian authorities intercepted the LTTE boat "Ocean Lady" with 76 people.
The illegal immigrants had documents issued in Kuala Lumpur giving the impression that they have boarded the ship in Malaysia.
One of the men who made the month-long voyage from Southeast Asia has been identified as Kartheepan Manickavasagar, who is wanted by Sri Lanka for his alleged role in a procurement ring that smuggled electronic equipment to the Tigers.