Tribute to street theatre guru
Head - English Language Teaching Unit University of Ruhuna Matara.
To my knowledge Dr. Gamini K. Haththotuwegama (GKH) was the one and only academic so far in the university system of Sri Lanka not to have depended on formal qualifications for his survival as a university teacher. While academic credentials - bogus or genuine - function for so many as exotic clothes to cover their grotesque nudity, he simply left his knowledge as an academic, his profundity as a critic, his creativity as an all-rounder in the performing arts, his commitment as a community development worker, his discipline as a university teacher, his versatility as an organizer, his sense of responsibility and reliability as a member of a society, his resonant voice as a public speaker, and above all his fairness as a human being to be judged by whoever who encountered him in person.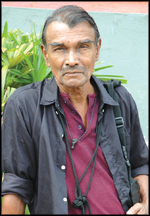 Other than his Bachelors Degree earned from the University of Peradeniya in 1963 specializing in English, he did not have any other certificate to boast about, but the amount of work he carried out throughout his academic career which extended over forty years of service as a substantive university lecturer has been so multifarious and vast that it can easily be material for several doctoral theses. GKH stood apart as a university teacher and artist in this sense.
He joined the English Department of the University of Kelaniya in 1965 and helped to set up a Department of Fine Arts in 1974. While moving between the two departments at Kelaniya he worked as a resource person at numerous short-term programs emphasising English Literature and Theatre Arts at the other universities, teachers' colleges, technical colleges, and schools. (Before I became his student at the English Department of Kelaniya in 1978, I met him for the first time at a program on Script-Writing and Theatre Production conducted by the National Youth Services Council of Sri Lanka in 1976.)
In the 1980s he joined the University of Peradeniya and continued to serve there until 2004. At this time he also served as a visiting lecturer in English, Cinema, Drama and Theatre Studies at the Colombo University Post Graduate Institute of Education, and at the Colombo University Shripali Campus Faculty of Fine and Performing Arts at Horana. His services were also retained by the National Institute of Education, Maharagama, as a visiting lecturer in Drama on a degree program in English conducted for a group of Maldivian students.
The versatility of GKH has not confined him to the domain of teaching. He founded the Wayside and Street Theatre Movement in Sri Lanka in 1974 that introduced a powerful agitprop medium into the practice of professional criticism of social, political, economic, and cultural issues in Sri Lanka and the world at large.
The theatre training workshops he conducted in this connection have laid the foundation for his pioneering contributions to the establishment of the concept of non-formal education in Sri Lanka. Because of the respect it earned from the international community, he was invited to represent Sri Lanka at several international conferences in India, Australia, Norway, Germany and the Philippines. There too he earned credit for Sri Lanka by delivering plenary lectures and chairing panel discussions.
He was known as a scholar, critic (English and Sinhala) across the media.
He was the president of the Film Critics and Journalists' Association, Sri Lanka, from its inception to its demise (1966-74) introducing a Film Citation System to our country (1967). The present day film criticism in Sri Lanka owes much to the models he developed through this institution. He was known as a classical play producer and a translator of Shakespeare, Brecht, Bekett, Anouilh, etc.
The Sinhala translation of "Hamlet" carried out under his guidance first produced at the University of Peradeniya in 1990 was regarded as the formative Shakespeare in Sinhala. Today GKH's unique contribution to the culture and education of Sri Lanka made as the Co-Founder and continuing Director/Leader of "The Wayside & Street Theatre Movement in Sri Lanka" represents pioneering modern street theatre in Sri Lanka and is rated as one of the three leading "Non-Formal, Alternative, Popular, Poor, Grass Roots" theatre groups in South Asia. So far it has produced some of the most "daring, thought-provoking, radically creative" work in drama and song. Some of its plays have been rated among the most advanced seen in Asia.
The troupe has been featured in UNESCO's April 1992 issue Art Street and has taken part in an International Theatre Olympiad in India in 1996.
Nearly, all universities in Sri Lanka as well as numerous cultural organisations have honoured the troupe and its leader GKH at their annual Literary Festivals.
GKH's state recognition mirrors in the two commissions he received to write two seminal essays: one from the Sri Lanka Ministry of Cultural Affairs on "50 Years of Sinhala Theatre from 1948-1998" for the post-independence issue of the Abhinaya (1998); and the other from the National Film Corporation, Sri Lanka, on "50 Years of Sinhala Cinema from 1948-1998" in its special post-independence issue.
The Government of Sri Lanka honoured him for his unique contribution to alternative theatre on World Theatre Day 2001 and awarded him its most prestigious honour conferred on an artist Kalakirthi in 2005.
The University of Kelaniya representing the Sri Lanka academia honoured him for his contribution to the advancement of English scholarship at the universities in Sri Lanka by conferring on him its prestigious Honoris Causa Doctoral Degree. Even after about 40 years of teaching at the universities of Sri Lanka, GKH remained active and tireless as a performing arts specialist, academic, scholar, critic, and social worker, and on October 30, 2009, he put himself to rest.
That does not mean he died to the people who have associated with him as a friend or teacher, or listened to him on stage, or read his criticisms in the papers or heard or watched him in the other media or at least seen his street theatre in a public place.
He lives in our hearts through his lectures even after so many years and will never ever disappear into oblivion.
While there are many who tend to remain dead after a short break of contact, he is not a person to die so easily. The services he did for the world are monumental and the memory of GKH will live forever. GKH, "thou art mighty yet, thy soul walks abroad" (Shakespeare - Julius Caesar) May you attain Nibbana, the bliss of emancipation!!!