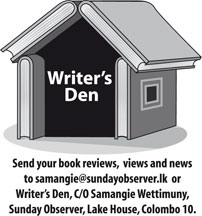 Survey of Lanka's artistic heritage
Sri Lankave Nuthana Sittaru is a well-timed and relevant survey of outstanding artists displaying their own styles and talents in a kaleidoscope of figures and objects offering a wide range of contemporary local art, rarely brought into the reader's spectrum, not only to entertain but also to reveal the hidden history of our accumulated artistic heritage.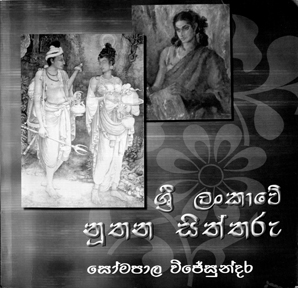 Sri Lankave Nuthana Sittaru
Author: Somapala Wijesundara
Publisher: Dept. of Cultural Affairs
Price: Rs. 600
As the book covers a wide and appropriate assemblage of nearly 150 artists whose works and output are pooled together, the task of a reviewer seems to be onerous as he has to keep in mind the presenter's aim of conveying the overall quality and aesthetic appeal on judging the mix of images unlike critically examining a novel or narrative based on a running theme ending in a finale or the plot of a drama.
Somapala Wijesundara who commenced his career as a Deputy Director of Art in schools, made maximum use of his travels and experience in foreign lands working along with eminent directors of the Education Ministry. His study in foreign institutes of art where art and sculpture had been included in the curriculum of schools to enrich the appreciation of art to give the students a comprehensive training in art and also appreciation of training in the early stages of education in several schools for disabled children and youth centres in Eastern European cultural centres is mentioned specially. He had visited the special art institutes in Russia and gained valuable knowledge and application of training in art for development of youth and their skills in improving ability in art-based studies and exhibition of art compositions.
As his compilation demonstrates he has not merely cultivated his artistic and creative skills for professional purposes such as competitions and exhibitions, but also pioneered the teaching of art and reached a high level of proficiency in developing the interest and aptitude for art work among students of varying ages.
As a school instructor he has been successful in achieving a high standard as art educator among schoolchildren in his residential environs of Anuradhapura and also in Rahula College, Matara, where he rendered a valuable service to students and staff to popularise art and its value as an educational aid. He was able to demonstrate his ability as a competent teacher to elevate the standard of art studies and promote the appreciation of art as he was endowed with a three-year training and education in art and sculpture at the former Govt. School of Fine Art. With his training and maturity of skill in the subject he was able to organise workshops for teachers, exhibitions and seminars for the benefit of not only students but also for the promotion of interest in our traditional contributions by well-known Sri Lankan artists.
It is therefore our opinion that he has combined the roles of artist creatively with his output in the field and in the dissemination and exposition of the developments of art and sculpture during the ancient and present periods of art education.
As he has developed this dual role of creative artist and critical writer and commentator his contribution to the preservation of our collections and displays of selected works of our own talented artists he deserves our commendation and his effort to preserve the work of artists in this publication would serve the cause of recording a section of our art history is indeed highly valued.
It is not possible to evaluate the contents of his impressive 'gallery' of artistic reproductions separately which, in my view, covers almost all the distinguished painters in the field. He has made a very careful study of the works and the artists, living as well as not living, in order to show the evolution of Sri Lankan Contemporary Art from the early paintings on walls and canvas of Sarlis Master and Solias Mendis and appropriately ending the series with the modern creations of Justin Deraniyagala.
This mode of selection of the paintings also testifies to his competent judgement of artists and the influence senior and gifted painters exercised on their younger aspirant hopefuls all of whom had received sound training under the Arts School's teachers.
Although an attempt cannot be made to assess each contribution of an artist (the author takes up) in this short review it would be interesting to see the inter-connections between the works of masters and the younger or even less well-known trainees and the collective assemblage of the entire output (in the compilation) as a recorded documentation of contemporary painting of the country's artists producing a variety of styles and techniques by means of this effort of Somapala Wijesundara.
Nevertheless, it is tempting to quote a few artists by name such as the master creative exponent, George Keyt, whose work illustrates the fusion of Western concepts and Indian elements of music and theory into composite pictures of unique appeal. Passing on the author takes up another maestro, J. D. A. Perera, artist-cum-critic, considered one of the country's best Portrait painters in oil colour medium.
His influence is unfailing on those to follow as he graduated into a professional expert and organiser of such groups as the Ceylon Art Circle and offering guidance and direction in the promotion of a high standard of development of art and sculpture collaborating with eminent officials in the music and performing areas.
As my review would be too long it is necessary to refer to a few other outstanding and highly recognised artists like Stanley Abeysinghe, who received the benefit of study and training abroad in foreign art academies and imparted their knowledge to students here. David Paynter, W. G. Beling, Ivan Pieris, Mudliyar ACGS Amarasekera and other distinguished artists who brought out their talents and contributed individual styles of art production are also comprehensively evaluated and the entire work of the author is an accomplishment of which he should feel elated as Modern Art in Sri Lanka recorded here rivals any such study of modern art elsewhere.
The author states that publications in Sinhala do not cover these contributions generally as the market is limited.
He has thoughtfully made his detailed and historical study available to readers and also teachers at a reasonable price making the account very readable and educationally important.
The Dept. of Cultural Affairs also deserves our appreciation for undertaking to publish this contribution to understand modern art and value it.
The writer is Emeritus Professor of Sanskrit and Atg. Vice Chancellor University of Ceylon, Peradeniya.
---
Authentic text book on English
Although there are many books to help students to learn English, most of them are foreign publications. These books are helpful for those who have studied the language to a certain extent. Today it is not possible to teach pure grammar as it would be rather uninteresting. Gone are the days when students had to memorise grammatical rules and do a lot of exercises. For instance, "English Grammar and Composition" by Wren and Martin was ideal when the medium of instruction was English.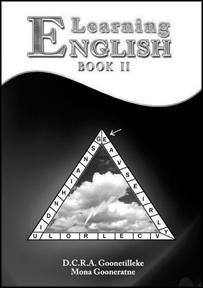 Learning English Book II
Authors : D.C.R.A. Goonetilleke and
Mona Gooneratne
Vijitha Yapa Publication
Price: Rs. 250
With the passage of time, we have a generation of students who study in the Sinhala or Tamil medium without even a basic knowledge of English. For them, teaching English poses many problems. These students do not wish to follow grammar courses. They want to learn the language fast and to pass examinations.
"Learning English Book II" has been complied by the two authors to help students to pass the G.C.E. O/L examination and to learn the intricacies of the language through interesting passages, stories and poems. The student can read the passage or the poem and answer questions. Grammar is then explained in a painless manner so as to encourage the student to do further studies.
Those who wish to use this book should read and do all the exercises in "Learning English Book I" published some time ago. These two books have been compiled in such way that they can be used in the classroom. If necessary, they can be used for self-study. Book II can also be used as a source book for spoken English which is popular among the student population. The dialogues are so interesting that the student will pick up the spoken idiom quite effortlessly.
The book is full of vocabulary exercises, rhyming words, similes, comparison of adjectives, prepositions, active and passive voice, writing paragraphs, letter writing, question forms and a clear explanation of relative clauses. Many students do not have an understanding of the basics and as a result they fail in English in the G.C.E. O/L examination. Books of this nature will help such students to pick up the language skills without much effort.
"Learning English Book II" is undoubtedly the best book written on the subject in recent times. The authors Emeritus Professor of English D.C.R.A. Goonetilleke and Mona Gooneratne - have done a yeoman service to those who are interested in learning English from a reliable source.
---
'Noble war games':
To unleash the collective unconscious of the people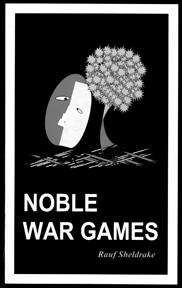 Noble War Games
By Rauf Sheldrake
Author Publications,
Printed by M.D.Gunasena and Company Printers
As Ravin P. Templar has mentioned in the preface of " Noble WarGames", through this novel the author is looking at the perspective of the defence of the country using the game theory propounded by by two Nobel laureates, Thomas Shelling and Robert Aumann in 2005 in the use of this theory in Economics as Conflict Resolution.
"He uses tactics suggested in game theory introduced by these Nobel laureates, to take the reader beyond the future of counter-terrorism and instability torn era of effective defense against terrorism by strengthening the secret service.
"As Templar further mentions the author in a subtle way has incorporated the growing importance of platonic relationships in our everyday lives to step beyond conflict and indifference to a horizo nof unity and prosperity.
The author finds that the majority of those living in the Indian Sub-Continent, who have been kept less educated by their former leaders have gotten socially conditioned to think in old fashioned ways.
As stated in the back cover the author has been able to suggest a set of amusing and innovative ideas that future leaders may want to implement in an attempt to defend the island against terrorism
."He takes the reader through the journey of the hero to unleash the collective unconscious of the people, reinventing the heroes, the warriors and the inherent wizard in the social mind he attempts to reinvent the Lanky spirit in us all.
Rauf Sheldrake is a trained accountant with over 17 years of international exposure in cost cutting, restructuring and trimming corporates enabling them to perform better.
However, he did not feel, good when his decisions resulted in many people being laid off from their jobs. In order to express his hurt feelings , he began to write poems and short stories.
---
A masterpiece of Sri Lankan war literature
The guerilla war waged by the Liberation Tigers of Tamil Eelam (LTTE) for a separate state for Sri Lanka's Tamil community against the government security forces and lasted for nearly three decades and dragged to a close on May 18, 2009 with the killing of the Movement`s leader, Velupillai Prabhakaran is arguably the most significant event in our post-independence history.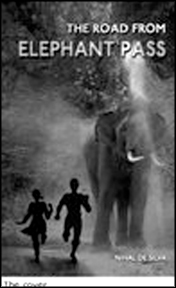 The Road from Elephant Pass
Author: Nihal de Silva Vijitha Yapa Publications
No doubt, it led to unthinkable carnage both in and outside the battle-field and took the lives of many great men. At the same time, it wrought irreparable damage to the socio-political fabric of Sri Lanka. Its influence on our political landscape, economic climate, social discourse, education, culture and literature is remarkable more for worse than for better.
When it comes to the influence of this ethnic strife on our literature, two English novels stand prominent among a host of other books, both of which have been awarded the Gratiaen Prize offered by the Gratiaen Trust established by the Sri Lankan born Canadian author, Michael Ondaatje after winning the Booker Prize for his novel, 'The English Patient' . Those two novels are 'Sam`s Story' by Captain Elmo Jayawardene and 'The Road from Elephant Pass' by Nihal de Silva. The latter draws even more on war and its influence on the individual as its plot is unravelled. Also, it was awarded the State Literary Award in the same year (2003).
Incidentally, it is a tragic irony that Nihal de Silva himself was killed in a land-mine blast at Wilpattu National park.
De Silva, the author is a product of St. Joseph`s College, Colombo and the University of Ceylon. He ran his own business dealing in the purification of water and the supply of mineral water. Starting with 'The Road from Elephant Pass', he delivered three novels in three successive years.
Although this was his maiden novel, it earned him both the Gratiaen Prize and the State Literary award in 2003. In the words of Prof. D.C.R.A. Goonethilleke, an eminent scholar in Sri Lankan Literature in English, "....he (Nihal de Silva) is a phenomenon embodying the essence of recent efflorescence of Sri Lankan literature in English....." The novel starts with Captain Wasantha, the narrator of the story and one of the two protagonists of it waiting for a woman, a senior Tiger activist, who, his boss Major Kiriella says, has vital information and wants to negotiate a deal with the S.L. army. Reluctantly though, the former takes up the assignment of picking up her from a checkpoint at Palali and taking her to Jaffna. Kamala Velaithan, his charge, turns up but much later than he expects her to. Perhaps, it is her delay that changes their lives so dramatically. With her revelation that the Tigers were to launch an all-out offensive against the army camp at Elephant Pass, it all turned darker, harder and more dangerous for both of them, for the woman soldier accompanying them and for Piyasena, their driver.
Practically stranded in the hostile terrain, Captain Wasantha has little choice but to follow advice offered by Kamala to whom it is no alien landscape. But, is this woman Tiger all that trustworthy? Is her information so reliable that he should undertake a perilous trek through the dense forests of Wilpattu National park to take her to Colombo via Puttlam? Set against one of the darkest periods of our recent history, 'The Road from Elephant Pass' is a novel where the ruthlessness and the brutality of the ever-worsening conflict is in sharp contrast to the human values like love, forgiveness, kindness and compassion. It tells us how people forced by the irreconcilable circumstances take up arms against their brethren on the other side and imperil themselves to pursue the elusive dream of a separate motherland. In a sense, it manages to estimate and explain the human cost of conflict while occasionally hinting at the hypocrisy of the leaders on either side, which is totally discordant with the lofty ideals they pretend to stand for.
The author, it seems to me, has a comprehensive understanding of the reasons that stoked the burning conflict on either side. He is aware of the inevitable consequences of the riots of July 1983. He is aware of the upshot of dirty politics of the narrow-minded leaders from the South hell-bent on self-aggrandizement. He is aware of the difficulties encountered by the government armies as they fought the Tamil Tiger rebels. In short, he is aware that, in the final analysis, the country`s ethnic problem has political roots.
With his thorough understanding of the nature and the scale of the country's ethnic strife and with his remarkable ability to devise ingenious plots and tell marvelous stories, Nihal de Silva has written a great novel, which, by any standard, is a masterpiece of Sri Lanka`s war literature. I am certain few readers will dispute the validity of the citation awarding it the Gratiaen Prize and delivered by the panel of judges-Shermal Wijewardene, Priya David and Lakshman Gunasekera: "For its moving story, for its constant feel of real life, for its consistency of narrative momentum, for its descriptive power, for its dramatic use of dialogue to define social context, capture character psychology and trace the development of a relationship, for its convincing demonstration that resolution of conflict and reconciliation of differences are feasible through mutual experience and regard, and last though not least, for its eminently civilized handling of the last degree of intimacy between a man and a woman, our choice for the 2003 Gratiaen Prize for creative writing in English is, unquestionably, 'The Road from Elephant Pass' by Nihal de Silva."
---
Book launch
"Lankave Rajakala Bahu Rajavaru
"Lankave Rajakala Bahu Rajavaru Saha Venath Aithihasika Katha"
S. B. Karalliyadde's 'Lankave Rajakala Bahu Rajavaru Saha Venath Aithihasika Katha" will be launched at Dayawansa Jayakody Book Exhibition Hall, Ven. S. Mahinda Mawatha, Colombo 10 on Tuesday, November 10 at 10 a.m.
The book will be useful to students studying history.
"Lankave Rajakala Bahu Rajavaru Saha Venath Aithihasika Katha" is a Dayawansa Jayakody publication.