World Diabetes Day falls on November 14:
A good lifestyle can prevent diabetes
Sri Lankans are facing a growing risk of developing diabetes as many adopt lethargic lifestyles. Compared to those in the rural areas, the upper class living in the urban areas are at a threat of developing diabetes at a young age. The Sri Lanka Diabetes, Cardiovascular Study (SLDCS) has predicted a 16.4% of diabetes prevalence last year in the urban population as opposed to the 8.7% in the rural area.
The three principal types of the non-communicable disease, diabetes are type 1, type 2 and gestational diabetes. Anyone who has a family history of diabetes should be careful because sometimes you may not get any warning signs. It might occur as a sudden bout of dehydration, need to go to the bathroom or just plain drowsiness and inability to work. People at a risk of family-inherited diabetes should go for regular blood check-ups and lead a rather active but healthy lifestyle. Eating the right meals at the proper time and exercising is important. There are aspects of high blood glucose and low blood glucose that is prevalent in diabetes.
High blood glucose (Hyperglycaemia) happens when your blood glucose levels rise above the normal range (110mg/dL or 5.5 mmol/L) and in the case of low blood glucose (Hypoglycaemia), blood sugar levels drop below the normal range. Warning signs are sometimes individualised varying from person to person. The symptoms for high levels and low levels are similar so it is important to check the blood sugar level to determine what's the real problem. Nowadays, there are glucometers to give a random test about diabetes blood sugar levels but you need a proper doctor's analysis to determine the proper result. Glucometers serve as controls but do not serve as the main reading on diabetes since any individuals' reading differs. The General Hospital of Sri Lanka and the National Diabetes Association of Sri Lanka together with the support of the Health Ministry's Education Bureau are working to spread the message of preventing and combating diabetes. Dr. Noel Somasunderam, Consultant Endocrinologist & Diabetologist of the Colombo General Hospital gave an exclusive interview to the Sunday Observer with regard to diabetes.
Q: Please explain what is meant by diabetes and how one can get it. Also, please explain what other conditions diabetic patients will be at a risk?
A: Diabetes Mellitus is a disease diagnosed when the glucose levels are higher than normal. Essentially there are two types, Type 1 Diabetes is usually diagnosed in children-the body does not produce insulin. Treatment is with insulin lifelong and with the help of insulin and other treatments, even young children with type 1 diabetes can learn to manage their condition and live long, healthy, happy lives. Type 2 Diabetes is the commonest type and usually adults, but even children get it. In type 2 diabetes, either the body does not produce enough insulin or the cells ignore the insulin. Insulin is necessary for the body to be able to use glucose for energy. When you eat food, the body breaks down all of the sugars and starches into glucose, which is the basic fuel for the cells in the body. Insulin takes the sugar from the blood into the cells. The temporary gestational diabetes occurs in pregnant women who have never had diabetes before but who have high blood sugar (glucose) levels during pregnancy.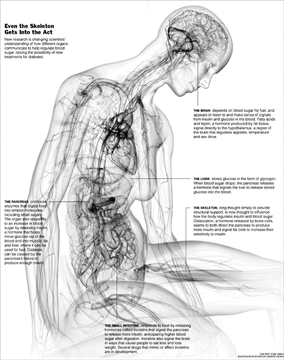 When glucose builds up in the blood instead of going into cells, it can lead to diabetes complications. In addition, those with diabetes develop high blood pressure and their cholesterol levels tend to be abnormal. Together with high glucose, high blood pressure and abnormal cholesterol leads to progressive damage to almost all cells in the body. The commonest cause of death in diabetes is heart attack and the other affected parts are the eyes (leading to blindness), kidneys (leading to kidney failure) and nerves (leading to amputation of the feet). The good news is that with the correct treatment and recommended lifestyle changes, many people with diabetes are able to prevent or delay the onset of complications. With modern diabetes treatment it is actually possible to live a normal life, free of complications.
Q: About 2.1 million of the population in Sri Lanka suffer from diabetes, how come this is so? Are there more incidence of inherited diabetes than developed diabetes now than before?
A: Several research programs have identified that the number of those with diabetes has been steadily increasing over time. One in every 5 adults in urban settings have diabetes and in rural areas one in every 12 have diabetes. Close to half of those above 60 years have diabetes and in children it is very rare (although risk factors for future development are found in them). Although we don't have a head count of all the diabetics in the country at least 1-2 million can be estimated to be affected. In hospitals we find those with complications of diabetes occupying nearly one fifth of all beds. This kind of shockingly high number of diabetics is seen throughout the South Asian region and the commonest risk for this is the rapidly changing lifestyle. The Type 2 Diabetes that is mainly a lifestyle related disease is the one that has been rising at alarming rates.
Q: Together with the government hospitals, how has the National Diabetes Clinic helped diabetic patients?
A: The National Diabetes Clinic at National Hospital of Sri Lanka is the largest diabetes clinic in the country. We cater to 300 patients every day.
We serve as the ultimate referral point for those with complications of diabetes. We also are a model of a patient centered, patient-friendly clinic where good standard treatment is given free in a very friendly environment. In addition, we also are developing a partnership with the Colombo Municipal Council's medical services to develop a system where all the patients with diabetes in the CMC area are screened for diabetes and are treated well. We also are trendsetters in providing training for doctors and other staff in diabetes care therefore ensuring that the patients throughout the country get equal standards of care.
Q: How can healthy people prevent themselves from getting diabetes if they are at a risk?
A: The onset of type 2 diabetes can be prevented or delayed through a healthy lifestyle. This involves change of diet, increase in level of physical activity, and maintenance of a healthy weight... with these positive steps, one can stay healthier longer and reduce risk of diabetes.
Q: In lieu of International Diabetes Day on November 14, how will Sri Lanka commemorate it? What special events will be held?
A: Various events will be held at the national and local level and screening programs for those at risk are also available in many hospitals. The Health Education Unit or the Diabetes Clinics of all the government institutions will provide information, assess risk and offer treatment if necessary.
Q: What is the best way to combat the disease naturally through diet? Is diet alone sufficient to combat diabetes or should regular insulin shots be taken too?
A: Eating well is one of life's greatest pleasures. Fortunately, having diabetes does not prevent patients from enjoying a wide variety of foods.
People with diabetes have the same nutritional needs as anyone else.Learning to eat well-balanced meals in the correct amounts is the secret. In most people what is required is to increase vegetables and reduce the starch. This alone may be all that is required but each individual is different and the final decision will depend on few factors. E.g. those who are overweight will need a diet that will help them to lose weight, those with abnormal cholesterol may need restriction of fatty food, and special needs will need to be met during childhood, pregnancy, etc.
Although changes in food are required for most it is important to continue to lead an active life with adequate exercise and drug treatment may be required in addition depending on the level of control.
Q: Are there any vaccinations or methods to prevent children of diabetic patients getting the disease? Are there studies being done to find a cure for diabetes?
A: Unfortunately there is no cure but prevention is possible. Several interventions are being studied for prevention of Type 1 Diabetes. The key to prevention of the biggest problem, Type 2 Diabetes is in the hands of each individual. As it is an end result of an unhealthy lifestyle prevention and control of diabetes are possible with change of lifestyle to a healthy diet and active exercise pattern. In addition control of weight is a powerful way to prevent or control diabetes.
---
Did You Know?
1. There is no cure for diabetes
2. Diabetes is increasing in pandemic proportions more than HIV Aids
3. In 2007, 246 million people worldwide were affected by diabetes and 308 million people were affected by Impaired Glucose Tolerance (IGT). Numbers are expected to rise to 380 million for diabetes and 418 million for IGT by 2025
4. The highest prevalence rates will be in developing countries by 2025
5. Globally, 7 million people will develop diabetes each year
6. Every 10 seconds 2 people develop diabetes
7. More young persons are at risk
8. Adopting a healthy diet and increasing physical activity can prevent the development of Type 2 Diabetes up to 80%
9. Up to 50% of all persons with diabetes are unaware of their condition
10. Diabetes kills 3.8 million persons yearly, which is higher than HIV Aids.
11. Every 10 seconds a person dies due to diabetes-related causes
12. There is a reduction of life expectancy of 5-10 years
13. 50% of persons with diabetes die of cardio vascular disease, heart and strokes.
14. Diabetes in the developed world is ranked as the leading cause of blindness, renal failure and lower limb amputations.
15. It has been estimated that between 5-10% of the total healthcare spending of the world is spent on diabetes related conditions.
(Courtesy www.diabetessrilanka.org)
---
Diabetes Education and Prevention
The World Diabetes Day campaign is led by the International Diabetes Federation (IDF) and its member associations. It engages millions of people worldwide in diabetes advocacy and awareness. World Diabetes Day was created in 1991 by the International Diabetes Federation and the World Health Organization in response to growing concerns about the escalating health threat that diabetes now poses.
World Diabetes Day became an official United Nations Day in 2007 with the passage of United Nation Resolution 61/225. The campaign draws attention to issues of paramount importance to the diabetes world and keeps diabetes firmly in the public spotlight.
This year sees the first of a five-year campaign that will address the growing need for diabetes education and prevention programs.
The need to increase diabetes awareness grows every year with the increasing impact of the disease worldwide.
The latest data, recently published by the International Diabetes Federation (IDF) in the 4th Edition of the Diabetes Atlas, show that 285 million people worldwide now live with diabetes. IDF predicts that the total number will exceed 435 million in 2030 if the current rate of growth continues unchecked.
Ahead of World Diabetes Day, IDF President Professor Jean Claude Mbanya called for increased health promotion and political action in the face of the epidemic. "Diabetes is claiming four million lives each year," he said.
"It is ravaging communities and threatening economies. We must improve care and stop the many millions at risk from developing the disease. With a growing cost of over 376 billion dollars a year, either we make healthy life choices available and affordable today, or pay billions more tomorrow."
World Diabetes Day is a campaign that features a new theme chosen by the International Diabetes Federation each year to address issues facing the global diabetes community.
While the themed campaigns last the whole year, the day itself is celebrated on November 14, to mark the birthday of Frederick Banting who, along with Charles Best, first conceived the idea which led to the discovery of insulin in 1922.
Diabetes Education and Prevention is the World Diabetes Day theme for the period 2009-2013. The campaign slogan for 2009 is "Understand Diabetes and Take Control". Diabetes is difficult.
The disease imposes life-long demands on the 285 million people now living with diabetes and their families. People with diabetes must deliver 95% of their own care, so it is of paramount importance that they receive ongoing, high-quality diabetes education that is tailored to their needs and delivered by skilled health professionals. In addition, IDF estimates that over 344 million people worldwide are at risk for type 2 diabetes.Type 2 diabetes can be prevented in the many cases by helping and encouraging those at risk to maintain a healthy weight and take regular exercise. The key messages for everyone are:
a. Know the diabetes risks and know the warning signs b. Know how to respond to diabetes and who to turn to c. Know how to manage diabetes and take control
(http://www.idf.org)
---
Single embryo In-Vitro fertilization as successful as multiple implantation
Many couples experiencing fertility issues who opt for In-Vitro Fertilization (IVF) presume that the implantation of multiple embryos will increase their chances having a healthy baby.
However, results of a recent analysis published in the New England Journal of Medicine indicates that the use of two or more embryos actually increase the likelihood of a multiple birth pregnancy. The belief that multiple embryos increase the chances for parenthood comes from the early days of IVF. During this time, doctors routinely implanted half a dozen or more embryos into a woman's womb in hopes of increasing the odds that at least one would grow into a healthy baby.
However, over the years, the procedure has greatly improved, which has led to better results using fewer embryos.
The new study serves as a follow-up to research performed in 2004 that yielded similar results, and also supports the growing concern over the health risks linked to multiple births that affect both mothers and babies. Mothers who experience multiple birth pregnancies have a greater risk of developing gestational diabetes, which is a diabetic condition brought on by the pregnancy itself, as well as bleeding and pre-eclampsia (a condition characterized by high blood pressure and the presence of protein in the urine).
The increased health risks for babies include cerebral palsy, which causes permanent disorders in the development of movement and posture, as well as birth defects, developmental delays, and even death.
The latest analysis performed by Swedish researchers followed its female subjects for a longer period of time, as well as through more embryo implantations. The research team found that the use of one embryo instead of two is almost as successful, and sig nificantly reduces the risk of multiple births. For the study, Dr. Ann Thurin-Kjellberg of Gothenburg University and her colleagues analyzed the records of 661 women who underwent implantation with a fresh embryo on their first try.
For those who were not successful the first time, implantations with one or two frozen embryos were performed. The team continued to follow those women whose earlier IVF procedures failed, up to a total of four attempts.
Of the women who received one embryo, 44 percent conceived on the first attempt and gave birth to live babies. For the women who got two embryos, 51 percent had a successful attempt. However, only 2.3 percent of the women who received the single embryo had multiple births, compared to 27.5 percent of those who had multiple embryos implanted. There were a total of four sets of twins born to the single-embryo mothers, versus 51 sets of twins, and one set of triplets, born to the double-embryo mothers. Although it is common knowledge that the majority of twins born will survive, it is of interest to note that their medical expenses over the first five years of life are usually much higher.
Another finding of the analysis was that women receiving one embryo were shown to be much less likely to have babies born prior to 37 weeks of gestation, at a rate of 11.8 percent, compared to 25.5 percent for the group receiving two embryos.
Although the researchers concluded that there is little downside but plenty of upside to transplanting one embryo at a time, the use of multiple embryos in IVF remains a subject of debate.
Advocates of the use of multiple embryos argue that multiple implants boost the odds for a success, as well as for multiple births, and that it is much less expensive than having IVF performed multiple times when early attempts fail. In addition, avoiding the stress and disappointment of a failed attempt is a key factor for some.
- healthnews..com