SEC to introduce derivatives:
Boosting Lanka's capital market
The Securities and Exchange Commission (SEC) will be introducing derivatives to the capital market next year.
Derivative is a popular instrument used in the Indian capital market enabling investors to make huge returns.
"The delay for the launch of derivatives into the Sri Lankan capital market was the absence of an independent Clearing House which is a prerequisite for the market", SEC sources said.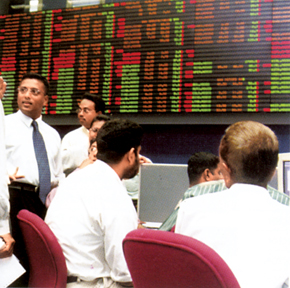 Director General, SEC, Channa de Silva said derivative is a viable market tool for hedging risks. Derivatives will replace the current use of portfolios and will benefit all investors.
The Indian derivative market developed within a short time breaking ground into vast investments. Returns on derivatives are high.
A derivative is a financial instrument derived from another asset, index, event value or condition known as the underlying asset.
Derivative traders enter into an agreement to exchange cash or assets over time based on the underlying asset.
Derivatives are often highly leveraged. A small movement in the underlying value could cause a major difference in the value of the derivative. Derivatives are used as mortgages, stocks, bonds and foreign currencies or market indices.
Director-Financial Services Academy, SEC, Dr. Dissa Bandara said the introduction of derivatives will be a boost to Sri Lanka's capital market.
"Many countries have made great progress in their capital markets with the use of derivatives which are forward contracts", he said.
The SEC has now been empowered to issue directives to listed companies following the amendment made to the SEC Act this year. Earlier, SEC powers regarding listed companies were limited. Meanwhile, the Colombo Stock Exchange (CSE) performance has been spectacular following the war victory mid this year.
The CSE surpassed highest turn over recorded for a given year last week by reaching Rs. 115.2 billion.
The previous record was Rs. 114.6 billion in 2005. The average daily turn over is Rs. 538.5 million exceeding the previous high of Rs. 481.5 million in 2005.
CSE sources said that all branches have shown marked progress this year. The CSE set up branches in Kandy, Negombo, Galle and Matale.