Doubling of allowances a boon to students
The monthly allowance of the students in Colleges of Education will be doubled from next year, benefiting over 9,000 students in 17 Colleges of Education, President Mahinda Rajapaksa said.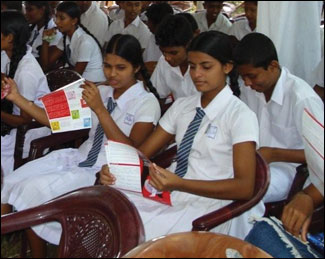 The President made this announcement at the inauguration of the Ruwanpura National College of ICT Education in Kahawatte, the first College of Education dedicated to IT education in Sri Lanka.
Accordingly, the first and second year students who are receiving a monthly allowance of Rs. 2,500 will receive Rs. 5,000 from January while the monthly allowance of third year students will be increased from Rs. 3,000 to Rs. 6,000.
President Rajapaksa added that IT and English education hitherto confined to the privileged class was now available to even village children.
He said this situation was completely changed by the Government by setting up 'Nenasala' centres islandwide. "The children of farmers in rural areas are now reaping the benefits of the Government's endeavour".
These students who have never come to the capital city have today developed communication with the world.
He further said, the Government gave an impetus to IT education in Sri Lanka by training thousands of teachers in Information and Communication Technology.
---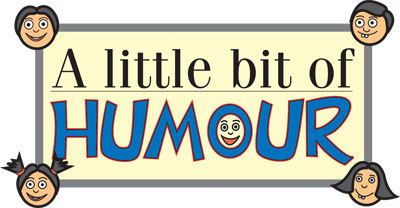 A man brought a very limp dog into the veterinary clinic. As he lay the dog on the table, the doctor pulled out his stethoscope, placing the receptor on the dog's chest.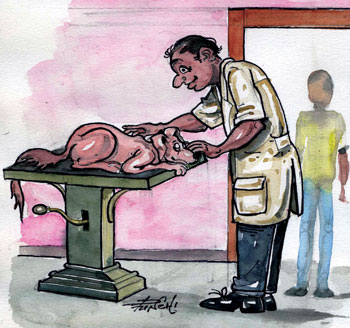 After a moment or two, the vet shook his head sadly and said, "I'm sorry, but your dog has passed away." "What?" screamed the man.
"How can you tell?"
You haven't done any testing on him or anything. I want another opinion!" With that, the vet turned and left the room. In a few moments, he returned with a Labrador Retriever. The Retriever went right to work, checking the poor dead dog out thoroughly with his nose. After a considerable amount of sniffing, the Retriever sadly shook his head and said, "Bark" (meaning "dead as a doornail"). The veterinarian then took the Labrador out and returned in a few moments with a cat, who also carefully sniffed out the poor dog on the table.
As had his predecessors, the cat sadly shook his head and said, "Meow" (meaning "he's history"). He then jumped off the table and ran out of the room. The veterinarian handed the man a bill for $600. The dog's owner went berserk. "$600! Just to tell me my dog is dead? This is outrageous!"
The vet shook his head sadly and explained. "If you had taken my word for it, the charge would have been $50, but with the Lab work and the cat scan..."
---
Birth and death anniversaries from
November 29- December 5
November 29
Sir Ambrose Fleming, English inventor of the radio rectifier was born in 1849.
Christian Doppler who discovered the Doppler Effect was born in 1803.
Giacomo Puccini, Italian composer died in 1924.
November 30
Mark Twain, American humorist was born in 1835.
Jonathan Swift, Irish satirist was born in 1667.
Oscar Wild, Irish playwright was born in 1900.
Sir Winston Churchill, a former British prime minister, (1940-1945and 1951-1955) was born in 1874.
December 1
Arjuna Ranatunga, a former Sri Lankan cricket captain was born in 1963.
Woody Allen, American actor and film maker was born in 1935.
December 2
Peter Carl Goldmark who developed the colour TV was born in 1915.
December 3
Sir Rowland Hill, British postal pioneer was born in 1795.
Robert Louis Stevenson, Scottish writer died in 1894.
Rajendra Prasad, First President of India was born in 1884.
Nihal Silva, dramatist, film actor (Sergeant Nallathamby) died in 1989.
December 4
Hamilton Shirley Amarasinghe (diplomat) died in 1980.
Edgar Wallace, English writer was born in 1875.
Thomas Carlyle, Scottish writer and historian was born in 1795.
Omar Khayyam, Persian poet, astronomist and scientist died in 1131.
December 5
Wolfgang Amadeus Mozart, Austrian composer died in 1791.
Walt Disney, American entertainer was born in 1901.
Dr. C.E. Godakumbura, a former Commisioner of Archaeology was born in 1907.
Alexander Dumas, French writer died in 1870.
W.D.Amaradeva, popular Sinhala singer was born in 1927.
Mohideen Beig, Sinhala singer was born in 1905.
---
Special events which took place
in history from November 29 - December 5
November 29
Sri Lanka Cricket Foundation was set up in 1981.
First underground atomic explosion was carried out in Nevada in U.S.A in 1951.
November 30
First meteorite recorded to have struck a woman in Sylacauga, Alabama.
World Day Against the Death Penalty.
December 1
Ceylon Medical College was established in 1870.
Vidyodaya Pirivena was founded in 1873.
World AIDS Day first announced by the United Nations Organization in 1988.
December 2
SAARC first summit began in Dhaka in 1985.
King Camp Gillette obtained patent for his first disposable razor in 1901.
December 3
First human heart transplant performed by Dr Christiaan Barnard in South Africa in 1967.
National Salt Corporation was established in 1957.
Sarasavi Sandaresa, Sinhala newspaper commenced in 1850.
World Disabled Day.
World Day Against Slavery was first announcing in 1992 by the United Nations Organizations
December 4
Observer, British newspaper commenced publication in 1791.
December 5
International Volunteers Day for Economic and Social Development.
National day of Thailand.
---
Children of war heroes given scholarships
Over 200 children of war heroes whose fathers sacrificed their lives to protect the country's territorial integrity and also to eliminate terrorism from the land were presented scholarships by President Mahinda Rajapaksa and the First Lady Shiranthi Rajapaksa at a ceremony held in Colombo recently.
The presentation ceremony was organised by the Seva Vanitha Unit of the Defence Ministry in collaboration with the Bank of Ceylon.
According to the programme the beneficiary students who are studying from Grades One to Five will receive Rs. 20,000 and children from Grades Six to Nine will be entitled to Rs. 30,000. A Rs. 50,000 grant is also given to war heroes children studying from Grade 10 to 12. Speaking on the occasion, Defence Secretary Gotabhaya Rajapaksa said the children of war heroes will not face any inconvenience in the future to receive their education at any public school of their choice.The Defence Secretary also made a fervent request from the mothers and guardians of the children to contact him personally in their endeavour of admitting children to schools they need.According to the programme, the children of war heroes all over the country would get an opportunity to receive their education at any public school they like.He said it is the duty of the Government to help the children of war heroes at this crucial moment and that is why the Government took a firm decision to find suitable schools for these children.
At the presentation ceremony, the Defence Secretary also told the children that people in the country will always remember the valuable service rendered by their parents in the battlefront.
The Defence Secretary also pointed out that his Ministry established a Defence School for the first time in Colombo, for the benefit of children whose fathers or mothers are serving in the three Armed Forces.He said in addition, the Ministry has planned to set up two more schools in Kandy and Kurunegala for the children of the Armed Forces personnel, who live in the surrounding areas.
---
International Day of Persons with Disabilities is on Dec.3
The annual observance of the International Day of Persons with Disabilities which falls on December 3 , aims to promote an understanding of disability issues, the rights of persons with disabilities and gains to be derived from the integration of persons with disabilities in every aspect of the political, social, economic and cultural life of their communities.
The Day provides an opportunity to mobilise action to achieve the goal of full and equal enjoyment of human rights and participation in society by persons with disabilities, established by the World Programme of Action concerning Disabled Persons, adopted by the United Nations General Assembly in 1982.
International Day of Disabled Persons, proclaimed by the collaborative effort - United Nations, is to celebrate and acknowledge the experience and capabilities of people with disabilities.
The Day was initially proclaimed in 1992 to commemorate the anniversary of the World Programme of Action concerning Disabled Persons, adopted by the General Assembly to promote understanding disability issues and to increase awareness of gains to be derived from integrating disabled persons into all aspects of political, social economic and cultural life.
More than half a billion persons are disabled as a result of mental, physical or sensory impairment and no matter which part of the world they are in, their lives are often limited by physical or social barriers.
During the past two decades, much has been accomplished in recognition of disabled persons.
One of the turning points was the International Year of Disabled Persons proclaimed by the General Assembly in 1981. Following year, the International Decade of Disabled Persons was designated (1983-1992) to promote "equality" and "full participation" of disabled persons in social life and development.The World Programme of Action concerning Disabled Persons, adopted by the General Assembly in 1982, provides an international framework to incorporate disability issues into national planning.
To complement the World Programme, standard rules on Equalisation of Opportunities for Persons with Disabilities were drafted in 1993.
Although the Rules are not compulsory for Governments, they imply a strong moral and political commitment of States to equalise the opportunities of persons with disabilities.
To this end, the Rules outline specific principles for responsibility, action and cooperation. Increasingly, the work of the United Nations is focused on equalisation of opportunities for persons with disabilities.
One of the most important concerns is accessibility to new technologies, in particular information and communications technologies, as well as to the physical environment.
---
Uniform material,text books distributed
The distribution of uniform material and text books for next year to students will commence on December 7 in all the provinces including the Northern and Eastern provinces. Education Ministry Secretary Nimal Bandara told the Junior Observer. Meanwhile, the distribution of uniform material and text books to centres and nearby schools has already begun. The official ceremony held at the Education Ministry was presided over by the Minister of Education Susil Premajayantha.
According to the Commissioner General of Educational Publications N.M.J. Puspakumara, text books for all Government and Government assisted schools were transported early last month by lorries to all distribution centres and schools in all the provinces including the Northern and Eastern. The text books were transported to the North via A-9 Road. The transport of the first stock of uniforms to Jaffna also took place recently.
The Ministry sources said that they expect to send the uniforms to 94 zonal offices. The distribution of uniform material and text books is expected to be completed before the stipulated period.
Ninety five per cent of the text books have already been distributed to the centres and the balance will be distributed before the end of December, said Puspakumara.
According to Education Ministry sources steps have been taken to ensure a smooth distribution with no shortages either in text books or uniforms material.
Uniform material for students of all Government schools and Government assisted schools as well as robes for Bhikkhu students in Pirivenas are provided free of charge annually by the Education Ministry under the free education concept.
Nearly four million school children and over 35,000 Bhikkhu students are benefited by this program. The total expenditure incurred for uniform material is Rs.1,260 million. Rs. 3,000 million was incurred to provide 35 million text books this year.
The Ministry has requested principals to summon a meeting of school children before the final day of the last term. which has been named as 'Books Distribution Day',and advise the students of the need to use text books with care as they are required to handover the textbooks to the next batch of students.
As a motivating factor, the Ministry would offer gifts and certificates for students who have utilised text books carefully.
As the final outcome the Education Ministry expects to reduce a considerable amount of national wealth spent on printing textbooks annually in this way.
The Education Ministry saved Rs. 451 million in 2008 and Rs. 856 million in 2009 and it is expected to increase the saving to as much as Rs. 1,000 million in 2010," the Commissioner said.