The Phantom of the Opera
The world famous musical "The Phantom of the Opera" is a work of the legendary composer of musical theatre Sir Andrew Lloyd Webber. The story is based on the French novel 'Le Fantome de l'Opera' which is written by Gaston Leroux. The lyrics were penned by Charles Hart and Richard Stilgoe.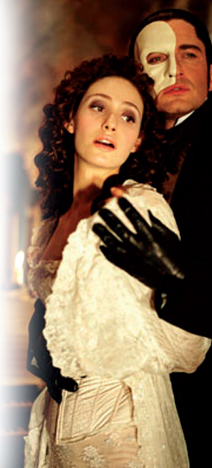 The story is about a beautiful young Soprano, Christine Daae who became a victim of the disfigured, musical genius "The Phantom of the Opera". The Phantom was a genius musician, architect and magician who had his deformed face hidden behind a mask leading a mysterious life of his own in the catacombs beneath the Paris Opera House.
The only companion of the Phantom was Christine. She was brought up in the Opera House when her father who was a famous fiddler died suddenly. Before he passed away, promised her daughter to send an angel of music to look after her. While Christine grew up, often she heard a rapturous voice which taught her to sing. She believed this voice belonged to an angel of music.
But that enigmatic, musical voice belonged to the 'Phantom of the Opera'. The Phantom had a deformed face since his birth and lived a lonesome life in the sewers underneath Paris Opera House. The Phantom fell in love with Christine because of her sweet voice. In the meantime Christine was in love with her childhood sweetheart Raoul. As the Phantom got to know about this relationship, his heart was broken and was extremely jealous of the two lovers.
The Phantom kidnapped Christine and captured Raoul, then threatened to kill him. Against her wishes, Christine agreed to marry the Phantom to save Raoul's life. When Christine kissed the Phantom, his heart melted because that was the first time he was kissed by a human. Then he realised that all he has done was wrong and allowed Christine to go to Raoul. At the end the Phantom disappeared forever, the only thing that remained was his mask.
"The Phantom of the Opera" is the second longest running West End musical and the longest running Broadway musical in history. Recently it became the first Broadway show ever to reach 9,000 performances. Also according to its official website it's the most successful entertainment programme in the world which has already earned over 5 billion US$ worldwide by the year 2007.
"The Phantom of the Opera" opened in London's West End on October 9, 1986 at Her Majesty's Theatre starring Michael Crawford as the Phantom, Sarah Brightman as Christine and Steve Barton as Raoul.
In 2004 the movie "The Phantom of the Opera" was produced by Sir Andrew Lloyd Webber. Joel Schumacher directed this film. In the movie Gerard Butler played the role of Phantom. Emmy Rossum starred as Christine and Patrick Wilson as Raoul.