Sri Lankans go dancing internationally!
Toes tap, hips swivel and graceful legs move from side to side on the international dancing stage in Singapore. It is now a motivation for Sri Lankan dancers to take to the dance floor as a result of a local dancing couple clinching victory at the World Dance Championships recently. Getting to rub shoulders with the best of the world's dancers, Rustom Yusuf and Roshanthi Nananayakkara, coached by professionally qualified dance teacher Shiromi Perera, were able to take their dance academy to greater heights.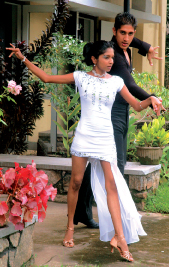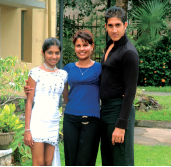 Rustom and Roshanthi with their dance guru Shiro Perera
The couple was placed fourth in three categories of the Latin section in their category, which included Cha Cha, Rhumba and the Jive and fifth place for the Samba round. Shiromi Perera Dayaparan is the owner of 'Rhythm World Dance Studio' who started her dance career in Kandyan Dancing at the 'Chithrasena School of Dance' at the age of seven and she also trained under the guidance of Ms. Rathna Rajapakse of Sri Jayana Dance Academy.
After a four year stint overseas, she returned to train as a dancer and thereafter qualified as a Teacher in order to steer professional dancing in the right direction by opening her Dance Academy with an emphasis on Latin American and Ballroom dancing.
Speaking to the Sunday Observer on training a young couple to dance to their delight on the world stage, Shiro said that she was happy that Rustom and Roshanthi overcame their 'dance' fright from the first round to finishing beautifully on their technique in the final one. With 42 judges, over-all the couple got more confident in their dance after each event.
"We were selected to be suitable to participate in Singapore because the dance examiner Aleena Tan said that Rustom and Roshanthi had what it took to dance internationally". Ms. Tan is the President of the Singapore Ballroom Dance Teachers' Association, Vice President of the Asia Pacific Dance and Dancesport Council and an esteemed Examiner of the Federal Association of Teachers of Dancing counting almost 40 years of dance experience.
Having received a Teachers' Qualification from the prestigious British Dance Academy, 'The National Association for Teachers of Dancing', Shiro is one of the Sri Lankan dance teachers who has been accepted by the International Dance Teachers' Association of the U.K. as a Lifetime Member with the Associate and Licentiate qualifications.
"Unlike freestyle dancing, the Latin and Ballroom dances have a proper technique and rules to follow because it should maintain consistency" said Shiro. Further she commented, "I'm not condemning the various dance schools mushrooming in every part of the city but it is wise to know the proper dance technique from a qualified expert." It was this proper dance technique that got Sri Lanka recognised at the World Dance Championships. "Dancing is an Art and it should not be just a money making business to some," said Shiro.
However, despite facing many hurdles in obtaining sponsorships to dance in Singapore, they all managed to brave the storm. Rustom got a part sponsorship from the company he works for, Dimo Engineering and CIMA/IIT student Roshanthi managed to get her ticket sponsored by gracious family friends.
"We also have a dinner dance where we raise funds but still, we would like a good sponsor to help uplift the standard of professional dancing in Sri Lanka and take our talented dancers internationally as we have the potential" highlighted Shiro.
Shiro is also trained in the area of wheelchair dancing and hopes to have classes for Sri Lanka's disabled soldiers. "I am willing to give free lessons to our soldiers who have sacrificed their limbs and arms for the country and dancing is the best way for them to channel their energies into something useful and fun" she said with a smile. As her motto suggests, her Dance Academy definitely offers everyone the chance to dance for friendship, fitness and fun!