'General's statement on minorities forgotten':
Minorities cannot support Rtd General - Azath Sally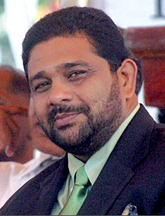 "How can members of the minority communities with any dignity support General Sarath Fonseka, the common Presidential candidate of the Opposition who once said that the country belonged to the majority community and the minorities were visitors here and had no claim to any rights?" This was posed by former Colombo Deputy Mayor Azath Sally, one among the latest UNP dissidents.
General Fonseka's statement in this regard made to the National Post, Canada was reproduced in the Daily Mirror of September 26 and twelve political parties including the UNP, SLMC, DWC and CWC held a meeting to express their protests but today all of them seemed to have conveniently forgotten it for their own political ends, he said. He along with some others opposed the party decision at its Working Commitee meeting, the highest decision making body of the party, and consequently he was expelled from the Committee, he said. Sally said General Fonseka was not only a common candidate of the opposition but also a 'common candidate of a foreign power' who was now looking for a house at a monthly rent of Rs. 500,000 and an office at one million rupees.
Recent history speaks volumes that all countries in the region that were under military leadership at one time or another had contributed to the deterioration of peace, prosperity and stability not only in their respective countries but also in the region, Sally said.
Party leader Ranil Wickremesinghe who waxed eloquent about abolishing the Executive Presidency is holding tight to 'Executive Leadership' in the party without entertaining views to be expressed democratically, he said.