Move it like Markham!
Hahaha! or rather, Hohoho! is all you can burst out when you see 'Move over Mrs. Markham' giving you rib-tickling laughter all the way this season.
House full on the first night itself, it was laughs all the way when the funky cast was presented by the Silent Hands Productions.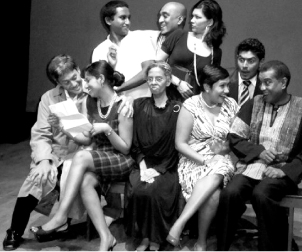 The stage glittered with a Christmas ring to it and we saw not just the familiar theatrical faces like Jerome De Silva and Neidra Williams taking to the stage but a youthful cast too. Minosh Joachim as a girl/boy called Felicity Jane Wilkinson looked absolutely stunning (even if I do say so myself), Sulo Perera as the doggie lover Olive Harriet Smythe was dotingly nice, Bimsara Premaratne as the lively Mrs. Linda Lodge was dynamically pulsating, Roshni Gunaratne as Sylvie was all fittingly French and funny while Milinda Mendis as Walter boomed with his commanding and tall personality with zeal. They worked wonderfully well on their roles to give zest and charm to the production. Much of the energy radiates with Miranga Ariyaratne's performance as Philip Markham and Jehan Bastians as Henry Lodge. Coming back to stage after a short hiatus, Jehan proved that his 'moves' are still in motion, baby! With cutting-edge theatre from Neidra Williams, her convincing role was resoundingly rich as always, as no play is really funny without her grit-teeth talking character.
The young cast did wonders with their roles to prove that it's not all about the same faces making their mark. However, the amazing performance by the great Jerome really added flavour to the play with bare-chested humour and exposed legs. He should be commended for celebrating 40 years of fine theatre with his glorious presence onstage.
I daresay, it wasn't easy to muster the courage to stay there for the just over two hours show to listen to witty and humorous dialogue but the production wasn't for the light-hearted.
Before I laugh to myself once again, you might want to know about the script. The story revolves around Philip Markham and Henry Lodge who are partners in publishing crime or rather the publishers of children's storybooks called 'Lodge Lodge and Markham'. Philip Markham and his wife are supposed to go for the Publishers' Christmas Ball and will leave their flat free which is absolutely inviting for others to use it as a lover's nest.
On one side you've got the heart-broken Linda Lodge, who can't bear her cheating husband's antics so she plans to have a tryst with her newly-found lover, Walter Pangbourne by asking Joanna Markham if she can use the flat.
On the other side, it's Henry Lodge with his latest catch, telephone operator Felicity Jane Wilkinson and begs Philip Markham to use the flat for his heart-to-heart. Meanwhile, the interior designer, Alistair Spenlow is redecorating the house and says that he plans to stay late and do some 'finishing touches' with the help of his live-in assistant Sylvie who is supposed to go on her off-day.
It's the battle of the bed when everyone wanted to have trysts in bed and while Philip Markham and his wife were the most loyal couple, at one point, he did suspect her of cheating. Of course, whether you're guilty or not, it's not easy when you have an affair without the knowledge of your husband and it's not good when others get to know. When the plan falls apart, what did we do? Sat down and watched the action unfold!
Pic: Jehan Bastians