Sridhar/Thayil rock Galle and go international!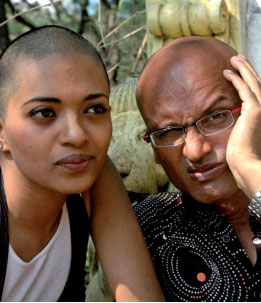 Many in Sri Lanka wouldn't know who Sridhar/Thayil are but as they become popular while playing all over India, did you know that this band had their first gig at the Galle Literary Festival in Sri Lanka? Speaking about the experience, they said, "We had just begun working then and tested out a set for the first time live at Galle. Until then, we hadn't even heard our sound on big speakers, and there we were playing the hottest party night at the Galle Festival". Further adding,
"They loved the first performance so much, they scheduled us for unplanned shows, back to back, including a 9 am gig for children with Vikram Seth!" 'This Be The Beat' was an instant hit, which is the very first thing the duo wrote together, a sexy spoken word chant to a reggae dance hall-ish groove. "The audience's unanimous and overwhelming response was the answer to our hunch that this was bigger than either one of us— Sridhar/Thayil could go anywhere!" they said with a smile.
Banding together in late 2007, Sridhar/Thayil comprise a lady with a shaved head called Suman Sridhar and a guy in a frilly red skirt called Jeet Thayil. A lyrical pop duo originating influences and ethnical diversity from New York, Mumbai and Hong Kong, their sound is pretty different from traditional music.
"We began collaborating late 2007 in Bangalore. The songwriting happened first, in a burst, in conversation, over tea, scribbled on napkins, in my dreams! It was an instant artistic connection" they said. Jeet Thayil is a performance poet, guitarist-songwriter, and author of four books including These Errors are Correct (Tranquebar, 2008). Suman Sridhar is a singer, actress, and songwriter. She grew up in Mumbai with Carnatic and Hindustani classical music and trained in Western classical music in New Jersey, USA, where she sang with jazz bands.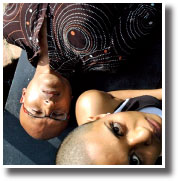 The pop duo like experimenting with a devilish melting pot of "urban grime" thrown with a pinch of "sexy groove music" to offer a dainty dish for any innocent by-stander. Once they hit, you're bound to be taken over. Sridhar/Thayil also have given birth to their baby project, The Flying Wallas: Opera Noir, a two-person contemporary opera production. Performing internationally after their maiden gig in Galle, they have performed at the Southbank Centre (London), Sula Fest (Nasik), Prithvi Festival (Mumbai) and will perform this Sunday at the Love Hotel at Ai with gigs on the 5th of March at nUDElhi and 7th at the Palms, Gurgaon.
Sridhar/Thayil was named one of 9 ARTISTES TO WATCH from 2009 by Rolling Stone magazine and was recently awarded Emerging Band of the Year at the 2009 Jack Daniel's Rock Awards in India.
S/T play a range of characters as part of their live act encompassing a demented preacher, a three year old, a drowning man that really exudes their raw talent rightfully.
-ND
---
Ideally entertaining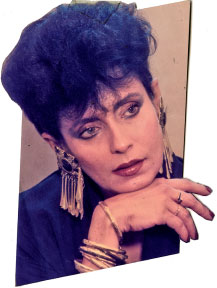 Blessed with a charismatic personality on stage and still continuing to radiate thus, Dalreen's 'Life of Song' Part 2 concert is now on DVD, within easy reach of music lovers not only for personal enjoyment at present but for posterity as well. "I was determined that this Part 2 concert was going to be spectacular and different and according to reports, I'm glad it turned out to be that. The show was choreographed by Senaka de Silva and all the outfits in black and silver were designed by Michael Wijesuriya.
The stage set was like a New York Broadway show with appropriate lighting and the Ballroom at the Galadari Hotel was just ideal to make all my dreams a reality," voices Dalreen in that typical characteristic style of hers which is loaded with exuberance. In fact, when she gets on stage to sing, her style, her exuberance in putting over a song is captivating.
The music well chosen included not oft performed Western and Sinhala songs. Before we delve into the personalities appreciation must be made of the music of the supporting band The Gypsies whose arrangement and performance of the music was extremely dynamic, tight and highly professional. Rani Waas' guitar work was a pleasure to listen to and with his magical touch, he gave the songs a special kind of identity.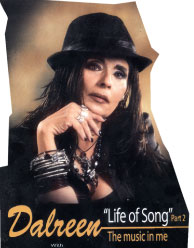 Dalreen's opener 'The Music in Me' epitomised the singer who always maintains as in the words of the song "Music is my first love." Her solo items were Help, Come Together / Give Peace A Chance, He'll Have to Go given a twist, Knock On Wood, the Rod Stewarts' Have I Told You Lately and more. She sang duets with a galaxy of singers which included Sunil Perera, Rajitha of Misty, Geoffrey Fernando of Purple Rain fame, Gavin Senn, Melantha Perera, Mariazelle, Shyami, Kevin Almeida Ayesha, Damayantha and her daughter Tahani and members of Aquarius.
The tribute to Michael Jackson performed by Kevin endorsed Kevin's versatility, in an entertaining 'Black or White.' The Sinhala songs included Aye mae Katha saw Dalreen duetting with Sunil Perera and her baila medley took the audience through Ran Maneka, Tikki Tikkiri, Praana Hathak, Chuda Maneka and Nalavena. There was no doubt that Life of Song Part 2 contained a collection of songs that had an attraction all their own, so different from a concert where you can predict what the next song will be.