Opposites attract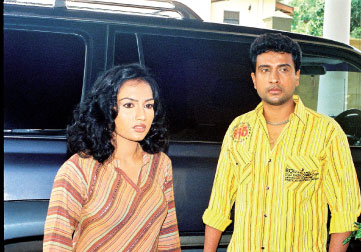 Imagine a heartbroken youth forced to spend time with a talkative girl just because she had missed her train while trying to convince him to continue with life rather then commit suicide.
This partly comical yet serious tone is the essence of renowned director Ananda Wickramasinghes newest movie 'Hadawatha Mal Yayai' which is screening at Regal Colombo and CEL circuit cinemas islandwide.
The much awaited movie stars the bubbly Chathurika Peries and Channa Perera in lead roles witn a notable dose of comedy coming from the likes of Tennyson Coorey. The cast also includes Sanath Gunatilleke, Rajeve Nanayakkara, Mahinda Pathirage, Rathna Sumanapala, Anushie Warnasooriya and Srimath Indrajith Liyanage.
'Hadawatha Mal Yayai' relates a heartwarming tale of how two individuals with personalities, which are poles apart, who start off as friends and are emotionally bound together. Lihini is a happy-go-lucky character emerging from a rich family. Himal is also from the upper class but he is more reserved and moody. Naturally when the two meet there are a lot of fireworks. Lihini misses her train while trying to save Himal and he finds himself trapped in her company when she informs him that it is his responsibility to see her home. The story traces their journey across picturesque landscapes where the two discover each other and understand the meaning of love and friendship.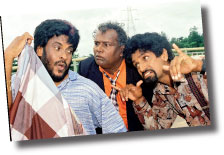 " 'Hadawatha Mal Yayai' does not comprise heroes or villains. It is not the typical love story in which the hero has to win over the heroine and plead for her hand in marriage from her parents while warding off the villain. All the characters embody simple characteristics and are lovable in their own manner," Wickramasinghe commented on his tenth movie. He had previously made movies much as 'Satana', 'Danaya', 'Yasasa' and 'Sergeant Nalla Tambhi'. All of them had short titles but he says that his latest movie had been given that title with a reason.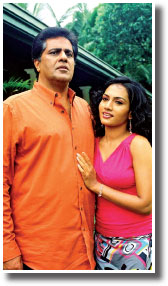 "One of the phrases of the title song grabbed my attention while I was thinking of a suitable title. That is how the name took shape," he explained while adding that he had worked with two generations of actors in the movie.
The movie was produced by Thilak Kodikara and was shot on locations in Colombo, Ingiriya and Kuruwita. M A Gafoor was the cameraman while M S Aliman was the editor. The music was composed by Ranga Dassanayake while the background scores were set by Indrejit Merihana. Saman Chandranath Weerasinghe penned the lyrics. Sanka Prasad choreographed the dance acts and Gamini Bandara was the art director. The costumes are by Ramani Alakolange and the hairstyles are by Lalith Dharmawardena.