No room for hardliners -Douglas Devananda
Tamil political parties have strongly condemned the moves by LTTE proxies to form a `Transnational' Government abroad. Plans are under way even to hold an election for this so-called `Transnational Government'.
Minister and Eelam People's Democratic Party leader Douglas Devananda commenting on the so-called `Transnational' Government told the Sunday Observer that the move was a farce and nothing else.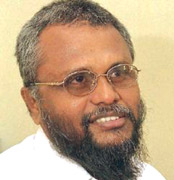 "The parliamentary elections held recently have proved that there was no room for hardliners in the Tamil political scene. People in the country and the Tamils from the North and the East at large wish to live in peace forgetting their past horrible experiences. The cry for separatism has done enormous damage to the Tamils in the country."
"Unlike previous leaders, President Mahinda Rajapaksa is bold enough to deal with issues which pose a threat to the unity and integrity of the country. The country has tremendous confidence in President Rajapaksa.
Therefore, when the whole country is looking towards a bright future, extraneous forces which cannot digest the healthy political developments in the country have now embarked on an idiotic move called `Transnational Government'.
I am confident that the selfish action of a handful of LTTE proxies is not going to take them anywhere. Hence the Tamils abroad and in Sri Lanka should be cautious of these sinister moves to destabilise peace that prevails in the country", Devananda said.
The Tamil United Liberation Front leader V. Anandasangaree said, "The intended 'Transnational Government' by the LTTE proxies is sheer stupidity. The elements opposed to the people's co-existence in the country are all out to create another racial calamity for their existence abroad.
"People such as V. Rudrakumar in the USA and his allies in other parts of the world are trying to continue with their ulterior motives to destabilise the peace created in the country after three decades.
Leader of the People's Liberation of Tamil Eelam (PLOTE) D. Sitharthan said, "Even after people gave their verdict in the North and the East at the parliamentary polls sidelining the TNA, the LTTE proxies are trying to deceive the people abroad and in the country by coming out with gimmicks such as forming a 'Transnational' government abroad.
"When the LTTE was active there were people who were thriving by showing themselves as supporters of the outfit.
"However, with the annihilation of the LTTE those who supported it are finding it difficult to survive.
"Therefore, they are resorting to all sorts of stunts to revamp their activities. Foreign Governments should be cautious of those elements and ensure that their sinister moves are curtailed," Sitharthan said.