More than just :
Julian!
The Coolum-born 21 year-old Australian endured many a wave and stride to come out clean with a good average that saw him win over 19 year old American Nat Young in the Sri Lankan Pro Surf Tournament 2010 held in Arugambay.
Hailing from a family where surfing runs through their veins, Julian is a down-to-earth person with a special charisma that certainly makes you feel at ease in his company. He said, "Sri Lankan surfers do have the potential to make it big because the Arugambay waves are first-class and are great to practice on."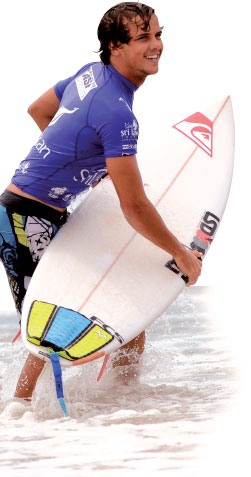 Coolum's Julian Wilson is definitely one of the world's most exciting and talented surf stars. Together with major talents like USA's Dane Reynolds and South African Jordy Smith, Julian is leading a new generation of high performance surfing. Three awesome achievements stand out for Julian, amid a stellar junior career peppered with wins in Australia, New Zealand, Indonesia and Europe.
In 2006, he shone in Team Australia when he clinched the gold medal winning his first ever world title at the Quiksilver ISA World Junior Championships held in Maresias, Brazil. In 2007, he managed to display a brilliant "Sushi Roll" consisting of a twisting, rotating aerial technique he created and named during a trip to Japan. In the same year, he stood on the same stage with surfing legends at the 35th annual Surfer Poll awards night in Aneheim, California and accepted the award for "Best Male Performance of the Year" for his incredible section in Quiksilver's award winning film "Young Guns III". In the process, he became the youngest ever recipient of the award.
In 2008, Wilson took home his second Junior Series win at the Billabong Pro Junior Series tournament, stop No.9 at Wollongong. He won the third annual O'Neill Mission and took second at the Oakley Pro Junior North Stradbroke Island. Julian has become one of the most popular and most wanted surfers with massive sponsorships by Quiksilver, Red bull and many others that are just too many to list. When he's not seen on the waves, his face has been used to grace the covers of many surf magazines and other surf-body commercials that have put his youngster firmly on the map.
Among his video credits are the Quiksilver Young Guns series and the 2009 release of Taylor Steele's "Stranger Than Fiction" Julian has also surfed in front of 25,000 people in the strangest of places – the Sunway Lagoon wavepool in the land-locked city of Kuala Lumpur, Malaysia, where he was whipped into two-to-three foot man-made waves by a jet-ski. Born and raised on Queensland's Sunshine Coast, Julian, 20, is the youngest of three brothers who also surf. Under the watchful and caring eye of mum Nola, who occasionally paints the designs seen on Julian's boards, together they make a proud surfing family.
In addition to surfing, Wilson also likes to skate, golf and fish. About this status, he says, "I am extremely single and keen to mingle!" Musically, he's interested in rap music and showcases a 12-pack when he's in his cool surf suit. His own film "Scratching the Surface" is due for release in September 2010. Check Julian on our poster!
Pic by Sulochana Gamage