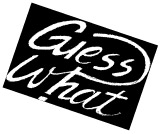 'The symbol of authority and sovereignty'
My ancestors belonged to the royal court. They served the court for ages with loyality, dignity, and pride. I was born in 1649 to my father Thomas Maundy maker of maces during the British Commonwealth. The mace was especially the symbol of the Speaker's authroty in the House of Commons in the Untied Kingdom. So during my young days, I was subject to many changes on my body.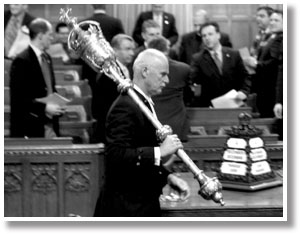 My body appearance was in the form of a slender pole named shaft. At one end blade-like flanges are attached to make my body strong and the other end a knob in the form of head. It was decorated with pivotal devices and similar ornaments enriched with precious metals. Expert craftsmen pierced and decorated the flanged ends of the mace beautifully. By now I reached adulthood and looked pretty.
I bore a rich appearance fit enough to serve the legislature assembly of our country. So I was chosen to represent authority of each chamber and the royal authority of Her Majesty Queen Elizabeth II, the Queen of the United Kingdom as well in the House of Commons in a Westminster System Parliament.
The Houses of the UK Parliament can't lawfully meet without my presence. The mace represent the authority of the sovereign, they are carried before the Speakers of both Houses (the House of Commons and the House of Lords) when they enter or leave the chamber.
It was clear when Sri Lanka gained independence from British rule, the need for a Parliamentary Government and a Cabinet system on the British model was evident. I was the best choice for Sri Lanka at the ceremonial opening. They could not have chosen a better ambassador. It was an unforgettable moment in my life to attend the grand ceremonial opening of Parliament in Sri Lanka. A tall figure smartly dressed with a jutting our nose and a heavy moustache carried me on his shoulders before the Speaker.
The mace represents the authority of the sovereign among a dignified crowd who gathers for the ceremony. Uprooting oneself from the land of one's birth and adjusting to life in a new land with people in a totally different cultural environment is not easy.
I must confess since arriving in Sri Lanka, I participated actively in the socio-economic and political process which has given me tremendous joy and an innor satisfaction difficult to put into words. I have had great fulfilment in my chosen profession which has given me the opportunity of meeting people of many lands and from various walks of life. It has been an enriching and rewarding experience in my newly found home on the banks of the Diyawanna Oyla.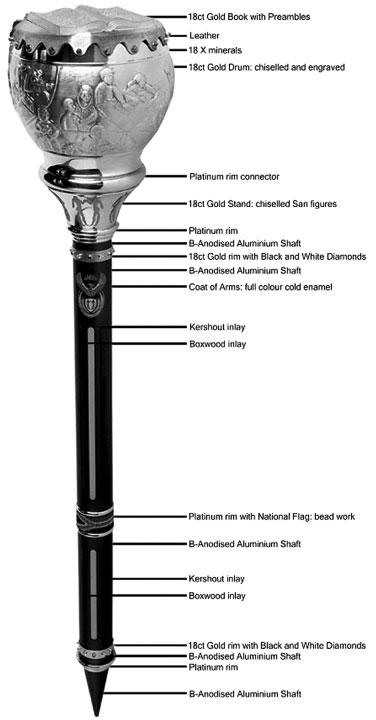 - Tissa Hewavitarana