John Keells launches English for Teens
"I am very happy to have received an English language scholarship from John Keells", said a beaming Kaushalya Pathirana, a 12-year-old student of President's College, Rajagiriya. Kaushalya spoke to us recently at the John Keells Social Responsibility Foundation.
"I want to be a software engineer when I grow up and I feel that improving my English competency would be very important for my future. It's great that a program such as this is being conducted for us," he said.
Kaushalya incidentally scored the highest marks among the registrants of the program at Gateway Language Centre, Colombo. He is actively involved in swimming and cricket at school and his favourite subjects include IT, Maths, Science and Health.
"I am pleased that Kaushalya won this scholarship and obtained the highest marks, said his mother Gayani, adding that being competent in the English language would be very important for her son, especially if he were to go overseas."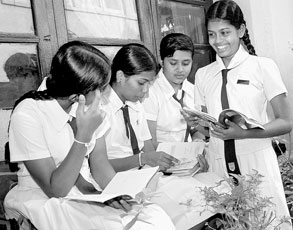 14-year-old Sanduni Rajika Alahakoon, a student of St. Clare's Balika Vidyalaya, Wellawatte, is the daughter of Sumedha.
"The biggest obstacle to my progress professionally was the lack of English, so I'm very happy that my daughter gets the opportunity to learn English through a good program like this. There is a world beyond what we know and English will give my daughter access to it," said Alahakoon. Learning English at an institute such as Gateway would also help in personality development and make young students like his daughter economically stable one day. Sanduni's ambition is to become a nurse and her hobby is reading detective stories and biographies.
With the intention of providing a basic foundation in English language training for early teens, John Keells Foundation re-launched the English Language Scholarship Program for schoolchildren in the age group of 12 to 14 years.
The program for the first batch of students took place on August 1, at the Gateway Language Centre, Colombo with 100 students from Colombo and suburbs receiving scholarships. The program will move on to Gateway Language Centres in Ampara, Anuradhapura, Batticaloa, Chilaw, Gampaha, Kurunegala, Matara and Ratnapura with a total of 500 scholarships awarded under the first intake.
The program for the second intake is scheduled for October and will be conducted in Bandarawela, Galle, Habarana, Jaffna, Kandy, Negombo, Panadura, Trincomalee and Vavuniya. The second batch will also consist of 500 scholars.Begun in 2004, the English Language Scholarship Program focuses primarily on teaching English for daily use and basic interactions, helping students understand and use familiar everyday expressions, such as introducing oneself and others and asking or answering simple questions. Over the years, the program has sponsored a range of scholarships.