TECHNOLOGY
Sustainable innovations for growth
The IT industry of India has grown from a few million dollars in the 1990's to $ 50b in 2009 contributing to 5 percent of the GDP while the industry is projected to grow to $225b by 2020, said Chairman Accenture India Harsh Manglik.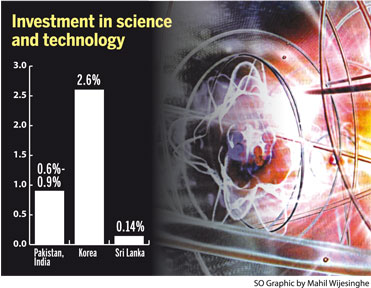 He said that NASSCOM a global trade body with more than 1200 members, (which include both Indian and multinational companies), has a presence in India, with over 95 per cent of industry revenues in India and employing over 2.24 million professionals.
Manglik said that low paid highly educated people were the start of the industry "but we in the industry understand that this is not sustainable.
India is appreciated as a country with a high quality talent pool. We as a nation keep moving up the ladder as standing still will make us vulnerable to external shocks."
"The IT industry is a central source of foreign exchange. For example for every direct job there are 3-4 indirect jobs created and in metro India we are the largest supplier of jobs.
The industry has created a new model of entrepreneurship people who are educated in the west and who do not heed bureaucracy," said Manglik addressing a AMCHAM meeting themed 'How Innovation Supports Sustainability.'
The younger generation of today has a profound sense of responsibility and the IT industry has taught them that they are second to none.
India is a very young country as half of its population is less than 24-years-old while one third is less than 50 years of age which gives India an edge over other countries.
He said that 80 percent of the growth in the IT industry comes from new applications and industries while the balance is from traditional work in the industry. More than 700m of the population live in rural areas therefore ICT can be used to make their life comfortable through e-learning and tele medicine.
The developing of the IT industry has given inclusion of access, inclusion of opportunity and the quality of enableness which support inclusive growth and can be experienced by all Indians.
Sri Lanka too has a great future with peace dawning on the country in addition to the highly literate talent pool.
CEO Sri Lanka Institute of Nano Technology (SLINTEC) Ravi Fernando said countries who have and are investing in innovation will be the leaders in the future. Therefore it is time for Sri Lanka to forge ahead as a innovative nation leaving behind the commodity exporter status which the country enjoyed for sixty years.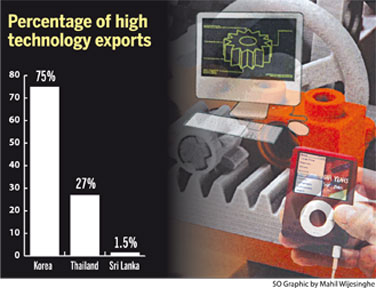 He said that the USA started the Nanotechnology Institute in 2000 and 92 countries followed. Sri Lanka fortunately is not far behind as we launched (SLINTEC) in 2008.
At present SLINTEC is working with five companies namely Hayleys, Dialog, Brandix, MAS and Loadstar.
Its main aim is to be a sustainable nanotechnology company that will never compromise environment sustainability and will always start a project with the end in mind.
He said that most of the companies drive shareholder value creation rather than sustainable value creation but of late the world is shifting towards sustainable value creation.
He said that there is a difference of about 70-80 points between shareholder value creation companies and sustainable value creation companies.
He said that for many years the world has practised unsustainability and therefore moving towards sustainability is a must today.
Fernando was of the view that businesses are for long term therefore practising sustainable innovations will help the country attract more investments and grow faster.
SG
---
IBM launches Smarter Business for a Smarter Planet
IBM is ready to provide business management consultancy services to government institutions and business organisations in Sri Lanka and outsourcing contracts for business management, said Country General Manager IBM, Chrishan Fernando.
Last week IBM launched its Smarter Business for a Smarter Planet initiative in Colombo at IBM Forum 2010 with participants from nine countries in the region. Latest IBM technologies were demonstrated at the Forum and most of them for the first time in Sri Lanka.
Vice President (Operations) India and South Asia of IBM Amith Sharma said that for a smarter planet we need smarter governments as well as smart businesses.
The IBM smarter planet initiative is neither software nor hardware. It is a vision that heads businesses for the future and a management service with which IBM shares its global expertise and long years of experience.
We have created smart cities in China and Japan. We helped Indian railway to be smart introducing technology to make the service efficient.
Our transportation solutions provide smarter management of traffic by intelligent routing of traffic. In Singapore it reduced fuel consumption by 20 percent, Sharma said.
It is the most efficient use of technologies available.
In the last few decades the world has invented a lot of instruments.
They also have inter connectivity and the instruments can talk to each other. Therefore we have the ability of analysing data and support to make important decisions.
But this analysing part is not happening in businesses. According to researches eight out of ten CEOs do not have correct information to make decisions.
For instance analysing data related to diseases can be used for preventive programs and thereby insurance claims can be reduced.
In the power sector globally billions of dollars are wasted by generating energy that never reaches a single light bulb.
IBM has smarter energy management solutions.
In IT the average IT server only uses 6 percent of its capacity and smarter planet needs smarter IT systems and IBM has solutions, Sharma said.
We hope Sri Lanka can become smarter faster because growth in the ICT sector in Sri Lanka is impressive. However, you should start from one point and then it will be followed by others.
For instance if city A started a smarter traffic management system other cities will follow.
IBM is a product company but today most of the revenue we earn is from services.
IBM has been in Sri Lanka for 50 years and we are strong in banking, finance and telco sectors. IBM can start smarter banks or smarter telcos in Sri Lanka with our solutions.
This initiative is not limited to any particular industry and we are ready to provide solutions to any sector Sharma said.
---
WSO2 celebrates fifth anniversary
WSO2 celebrates five years of creating a global brand and in a continued effort to put Sri Lanka on the forefront of technology, will celebrate its fifth anniversary by organising WSO2 Con to be held in Colombo.
WSO2 has established itself as the complete open source middleware platform for Service-Oriented Architectures (SOA), The co-founders Dr. Sanjiva Weerawarana and Paul Fremantle are both ex-IBM.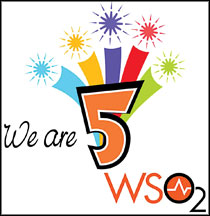 WSO2 has grown into a global corporation with its main operations arm in Sri Lanka and offices in the US, UK and Australia.
Acknowledged as leaders in XML and Web services technologies, open source, and open standards, WSO2 employs almost a hundred innovative thinkers in the country.
"Five years ago we had a vision that enterprise applications would be built using a distributed, compositional approach, talking to each other with open standards. As well as providing a solid, high performance platform for compositional applications, WSO2 has also created a new kind of modular, cloud-native platform to provide a vision for the next five years." said CTO, Paul Fremantle.
Encompassing the breadth of enterprise middleware capabilities by hosting core services, WSO2 Carbon provides everything required to build a modern enterprise application in a simple and quick manner.
WSO2 Stratos allows these applications to be deployed on public or private cloud infrastructure. The web based console allows easy access and configuration of middleware applications within an organisation, so the provisioning of a new application becomes a simple self-service process.
WSO2 credits its success to great team work, passion and commitment, resulting from modelling the organisation around a strong commitment to human development and an employee-centric work environment.
"We have built a global brand and a superb set of technology that our customers absolutely love! All this by a team of very young people who took the challenge to heart and simply made it happen," said Weerawarana.
All team members are encouraged to actively contribute towards every aspect of the company by communicating openly without fear.
This in turn nurtures WSO2's sense of working in small, integrated, global teams that has helped take problem solving and innovation to a whole other level. The great team work and group cohesion has helped WSO2 successfully compete against industry giants such as IBM, Tibco and Oracle.
---
Finacle for HNB
Infosys Technologies Ltd. (Infosys) and Hatton National Bank Plc (HNB) successfully implemented Finacle universal banking solution across HNBs operations in Sri Lanka.
Infosys has implemented Finacle core banking, treasury and consumer e-banking solutions across 191 customer centres of the bank.
HNB now operates its entire banking operations on Finacle to support over 2.8 million customers.
Managing Director and Chief Executive Officer, Hatton National Bank R. Theagarajah said, advanced core banking technology is important to achieve our business growth objectives and improve customer service.
We selected Finacle for its global leadership, committed investment in research and development in core banking and unmatched delivery track record.
Finacle has provided higher scalability and flexibility to service our diversified retail, institutional and corporate clientele.
Our new back office platform provides greater agility by consolidating disparate systems and reduced turnaround times, enables innovation to launch new offerings, and empowers staff to radically improve our customer service.
---
Samsung launches two smartphones
Samsung launched two smartphones Samsung Wave and Samsung Galaxy S to the Sri Lankan market last week.
The two next generation smartphones are equipped with Samsungs proprietary 'open' mobile platform 'bada'.
The new smartphones provide the 'bada' of experience and will reach the largest section of consumers, said Samsung Country Manager Shankar Narayan. In Korean language 'bada' means the ocean.
Samsung the number two mobile phone brand in the world aims to catch 25 percent of the smartphone market in Sri Lanka. Already 17 percent of world hand phones are smartphones and it will increase to 22 percent by the end of next year.
Smartphone has made the mobile phone much more than communication tool.
It has integrated consumer needs and is the next level of social networking. Mobile social networking is at 9 percent today and will increase to 11 percent in the next year.
Samsung is committed to make smartphones available to everyone, he said.
"We have been focusing more on open OS mobiles recently since many key characteristics of smartphones are becoming increasingly important, especially mobile internet, messaging features, strong third party applications and flexibility for customization. In the open OS area, our strategy is to be there with whatever customers want. That is the reason we are offering mobiles based on the Android, Windows and now the 'bada' platform in the Sri Lankan market," Narayan said.
Samsung Wave is the first smartphone with Samsung's own proprietary operating system 'bada' which allows mobile users to simply and easily down load an abundance of applications from Samsung Apps, an integrated application store accessible from the device and on line.
Featuring a vast selection of games, social networking, health and lifestyle applications Samsung Apps gives users instant access to a huge choice of mobile experiences.
Samsung Wave has 3.3" super AMOLDE display, integrated HD video player and recorder, Dolfin web browser and 1GHz processor.
Samsung Galaxy S has the power to enrich people's lives through its best-in-class services and technologies. It introduces the Smart Life concept.
The smartphone experience that is simple, organised and integrated enriches the lives of the users. Galaxy S featured 4-inch Super AMOLED screen, a 1GHz application processor and TouchWiz 3.0 user interface. Smartlife is further enabled through intuitive, integrative features including the Swype text input service, the rich augmented reality browser, Layar, Social Hub Integrated Phonebook, Downloadable EBook, Think Free Office, Wireless Tethering and the powerful Android 2.1 operating system, Narayan said.
GW