Dreams do come true
Most A/L students who pursue the Physical Science dream of entering the Engineering Faculty at the University of Moratuwa (UOM). Unfortunately, for many, this dream never comes true.
Being accepted to UOM requires a lot of hard work, talent, and some luck. Nimantha Thushan Baranasuriya, who is a Software Engineer at Eurocenter DDC Ltd., was one of the lucky ones.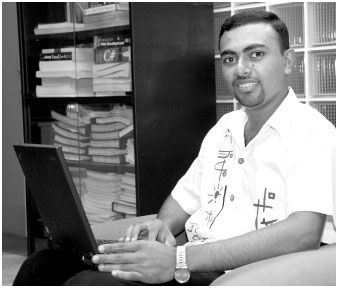 Through his hard work and talent, he was able to fulfil this dream of being accepted to UOM, where he worked harder still to be the best. He was the mastermind in beating all the other whiz kids and winning the 'Most Outstanding Graduand of the Year 2009/2010' and the 'Top of the Computer Science and Engineering batch' at the General Convocation, held recently, at which he graduated as a computer engineer.
"Royal College, Panadura, was my first school, where my mother taught. I was a student there until I moved to Sri Sumangala College, Panadura in 1993," said Nimantha.
He won the 'Best School Boy Award in 2004' for his academic and extracurricular achievements at Sri Sumangala College. "I played badminton and table tennis for the school sports meet and most of the time I became either the champion or the runner-up," he said.
He also joined the Radio Club because of the love he had for electronics. "I even did some inventions such as electronic code locks for doors, cobweb sweepers and burglar alarms," he said.
"Until recently, I had the electronic code lock for my room door and the cobweb sweeper, which had a brush rotating with the help of a motor. This impressed my cousin, who then wanted one of her own," he added.
His school life had always been exciting, as he recalled, "This happened when I was in Grade 12. The ceiling of my classroom had an opening and some of my friends and I used to climb through this to explore the ceiling regularly.
The roof of the building was so high; we could even walk on the ceiling without having to bend. It was like our secret hideaway. One day two of my friends and I went up in search of a ball. By that time, our Physics teacher walked into the classroom and we were trapped in".
"We could not climb down until he left the class. The opening of the ceiling was so large if the teacher looked up, he would have definitely seen us.
Anyway, we stayed there without making a noise until he left. That day we learnt our physics lesson while being there".
Nimantha, who got through his A/Ls in his first attempt, entered the Engineering Faculty of University of Moratuwa.
Although he wanted to be an Electronics and Telecommunications Engineer, the subjects he learnt in his first year changed his mind and his new interest developed towards Computer Science and Engineering.
Therefore, when they were given the opportunity to select the field they want to follow as their major, he decided to pursue being a Computer Engineer.
"The three years I spent in the Computer Science and Engineering Department were the best years of my university life. We participated in many other fabulous events other than the studies," he said.
He had not wanted to become a bookworm and had participated in many events at the University.
Among them is the Speak Olympiad intra-university speech contest organised by the UOM Gavel Club - which is an affiliate of Toastmasters International - where he became the first runner-up in 2008. He was the cinematographer and co-editor of the teledrama they produced in their second year.
He has also took part in many CSR projects and was a drama mentor for a group from their junior batch at the University. His love for tennis made him join the University tennis team.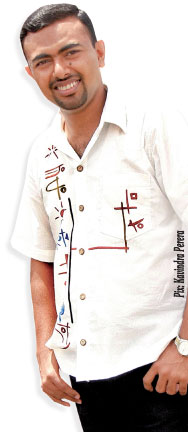 "It helped me a lot to remain physically fit with the hectic study schedule we had," he explained. "I consider being selected and being able to complete the project in the Google summer of Code 2009 as one of my biggest achievements," added Nimantha.
"Google Summer of Code is a global program that offers student developers stipends to write a code for various open source software projects.
Thousands of students from all over the world apply and only a handful gets the opportunity to participate. My project proposal was accepted in 2009 and I worked on creating a new module for an open source medical record management software called 'OpenMRS'," he said.
Not only the knowledge and skills, he also found his lif's e partner at the University. She is also a Computer Engineer from his batch. He was one exceptional student who invalidated the saying Loven ekek ek deyakata vei samatha (A person excels in one thing).
He is talented in many ways. All through this journey his parents, teachers, and lecturers were there to guide him.
According to Nimantha, all his achievements are a result of the guidance and the support given by them.
His parents have never forced him to do anything, and he considers it a blessing. "Even the support I got from my lecturers was fantastic.
They were supportive. I could always turn to them for advice whenever I wanted. More than lecturers, they were mentors and friends for my batch mates and me," said Nimantha.
"Time Management is the key to a successful life," he advises the youngsters. "Also whatever your dream is, try your best to pursue and never ever give up."