School interviews in progress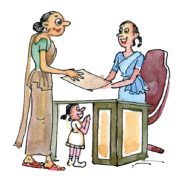 Interviews to admit students to government schools in the country are now in progress, Education Minister Bandula Gunawardena said yesterday.
He said interview boards comprising the school Principal, Vice Principal and other relevant members from the former students' associations will conduct the interviews.
"There was only one problem reported with regard to the appointing of the interview board from the Horana area and it was resolved after appointing a new board", the Minister said.
"The interviews for students for grade one admission will be completed by September 15 the Minister said.
RW