High tech warning systems at 700 railway crossings
The Railways Department will instal high-tech warning systems before the end of the year at 700 unprotected railway crossings in the country to avert accidents. This decision was taken following complaints from the public and police on vehicle-train accidents at unprotected railway crossings.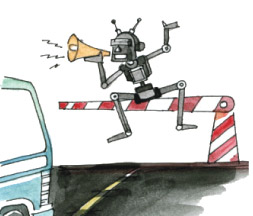 An official of the Railways Department told the Sunday Observer that nearly 60 train accidents were reported during the past 18 months, while around 20 persons including pedestrians succumbed to their injuries.
According to unofficial reports nearly 100 persons including children had sustained major and minor injuries following accidents. Referring to an accident which occurred on Thursday at Wadduwa in the Kalutara District where a train had collided with a trishaw at an unprotected railway crossing, he said that an infant travelling with his parents was killed on the spot.
"Although the mother of the child escaped unhurt, the father sustained injuries," he said.
The official said that the High-Tech Automatic Warning System is manufactured in Sri Lanka with imported equipment.
Bamboo gates will be installed at some unprotected railway crossings in rural areas under this program and they will be guarded by Samurdi beneficiaries in these areas. According to Departmental sources many roads come under Provincial Councils and Pradeshiya Sabhas and not the Railway Department.
Therefore, it is the responsibility of the local authorities to provide adequate protection for vehicle owners and pedestrians at level crossings. The Railway Department has also taken steps to demolish unauthorised structures including parapet walls, high rise buildings and houses which are in close proximity to railway crossings.