Dhamma propagation:
Lake House plays commendable role
The patronage extended to various religious activities by Lake House Chairman Bandula Padmakumara and the Board of Directors is exemplary, said Ven. Kirama Vimalajothi Thera, Director of Nedimala Buddhist Cultural Centre when he met the Chairman to apprise him of the future work program of Sri Sambuddha Jayanthi Complex being constructed at Thunmulla junction, Colombo.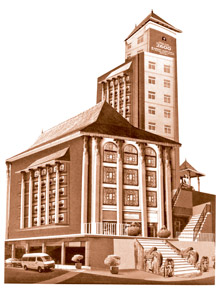 The Ven. Thera said the country's youth leadership would contribute its mite to Dhamma propagation to be launched by the Complex. The Buddhist canons, texts and Tripitaka would also be translated into Sinhala.
Lake House Chairman Bandula Padmakumara who paid homage to the Ven. Thera for his charity work, presented a cash gift of the Lake House Buddhist Association.
He commended the mission of the Sambuddha Jayanthi Complex for its dedication to preserve Theravada Buddhism in its pristine form in the interest of the Buddhist world. He said the youth would one day find it difficult to distinguish the Theravada school of thought in view of the growing influence of Mahayana.
"They would perhaps mistake the Samadhi Statue, the Masterpiece of Buddhist Creative Art for a Mahayana Buddha Statue". The need of the hour is to protect Theravada Buddhism, he said.
Ven. Vimalajothi Thera said he believed that Sambuddha Jayanthi Complex would help posterity to understand Buddhism correctly and mould their lives according to Dhamma principles.
Lake House Director (Legal) - Rasanga Harischandra, Director Editorial - Seelaratne Senarath, Chief Administrative Officer - Rohana Ariyaratne, Dinamina Editor - Mahinda Abeysundera, Silumina Editor - Karunadasa Suriyaarachchi, Daily News Editor - Jayatilleke de Silva and Buddhist Association President - Ceaser Sudusinghe were also present on the occasion.