In Brief
Chilaw police on lookout for confidence-trickster
A confidence-trickster who had allegedly got married to several women by advertising his personal details in marriage proposal columns in newspapers and swindled them of large sums of money is now absconding from the police, according to Chilaw Police.
The swindler, after selecting a partner from Chilaw by advertising in a Sinhala newspaper had also coaxed. The girls to part with sums of Rs. 50,000 or more which was credited to the account of an employment agency in Colombo. But the suspect had later disappeared from the scene.
---
Help: Hearing impediment
Three-year-old Kaveesha Prabodhini Navaratna is suffering from an acute hearing disorder, for which Dr. N. Yasawardana, Consultant ENT Surgeon of the Dept. of Paediatric Otorhinolaryngology at the Lady Ridgeway Hospital has advised to perform a Cochlear Implant before she reached the age of four.
Her parents appeal to kind donors for help to collect Rs. 1.7 million, being the cost for the surgery and equipment.
Donations may be credited to Commercial Bank, Pilimatalawa branch, A/c No. 8109008481.
---
Help leukaemia child
Master H.W.K. Tharusha Janeen Vidushan (10) of Mahawatta, Wehelgoda, Devinuwara is suffering from relapsed Acute Myeloid Leukaemia (AML) since May 2010. At present he is under treatment at the Cancer Hospital, Maharagama.
The treatment, an allogenic bone marrow transplantation, is not available in Sri Lanka and it will cost around SL Rs. 4-5 million to be done at the Christian Medical College, Vellore, India.
Since his parent cannot afford this sum, they appeal to the generous public to help them out by remitting to A/C No. 70723922 of the Matara Branch of the Bank of Ceylon or to 032200100016429 of the Uyanwatte Branch, Matara of the People's Bank.
---
Help: Cochlear Implant
Master Chamuditha Ashen Karunatilleke (4) is suffering from profound hearing disorder, which developed as a side effect to a recent medical condition.
Paediatric ENT Surgeon, Dr. S. N. Yasawardana has recommended Cochlear Implant surgery to restore his speech and language development. The cost for the special equipment needed for the surgery is Rs. 2.65 million. The parents appeal to kind donors to help them with financial assistance. Contributions may be sent to Bank of Ceylon, Kandy Second City branch, A/C No. 70708177.
---
B+ kidney wanted
Miss P. G. Renuka Damayanthi Jayasena (22) of 228/1 Putuhapuwa, Teldeniya is suffering from chronic renal failure. The Consultant Nephrologist of the General Hospital (Teaching) Kandy has recommended kidney transplant to save her life.
The parents appeal to the public to donate a B+ kidney and those willing please contact 081-3882033,0779470013, or 072-6029056.
---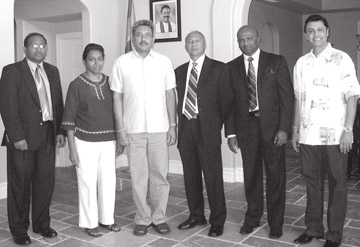 The Nalanda College Old Boys Association of America (NCOBAA) donated a sum of US$ 6,156 (Rs. 700,000) to "Ranaviru Dudaru Scholarship" managed by the Seva Vanitha Unit, chaired by Mrs. Ioma Rajapaksa, to educate children of the Sri Lanka war veterans, at the residence of the Sri Lanka Consul General to the Western States of USA, in Los Angeles, California recently.Here President of NCOBAA Asoka Sellahewa, in the presence of Consul General Jeff Goonawardena, Vice President of NCOBAA Bandula Somaweera, and Treasurer Channa Samarasena, hand over the cheque to the Secretary of Defence, Gotabaya Rajapaksa.
---