Sangakkara praises Tharanga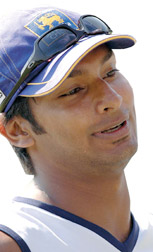 Sri Lanka skipper Kumar Sangakkara praised the Man of the Match, Upul Tharanga for his 70-run match performance that kept Sri Lanka alive, for a victory against the New Zealand team in the second match of the Micromax Tri nation Tournament on Friday.
"Upul batted really well. I struggled to get to grips with the wicket early on; I kept trying to watch him and see what he was doing and bat accordingly," said happy Sangakkara after the post-match press briefing.
Tharanga who was kept in and out of the team as one of the openers of the Sri Lanka team for almost five years, is likely to be a threat to veteran Sanath Jayasuriya's hopes of finding a slot in the World Cup squad next year. When everyone was predicting of very hard conditions for batting under lights, may be Sanga would have been the only one who kept his hopes alive. Earlier, after losing the toss, Sangakkara said that a team which cannot overcome the toll order of chasing under the conditions of Dambulla Stadium, cannot be a good side. Good for him, he proved he was right as well as the quality of the team.
Tharanga's 70 runs on the challenging Dambulla wicket, consisted of nine boundaries and came in 109 balls and 162 minutes. Tharanga was certainly not in a hurry, but let the momentum going by trying for some big shots when needed.