Desiccated coconut imports hit coconut industry
"Sri Lanka is reputed for exporting tea, rubber and coconut but the import of desiccated coconut (DC) from Vietnam for export by DC producers has tarnished the image" said the spokesman for Sri Lanka Coconut Co-operative Societies Union, and the Coconut Growers' Association.
The Associations said Sri Lanka will lose its DC market due to the export of low quality Vietnam DC as Sri Lankan products. Sri Lankan DC has a unique flavour which commands a premium price.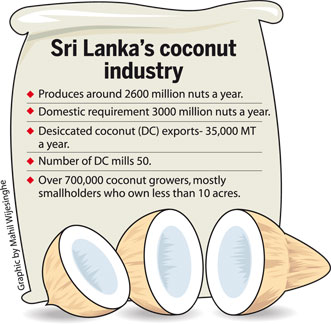 "The blending of Sri Lankan DC with other origins will reduce the unique flavour and if this trend continues we will lose the edge in foreign markets", the Associations said.
The coconut industry provides income to over 700,000 coconut growers of which a majority are smallholders who own less than 10 acres.
It has been estimated that around 2 million people depend on the coconut industry for their sustenance. Chairman, Sri Lanka Coconut Co-operative Societies Union Ltd., George Perera said Sri Lanka's premium quality DC products will lose its market share due to the export of low quality blended Vietnam DC.
"The Union has six DC factories and 75 percent of the members who supply their nuts are smallholder land owners", he said.
"A mill owner in Meerigama who had been authorised by the Coconut Development Authority (CDA) to import 5,000 MT of DC a year from Vietnam and export it as a value added product had blended the imported DC with Sri Lankan DC and exported the product as a Sri Lankan brand", Perera said.
The importer had mixed around 60-70 percent of Vietnam DC with 30-40 percent of Sri Lankan DC and had been exporting the product for the past two years. "There is a great demand for Sri Lankan DC in international markets due to its unique taste and natural colour.Importing DC from Vietnam and India will result in many losing their jobs due to the closure of factories", Perera said.
Sri Lanka has to compete with Indonesia, Malaysia, Philippines and Ivory Coast which produces DC. Sri Lanka exports around 50,000 MT of DC an year.
Perera said the Union had written to the CDA vehemently opposing the import of DC which had disastrous consequences on the coconut industry in Sri Lanka. President, Sri Lanka Coconut Growers' Association Anton Fernando said the cheap export of Vietnam DC will severely hamper the growth of the Sri Lanka DC industry that would result in loss of jobs to many.
He said the DC importer has requested the CDA to authorise him to increase the import of DC to 10,000 MT next year and added that if approval is granted it will encourage other mill owners to import DC.