Averting climate change crisis:
Lanka can play positive role - Udaya Gammanpila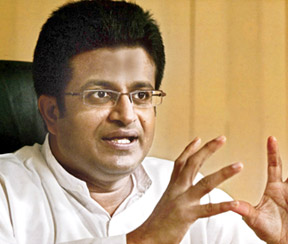 It has been raining incessantly for over five weeks, with many parts of the Colombo city, its suburbs and several parts of the country flooded causing displacement of people, damage to property and disruption of day to day life.
Minister of Environment, Agriculture, Agrarian Development, Minor Irrigation and Industries of the Western PC and JHU stalwart Udaya Gammanpila attributes the reason to global warming.
In an interview with the Sunday Observer, prior to leaving to take part in the UN Climate Summit at Cancun, Mexico, he said that the impact of global warming is more on us in the context of the fact that our island-nation is perched in isolation right in the middle of the vast Indian ocean.
Following are excerpts of the interview:
Q: The tree planting campaign last month to celebrate the President's assumption of office as Head of State for a second term, was a huge success. People of all walks of life all throughout the country joined it. What will be its environmental impact.
A: Planting 1.1 million trees within eleven weeks itself is a world record in environmental conservation and landmark steps towards going green. Tree planting is a unique way of celebrating such events in that we do not aim the next elections but we aim at the next generation. Some of the trees that were planted may not be there for long but instilling in the minds of the people the habit of planting trees, focusing on the current environmental necessity of it, will go a long way. All joined the tree planting campaign, forgetting their political and other differences, to make it a historical event in the context of environment. I personally know staunch UNPers and JVPers who joined this campaign by planting trees at their homes at the auspicious hour. In that respect we have united the entire nation for an environmental purpose.
Q: You are attending the annual UN Climate Summit in Cancun, Mexico. Has this forum been able to take decisions at its last conferences on effectively tackling the problem of global warming?
A: How we are going to deal with climatic change is a very crucial issue. Environmental ministers, Heads of State, environmentalists, professionals and world celebrities on the subject, senior government officials and INGOs are meeting at the annual UN Climate Summit to discuss cutting down on greenhouse emissions and arresting global warming. The USA, Canada, Japan and Australia, being nations on the top of the list of carbon emitting nations in the world, should have the will to compromise and sacrifice for the sake of the future of mankind. Unless they contribute more constructively for the sake of the future of the living beings on this earth, it will be a calamity for the entire world. So long as these big nations are not willing to compromise for the sake of the entire world community, nothing could be achieved at big conferences on arresting climate change and significantly reducing green effects.
Q: Rains are continuing for the last five weeks with floods in many parts of the country, including Colombo with loss of lives, displacement of people and disruption of day to day life. What reasons do you attribute to this?
A: We experience a lot of rain and floods. Because of ignorance, people are pointing an accusing finger at the Government. We must understand the cause for this climatic change. We cannot find a solution without understanding the cause. Global warming is the cause for these rains and floods.
Sri Lanka is a small island situated in isolation in a huge ocean. As a result of global warming, ocean water gets heated up, vaporizes and forms clouds when it reaches higher levels. Winds, Monsoonal or otherwise, bring all those clouds to our island resulting in heavy, incessant rains and floods in a short period of time.
Our system is not built and geared to manage such huge amounts of water received within a short period. That is why we are having floods. The mismanagement of our drainage systems, the unauthorised filling of low-lying lands and construction of buildings partly play a role, but not very significantly. The main reason is the rising trend of global warming.
Q: What are the remedial measures that you would suggest to overcome this phenomenon?
A: Look at Bangladesh, another tropical country. Being a poor country, they have already prepared themselves for this new scenario. They too are having rains like what we are experiencing. But they have constructed canals, ponds and water reservoirs to retain and drain excessive water received through rain. What have we done? Instead of having more canals, ponds and water reservoirs, we have filled wet lands including low-lying lands, marshy lands and other water retention sources, doing the reverse of what Bangladesh is doing.
There is a five pronged approach to address this problem. Firstly, a total ban on filling low-lying lands in the Western province should be imposed strictly. I would like to express my sincere appreciation of the good work being done in this respect by Defence Secretary Gotabaya Rajapaksa, who is in-charge of the UDA, without any political favouritism. We should restore our canal system, restore irrigation canals which used to bring water to our paddy fields as well as agro lands. These also should be for the purpose of taking water back from flooded lands.
Q: Some Opposition political parties have charged that the government has not taken appropriate steps to safeguard the people in flood-prone areas?
A: The UNP which was in power eight years ago had a policy document called 'Regaining Sri Lanka'. In that document they had argued that having paddy fields in the Western province is a waste and all paddy fields should be reclaimed for alternative purposes, such as constructing factories, other buildings and car parks. Because of that attitude of that government the people started filling low-lying lands and paddy fields for construction of houses and other buildings. They were encouraged to do so due to the attitude of the then UNP Government. Now they are pointing an accusing finger at the government. Paddy fields too play an important role in water management. Although paddy fields are for providing us rice, the other role they play is a unique water management role. They function as a mechanism to retain water to be absorbed by earth. Paddy fields help to prevent the inundation of our roads and houses.
The UNP government failed to understand the environmental aspect of paddy fields and marshy lands. They thought those lands are a waste and should be filled and used for other purposes. That was the attitude of the successive UNP Governments. President Premadasa thought every single inch of marshy lands should be filled and used for something else. In Maligawatta where the housing complexes now stand there was a huge marshy land. The UNP boasted and made statements like " there was a marshy land here and we were able to build a city on it". They genuinely thought low-lying lands and marshy lands are a waste and that is the reason they incorporated the Sri Lanka Land Reclamation Corporation (SLRC).
Following the example of Bangladesh, we should construct big ponds, water reservoirs and canals to retain excessive water during rainy seasons.
Colombo, being a very old city, does not have a proper drainage system inspite of having had a MC for 150 years. During rainy season, the rain water has no place to go to. Rain water does not get into contact with earth to be absorbed, thanks to concrete buildings, concreted and carpeted highways and roads. In the entire Colombo city every plot of land is being used either for a building or construction of carpeted roads. Rain water has no way of being absorbed by earth.
Q: What will be the worst-case scenario if this trend continues without corrective action?
A: Unless we take speedy action to change this situation, the entire Western province will be one single reservoir, bigger than 'Parakrama Samudraya', unless we take immediate action and take recourse to the five-pronged action plan. The Dutch built a great canal transport system which we have abandoned.
That also should be restored. Constructing canals and a good drainage system in Colombo will be a trying and money-consuming exercise. But we have to do it. We should also construct ponds, water reservoirs and tanks wherever possible to retain excessive water.
Q: Global warming is said to be posing a greater threat to small island nations, some in the South Asian region already having suffered the impacts and desperate for rescue measures. Your comments on this in relation to our country?
A: Measures have to be taken on a global level to resist climate change which in turn is due to global warming. If you take the two major issues relating to global-warming - one is the per capita carbon emission and the other is forest cover. Countries like USA, Japan, Canada and Australia have a very high level of per capita carbon emission, namely 25 tonnes. The world average is 4.5 tonnes. The permissible and tolerable level for a country is 2.2 tonnes. But Sri Lanka's carbon emission level is just .6 tonnes. So we are one of the best environmental-friendly global citizens.
Our forest cover is 31 percent. Comparing it with neighbouring India, it is 5.1 percent there. World average of forest cover is 10.6 percent. Sri Lanka is well above the world average. To global warming, our contribution is very negligible. So our large forest cover also helps as a sink to absorb carbon emissions. Our country has done its duty towards controlling global emissions. Unfortunately we are a poor country, with a small population. Our good actions are not big enough to control world trends in global warming.
Q: So what do you believe Sri Lanka should do to have the world community focus more on this issue?
A: We cannot influence other countries using our financial, political or military might. But we can influence others by being a good model. In an effort to further reduce carbon emission and protect the environment, we should grow more trees as much as possible as a green-break through and set an example to other countries.
Q: Do you think the urban population, especially the Colombo population, a majority of whom live in small houses or flats, also can contribute to this campaign of tree planting?
A: The urban population are not much interested and involved in tree planting. They say they do not have space and the soil. That is their attitude. But there are new agro technologies which can be taken advantage of to plant trees and plants. Under the vertical planting system the walls, roof tops and other surfaces can be used. Liquid solutions, clay, clay tiles and coconut husk are being used in many countries for growing plants. We should use every space available for planting trees to counter the impacts of global warming. So I appeal to the urban community to take advantage of new agro technologies to grow trees and plants.
Q: What are the other major threats due to global warming to Sri Lanka?
A: The biggest problem is the sea rise. Unless world leaders take action to arrest the present trend of carbon emissions, there is the risk of the permafrost of the entire Arctic getting melted within the next 70 - 100 years while warming of the oceans will also increase to hazardous levels. If that happens the sea would rise by 10 meters and our coastal areas and coastal cities will be swallowed. Twenty percent of our population live in coastal areas and all major cities other than Kandy and Kurunegala are along the coastal belt.
Secondly paddy cultivation will be at a risk. Wet zones will experience more and more rain, inundating our paddy fields most of the time and making paddy cultivation difficult. On the other hand dry zones will become drier, heading in the trend towards desertification, and paddy cultivation in the dry zones will also become difficult due to the lack of adequate water.
We witness the spread of infectious diseases like chikungunya and dengue in an uncontrollable manner and thought it was due to the negligence of Health Authorities. But the actual reason is the high temperature levels in the environment due to global warming and such temperatures are conducive to the rapid and easy spread of insects like flies and mosquitoes which cause these diseases. In the future too we will be vulnerable to such vector-based diseases.
Q: What do you believe will be the global phenomenon if the world leaders and the world community continue their attitude of indifference to global warming and what can we, as a small nation, do under these circumstances?
A: The inevitable consequence of an upward trend in global warming is a threat to the human race itself. The human race will not be able to survive when the temperature goes up by a further three or four Centigrader. So climate change due to global warming is the biggest threat faced by mankind. World leaders play politics with this. It implies that they have still not clearly understood the gravity of the problem. This is a grave and unfortunate situation. Most of them are seemingly unaware of this threat which nature has posed to the human race.
I think the ordinary people in small countries like ours, specially countries influenced by nature-friendly philosophies like Buddhism, should play a more active role in convincing the entire world population on the need for more positive action towards controlling global warming.
Although Sri Lanka is a small country she can play a big role by convincing the world community that the simple way of nature-friendly life, which our Buddhism-influenced forefathers lived, is the best to counter global warming. So as a nation which has preserved Buddhism for the last 2300 years and as a nation where the religion of the majority is Buddhism, we have a duty to perform for the sake of the world community. We must not preach, but set an example by living that simple, nature-friendly way of life.