Norochcholai plant to be commissioned on Feb 10
The Phase I of the Norochcholai coal power plant with a 300 MW generate capacity will be commissioned on February 10 by President Mahinda Rajapaksa, the Ministry of Power and Energy said.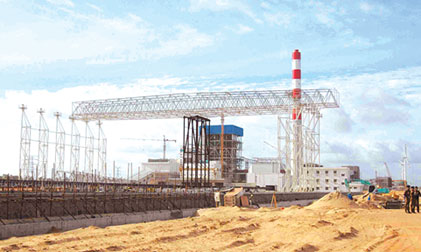 The total capacity of the power plant is 900 MW and Phase I of the project has now been completed. The project, proposed as a low cost power generation option for the CEB to face serious capacity issues was delayed due to reasons such as environmental issues and protest from the people to be displaced from the area.
In 2006 President Rajapaksa was able to get public support to launch the project providing alternative lands for the displaced people and using technology to minimize environment impacts.
Ministry sources said that test runs of the generators are now taking place. Required coal has already been imported and from next month coal powered electricity will be added to the national grid.
This will enable the CEB to reduce high cost thermal power generation and reduce foreign exchange drain-out for crude oil.
Phase II of the Norochcholai coal power project will be started in February this year and the projected cost is $891 million. It will be funded by the Chinese Government providing concessionary long-term loans.
The Ministry of Power and Energy expects to provide electricity to all households in the country. Only 87 percent of the households presently have electricity. The new generation capacity of the CEB will enable achievement of this goal, the ministry said.