NSB at Deyata Kirula in Buttala
The National Savings Bank, will accompany the Deyata Kirula to Buttala, Moneragala to bring the rural masses the message of the importance of saving for the development of the individual as well as the country to make Sri Lanka 'the Wonder of Asia'.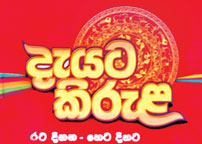 NSB, established with the objective of developing the low-income, rural segments through inculcating the habit of savings, is determined to make the most of this opportunity to contribute its mite.
"Moneragala district has high potential for development and financial inclusion of the people of the area will uplift the standards of their lives. Having realised this, we opened two branches in Buttala and Wellawaya in late 2010, in addition to our presence in Moneragala and Bibile. Being backed with the postal network, our accessibility is further enhanced by 16 post offices and 71 sub post offices in the area," said GM/CEO NSB Hennayake Bandara. "Our objective is to mobilise people's deposits and give back to them in the form of credit so that their money is invested in their own soil" he said.
A giant replica of a savings till will tour more than 100 villages in 11 divisional secretariats and 319 grama niladhari divisions in the district till February 3, carrying the message of savings, educating the masses of the importance of thrift and facilitating saving with the bank.
A prize draw on its latest product 'Smile', will award tractors, sewing machines and push cycles to 21 winners. A special savings promotion program will also be carried out by the bank in the district and a NSB stall will be opend at the exhibition for the people's convenience.