Making Negombo a resort hub
The re-opening of Jetwing Sea - formerly known as Jetwing Seashells, took place on recently with Minister of Economic Development Basil Rajapaksa as Chief Guest and Prof. G.L. Peiris as Guest of Honour.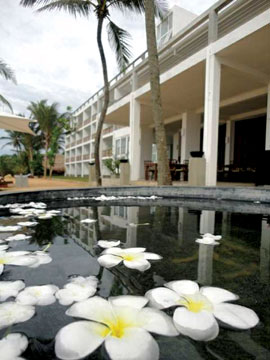 The celebrations began with afternoon high tea on the terrace, followed by a gourmet dinner on the beach.
Backed by investment in excess of US$ five million, the project, a joint venture with Zinc Journeys, part of the extensive Chaudhary Group of Nepal and Jetwing Hotels transformed Jetwing Seashells into an elegant resort in a mere seven months. Architect Murad Ismail, a student of Geoffrey Bawa has designed the resort with warm, delightful interiors and naturally sunlet exteriors, creating an atmosphere which is out of their world.
The unique design of the restaurant "Lellama" which offers authentic seafood dishes, truly displays Murard's skill.
The expanse of the hotel includes 83 gracefully furnished rooms and two luxury suites on the top floor with panoramic views of the ocean.
The walk-in wine cellar offering a select collection exclusive to Jetwing Hotels, the airy main restaurant opening out on to the beach, the two uncurious swimming pools, a fully equipped gym and a lavish rooftop spa are all features that impress.
Jetwing Sea is one of the four Jetwing properties situated in Negombo. It is neighboured by Jetwing Beach - a landmark Bawa creation and a member of the small luxury hotels of the world, and the soon to be launched Jetwing Blue, formerly Jetwing Blue Oceanic, the first Jetwing venture.
The purpose built Ayurveda Spa hotel, Jetwing Ayurveda Pavilions is also located nearby with such a strong presence in the area, Jetwing is well at the forefront of setting the stage for Negombo to become the quality resort hub in Sri Lanka.