The Viceroy Special turns twenty five
Sri Lanka tourism has turned a new chapter with the revival of rail tourism which has great potential to entice visitors to the nature gifted island.
The celebration of 25 years of the Viceroy luxury steam train marked another milestone in rail transportation and tourism in Sri Lanka.
The steam engined Viceroy Special was introduced 25 years ago as a unique tourism product to offer visitors an enthralling experience of the colonial times.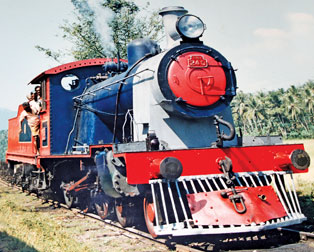 The Viceroy Special is the only steam powered train still in operation with two air-conditioned observation salons and 64 plush reclining seats and adjustable tables.
The railway was introduced to Sri Lanka by the Britishers in the 19th century. Despite many shortcomings, it is a popular mode of transportation.
Rail tourism will fascinate the nature loving and adventure tourist with some of the breathtaking views of the country. The exotic beauty of upcountry plantations and the sandy beaches have mesmerised travellers from across the world for decades.
Chairman Sri Lanka Tourism, Dr. Nalaka Godahewa said growth in tourist arrivals will be around 30 percent during the next five years heading towards the 2.5 million arrival target by 2016.
Sri Lanka tourism revived from a nostalgic past due to the long drawn out war. The number of arrivals has been on the rise since mid 2009. Tourist arrivals this year is expected to be around 700,000.
"Sri Lanka tourism believes in quality than quantity for which the products must meet the expectations of the tourists. The Viceroy Special will attract visitors and help increase revenue", Dr. Godahewa said.
Chairman, JF Tours and President of the National Olympic Committee of Sri Lanka, Hemasiri Fernando said the steam-hauled train has come a long way making a tremendous contribution to Sri Lanka tourism.
"The trips to Pinnawala, Kandy, hill country and the beach resorts along the west coast on the steam train have captivated visitors", he said.
The steam powered train is passenger friendly and stops on request for guests to photograph scenic spots. A guide accompanies travellers throughout the journey with charming music in the background.
Fernando said Rail Tourism has immense potential in Sri Lanka and added that steps should be taken to replace old tracks, renovate stations, upgrade standard of train services and operate more rail buses.
Sri Lanka Railway operates four steam locomotives of which currently two are under repair.
The steam trains which operate on charters is costly due to the use of a special coal imported from Indonesia.
"Steam trains will be back on track soon to boost tourism and develop railway transportation. The locomotives have been operating around 10-15 trips a month", Fernando said.
The first steam locomotive was introduced in Britain in 1805. The first steam train was introduced to Sri Lanka in 1864. The Viceroy travelled from Colombo to Kandy for the first time in 1986.