Bigger focus on archaeology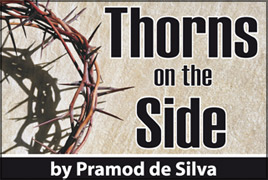 A news report quoting National Heritage Minister Jagath Balasuriya caught my attention the other day. Participating in the inaugural ceremony of the Dematamal Temple in Adampane, Nochchiyagama Minister Balasuriya said that the Archaeological Department had identified around 250,000 archaeological sites throughout the country.
The Minister said the Government has implemented a program for the renovation and development of archaeological sites throughout the country. This is indeed a huge number when considering the fact that Sri Lanka is an island with an extent of only 65,610 Sq Km. There are many reasons for this abundance of archaeological sites in the country, many of which have been preserved well. The first is Sri Lanka's Buddhist civilization. Our ancient kings built a large number of Buddhist sites and monuments which are venerated to this day. Another reason is our agri-based civilization, which has left many archaeological sites connected to agriculture, from tank bunds to tanks. Needless to say, many of them are still operational. There are others that have been obscured by the sands of time. Sri Lanka's multi-ethnic, multi-religious nature as well as foreign influences have also left many religious monuments for posterity.
Identifying, preserving and popularizing all these 250,000 sites is a Herculean task, for which more funds and expertise would be needed. More sites could be unearthed from the North, where a three-decade conflict hindered any archaeological activity. This calls for a more robust and active Archaeological Department.
Unfortunately, the number of students opting to study archaeology has dwindled in recent years. Archaeology is being perceived as a 'dead' science in some quarters, with no real chance of career enhancement. The challenge then is to make archaeology more enticing to university students. We need more Paranavitanas in the future to uncover the secrets of history. Archaeology should be taught of as an adventure - not exactly Indiana Jones-style, but as a career that can literally open new worlds. Our universities should also offer courses related to natural history - paleontology and anthropology, for example. After all, history is all about the Earth and its living beings.
We can learn many valuable lessons from countries with more expertise in archaeology, such as Greece and Egypt. I have been to archaeological sites in both these countries and experienced the care with which they treasure their archaeological treasures. Not even flash photography is permitted at some sites, lest the artifacts suffer any damage. There are many strict rules regarding the preservation of antiquities which are followed to the letter. A dialogue should be initiated with the archaeological authorities of such countries to draw lessons on unearthing, preserving and displaying our own archaeological treasures.
That brings us to the whole issue of treasures, that much-misunderstood term for objects of archaeological value. So-called treasure hunting seems to be on an upward path, with newspapers reporting incidents almost daily. Granted, the authorities cannot protect each and every one of the 250,000 sites (many more could exist) 24 hours a day. This gives ample opportunities for treasure hunters to go about their business. A mechanism could perhaps be evolved with the participation of villagers to protect any archaeological sites in their villages.
The laws regarding archaeological treasure vary across the globe. In some countries, it is a case of finders keepers - you can do whatever you wish with an ancient object that you find. You may sell it, give it to a museum or just keep it. In most countries, though, you are obliged to inform the authorities and/or hand over the object(s). The State sometimes compensates the finder for his or her effort. Our laws regarding archaeological discoveries or excavations by private individuals must be publicized. Moreover, there must be a mechanism to reward for people who discover antiquities and report them to the authorities voluntarily.
Deterrent action must be taken against treasure hunters in any case. Any objects seized from treasure hunters must be valued and later displayed in an appropriate location. The most appropriate location for an archaeological object is, of course, a museum. I touched on this subject some time back, but some points are worth repeating. One of them is the issue of climate control for certain types of artifact. Special preservation methods are also called for certain archaeological objects kept in an indoor environment. If we lack expertise in this sector, foreign experts should be called in where necessary.
As I stressed earlier, museums themselves need not be dimly-lit, musty places devoid of 'life' so to speak. They should be dynamic entities that create a positive impression in the minds of visitors. Also gone are the days when a simple plaque placed beneath a given exhibit was sufficient to satisfy visitors' curiosity and the thirst for additional knowledge. For example, if an ancient object is displayed, it could be accompanied by a touch-screen audio-visual guide on all its aspects. A guided commentary for the entire museum is also welcome. All museums should be upgraded in line with modern trends.
Museum or open air, people must have proper access to archaeological wonders. A majority of the population does not even know about the existence of certain archaeological sites and objects. The media must play a bigger role in popularizing these sites, with programmes modeled on History Channel documentaries and docu-dramas if possible. If more coverage is given to some of the lesser known sites and more people frequent these sites, it may help ward off treasure hunters as well. The domestic tourism infrastructure has to be upgraded to enable more people to visit far-off archaeological sites, especially those of a religious nature. Foreign tourists are also likely to visit these off-the-beaten-track treasures.
Our past must be preserved for the future. Our glorious civilization and kings of yore are yet to yield many secrets and careful archaeological excavations may reveal those. Archaeology certainly deserves more attention from policymakers and from the public for that to happen. It is a science that is an art, a present from the past to the future.