Sunburnt Home - an Australian-Sri Lankan novel
Chapter 10 Ugly hair :
It had been a long day for Jayadeva. A report he submitted had been rejected by his new boss, a young New Zealander, with a lot of red pen marks and a series of meaningless questions. Some of the red marks were acceptable to Jayadeva as they were related to his writing style, primarily pointing out a few grammatical errors. His previous boss—Peter—used to correct such mistakes and return the document with a 'thank you' note requesting him to correct the words, if necessary. Today, he received different treatment.
Jayadeva came home looking for refuge, and thinking of sleeping early, as there was a field meeting outside Perth early the next day.
When he arrived home, Sunitha was playing alone in the backyard.
"Hello, Duwa. Kohomada? How was your day?" Before she could reply, Jayadeva said: "Look, I've to leave home very early tomorrow. You'd better walk to school with Amma."
"No, Dad. I'm not going to school tomorrow! I'll stay at home and play with Malli. I don't like that school. There are naughty kids in the school! They don't play with me. They don't like me. All the new children from college Park kindy don't like my yucky black hair. Only Damien said he would play with me, but all the girls didn't want to play with me!" Sunitha started crying.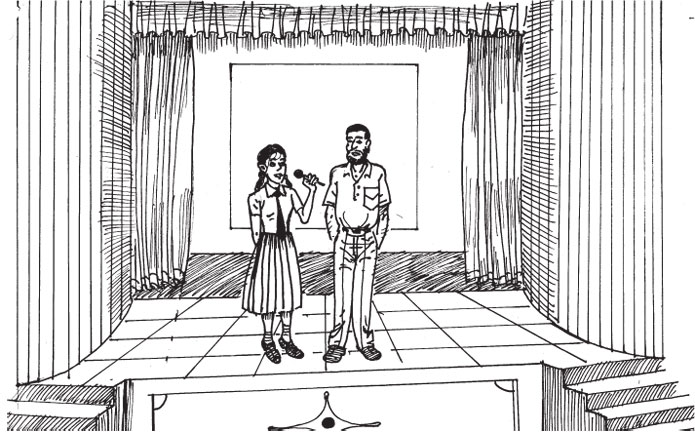 "Shall I stay at home, Dad? Please... Can I stay home and help Mum, without going to school. I can help Mum to look after Mallie?"
Malini heard the conversation and came outside. "Look, Duwa, I told you not to say a word to Dad about what those girls told you. Now go and play. I'll call you in a minute when the food is ready. Now, back you go!"
"What's this all about? What happened to Sunitha? Why didn't you ring me at work?" he asked in Sinhala.
"Some kids have said something about the colour of Sunitha's hair. It's not an issue. I think it was kids' talk." Malini was as calm as a monk.
"Kids don't say such things. That's bloody racism! I'll go to the Education Department tomorrow and lodge a complaint. This is a democratic country. They can't discriminate against you on the basis of your skin. I don't care whether they are kids or not." Jayadeva was furious.
"Look, Jay, this is not a big thing. You go and get changed, okay? I'll fix dinner in a minute."
Malini was very clinical about the whole issue and behaved as nothing had happened and Jayadeva wanted to listen to the whole story from Sunitha again, but he changed his mind when he saw her playing happily alone in the backyard.
When the children had gone to bed Jayadeva wanted to know more about the incident. Malini said: "I've told you a few times. That was all kids' talk and you heard the story from Sunitha. You need not worry about it any longer! Okay? I'll go and meet Mr. Fairweather tomorrow and see how things are. Everything will be all right."
Jayadeva knew Mr. Lindsay Fairweather, the principal, through school activities. He was confident that Mr. Fairweather would do something about it, if things got out of control.
Jayadeva had a dream that night.
He dreamt that Sunitha was playing with white swans in the Kings Park playground. She looked different; she was a white child with blond hair. The white swans were talking to Sunitha as she was playing with them happily.
Jayadeva looked for his son, Asela, but he was not around. All of a sudden, a flock of seagulls arrived and the birds started attacking Sunitha. The white swans turned black instantly and came to rescue Sunitha, but she was afraid and started crying. Jayadeva, who was watching the incident from a distance, wanted to rescue Sunitha and ran to her.
Jayadeva woke up feeling shaky. He immediately became calm when he realised that it was just a dream. He wanted to ensure that the children were sleeping soundly and slowly walked out of the bedroom without disturbing Malini. The children were sleeping quietly. Jayadeva adjusted their blankets and returned to his room.
Two weeks later, Malini reminded Jayadeva to attend a school assembly as Sunitha was getting her first honour award. There was a note from Mr. Fairweather informing about the assembly and the award for Sunitha.
When Jayadeva and Malini reached the school with little Aslea, he was surprised to learn that Sunitha was also the assembly leader on that day.
"Good morning, Mr. Fairweather. Good morning, parents, teachers, and friends. Welcome to our Year One assembly. Today we've a few items including two songs. Miss Pullerton will lead us singing. To start our assembly, please stand for our National Anthem."
"Australians all let us rejoice
For we are young and free.
We've golden soil and wealth for toil,
Our home is girt by sea..."
Jayadeva was in shock. Tears filled his eyes.
Although he had heard and sung the Australian National Anthem, he had never felt like this before. He couldn't clearly see Sunitha reciting the Australian national anthem among a group of white kids as if she was one of them.
He didn't know all the words of the Australian National Anthem even after living in Australia for more than ten months. Malini who was standing next to him sang her new national anthem as comfortably as she would sing, Namo, namo matha—the national anthem of Sri Lanka.
"Thank you. Please sit down. Now the House Leaders will assist Mr. Fairweather to give out the honour awards," Sunitha announced.
The House Leader from Poseidon read a citation for Sunitha's award:
"Sunitha Gamage, for courteous manners and adjusting well into a new environment."
"Well done, Sunitha!" Mr. Fairweather shook hands with Sunitha, and all the children cheered. One child who knew Sunitha from the kindergarten shouted:
"Good on ya Sue. Well done!"
Jayadeva could not see Sunitha's smiling face as his eyes were filled with tears.
"Thank you house leaders and Mr. Fairweather. We are going to sing a song now. For those of you, who don't know the words, please read from the words on the panel. Miss Pullerton will lead us."
Sunitha compeered without any hesitation, as if English was her mother tongue.
"Human beings are a funny old lot
Some are tall and some are short
Some are thin and some are fat
Some are Blue, some are Green..."
It took a few seconds for Jayadeva to grasp the hidden meaning of that song.
"Thank you students and Miss Pullerton."
"And now for our last item: I'm Australian… "
Jayadeva was stunned by the words of the last song which told the story of immigrants to Australia from all over the world and their diversity. After listening to the song Jayadeva had to make an effort to stop shedding tears.
After the assembly, the parents of the year one class were invited for morning tea with the class teacher and the principal in the staff room. This was a tradition that Jayadeva was not aware of previously.
While everyone was having a cup of coffee, Mr. Fairweather approached Jayadeva and said:
"G'day, Mr. Gamage. Malini told me that you were very upset! I mean the kids who teased Sunitha about her hair. I hope you got our message to the school community. Don't worry! You must be very proud of her. She has a very good command of the language, and speaks like an Aussie kid now. She will blossom. The White Australia Policy has gone! Ours is a multi-cultural society now. We've an unwritten policy called fair-go in this great country of ours. We are all equal under the Australian law. Be a part of our great tradition."
Jayadeva was lost for words.
Later, he drove along the Mounts Bay Road admiring the scenic Swan River and humming the National Anthem. He was very happy as he saw the calm water of the Swan River but he could not see any black swans around.
-- What a good thing that the White Australia Policy has gone from this country forever! This is a great country… A lucky country…
Jayadeva attempted to recall the lyrics of the second song the kids had sung a little while before. As he couldn't recall the song, he started humming a famous Sri Lankan song instead:
"Sasara wasana thuru - Nivan dakina thuru
Pin ketha hela ran derane - yali upadinnata
Wewa, hethu wasana -- Wewa, hethu wasana..." [1]
Until the end of the Samsara
Until attaining the state of Nirvana
May I have the rare chance
To be born again,
In this meritorious land of gold.
(To be continued)
-------------------------
Note:
An earlier version of this story was first written as a sketch in 1989, and another version appeared in my collection—Black Swans and other Stories.
This story was also read in Perth's multicultural radio program sponsored by the WA Government. A Sinhala version of the story appeared under the title Kalu Kes Kalamba in an anthology of Sri Lankan Australian stories titled Thirasa Tharana (2008, ISBN: 978-955551).
Footnote
[1] Sasara wasana thuru – These are lines from a famous Sri Lankan lyrics by late Dalton Alwis and sung by Maestro Amaradeva. I'm grateful for Mr Daya Ramya Alwis for granting permission to quote this song in my short story under the same title.
For feedback and readers' response: [email protected]
Disclaimer: This is a work of fiction. Names, places, characters and incidents either are products of the author's imagination or are used fictitiously.
------------------